Hey Sinamika Movie Review
(2022)
Dulquer Salmaan's Hey Sinamika Movie Review - film also starring Aditi Rao Hydari and Kajal Aggarwal
https://www.galatta.com/assets/review/hey-sinamika-movie-review-og.jpg
03-03-2022
Brinda
Release Date :
03-03-2022
Movie Run Time :
2:29 Hrs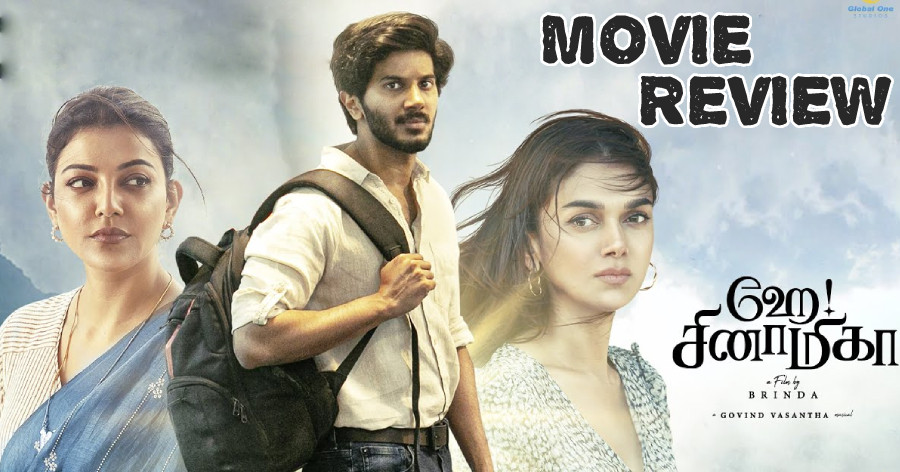 Hey Sinamika Movie Cast & Crew
Production :
Global One Studios,Jio Studios
Acclaimed dance choreographer Brinda Master has made her directorial debut with Hey Sinamika, which was released in theatres today. The film stars Dulquer Salmaan, Aditi Rao Hydari, and Kajal Aggarwal in the lead roles and features music composed by Govind Vasantha. Madhan Karky has penned the story, screenplay, and dialogues for the film. With the film having been watched, here is our review. 
STORY: 
Yaazhan (Dulquer Salmaan) and Mouna (Aditi Rao Hydari) fall head over heels in love with each other in an instantaneous fashion and they get married soon. After two years of marital life, Mouna eventually becomes annoyed by Yaazhan's overly affectionate and talkative character. She desires to get separated from him so that she will be able to live a life of her own and according to her own interests. Later in the picture enters Dr. Malarvizhi (Kajal Aggarwal), who strikes a good rapport and wavelength with Yaazhan and the two hit it off. The close bond of Yaazhan and Malarvizhi angers Mouna, who wants her husband back, just like how he was before when they first met. Does it happen? Watch the film to know.  
SCREENPLAY, DIALOGUES, & DIRECTION: 
Hey Sinamika has an interesting and genuinely well-written premise that delves into the complications in relationships - credits to writer Madhan Karky. A lot of thought has gone into the dialogues and the lines reflect the society and the individuals around us. Hey Sinamika has a fairly watchable first half followed by a flat latter half. While the writing is good, Hey Sinamika falls to be a middling affair when it comes to the execution - packaging part. Though the scenes are neatly-staged and well-shot, it doesn't engage you at many places because the film is mostly conversation-driven. The screenplay is inconsistent and has lags, especially in the second half.
The drama between Yaazhan - Mouna - Malarvizhi lacks the intensity that it should have ideally had. You don't get to feel the emotions that the characters go through as a result of which you don't establish any kind of connection. The conflict could have been handled in a much better way. There are quite a few scenes that could have easily been chopped off. With fine packaging and crispier editing, Hey Sinamika would have been a highly-engaging relationship drama.  
CAST:
Dulquer Salmaan delivers an admirable performance and Yaazhan's character is a cakewalk for him. His infectious charm adds more light-heartedness to the film. Aditi Rao Hydari showcases two different dimensions - a fun performance at the beginning and an intensely emotional one post the mid-point. Aditi is surely impressive and she continues her Kaatru Veliyidai form with this one. Kajal Aggarwal looks beautiful on-screen, but with regards to the performance, it lacks a sense of completeness. In certain scenes, she is good, but in a few others, the impact isn't felt. Mirchi Vijay, in a short role, helps in bringing some genuine laughs. 
TECHNICAL: 
Hey Sinamika is a visually pleasing and aesthetic film and credits to cinematographer Preetha Jayaraman. The visual grandeur gives the film a refreshing outlook. Govind Vasantha's musical score adds more liveliness to the film, while the songs are passable. Radha Sridhar's cuts ensure the smooth flow of the film. 
SO? 
Hey Sinamika has a promising premise, but falls short on the engagement!
Verdict Dulquer Salmaan is good in this flat romantic drama!
Galatta Rating: (
2.5

/5.0 )
User Review
Latest Tamil Movie

Reviews