Release Date :
19-11-2021
Movie Run Time :
2:17 Hrs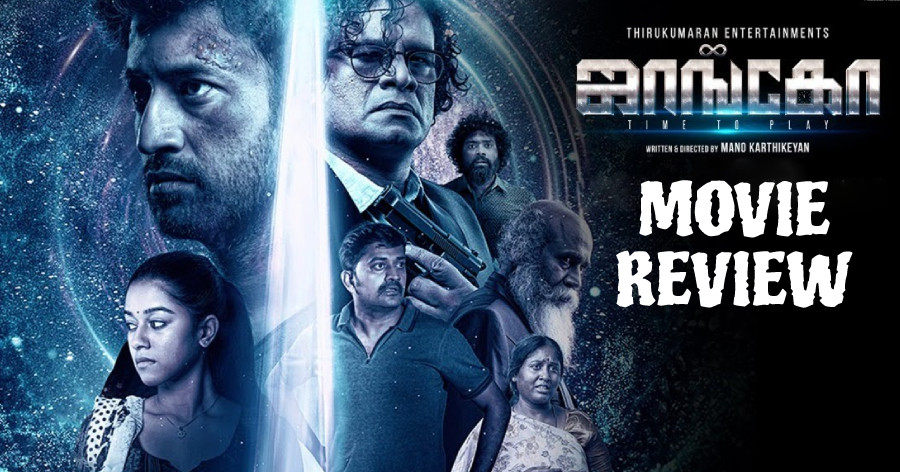 Jango Movie Cast & Crew
Production :
Thirukumaran Entertainments,Zen Studios
Marketed as India's first time-loop film, Jango is now out in theatres and the film is produced by CV Kumar, known for introducing the current prominent directors like Karthik Subbaraj, Nalan Kumarasamy, Pa Ranjith, R Ravikumar, and more. Jango is directed by debutant Mano Karthikeyan and has Satheesh Kumar and Mirnalini Ravi playing the lead roles. Has India's first time-loop movie succeeded in its mission to strike a chord with the audience? Check Out!  
STORY: 
Gowtham (Satheesh Kumar), a leading neurosurgeon Doctor in the city, is stuck in a time loop, a situation where he lives the same day (October 2) again and again. The series of events that Gowtham experienced on October 2 repeats itself, making him realise that he is trapped inside a single day. Why and how did Gowtham get trapped in the time loop and how did he come out of it, forms the rest of the premise.  
SCREENPLAY, DIALOGUES & DIRECTION: 
Jango is a film that looks ambitious on paper but loses its effervescence in the execution. Debut director Mano Karthikeyan catches hold of a good idea for his first film and it is indeed a challenging task to do a film of this style and theme. The young filmmaker's intent and effort is appreciable, but he does not package the film in an engaging fashion. When it is a time loop movie, the scenes tend to repeat themselves and so, the director is put in a situation to create solid sequences that would keep the audience hooked irrespective of how many ever times the scene repeats.
However, in Jango, all we see is a series of boring and uninteresting sequences that get repeated and only towards the end of the day, there is a high. The writing is unclear at several places - there is no proper clarity given to the problem between Satheesh Kumar and Mirnalini. Had their conflict been more effectively sketched, the impact would have been better. Just when you expect the villain to be a techie, he, unfortunately, gets stuck in Tamil cinema's time loop, becoming someone who hires rowdies and goons to kill the protagonists. It is the cliches like these that act as a barrier for Jango.
The film manages to engage you here and there. Whenever the protagonist encounters a new problem, the suspense around it has been built well and it would have been great if more such sequences were constructed. 
 
CAST:
Debutant Satheesh Kumar's performance lacks completeness and he looks bland and inexpressive at several places, especially in the most important junctures. Mirnalini Ravi is quite okay. Among the lot, Karunakaran is impressive, in terms of performance and he does fair justice to what is assigned to him. Hareesh Peradi, in a typecast character, reminds you of his performances from his previous roles.  
 
TECHNICAL: 
Ghibran's music is one of the positives of Jango and the score tries to keep you hooked. However, the songs are a miss. Karthik K Thillai's camera work is neat, while the CG / VFX shots look tacky and ineffective. The film has a lot of lip-sync issues and the dubbing lacks finesse, especially in the scenes featuring Mirnalini Ravi. Editor San Lokesh makes the time-loop effect understandable with his cuts.  
  
SO? 
Jango had the potential to score big, but the final product turns out to be a middling affair. 
Verdict Jango sounds exciting on paper as an idea, but loses its essence in execution!
Galatta Rating: (
2.5

/5.0 )
User Review
Latest Tamil Movie

Reviews