Kadaseela Biriyani Movie Review
(2021)
Kadaseela Biriyani Tamil Movie Review - film directed by Nishanth Kalidindi
https://www.galatta.com/assets/review/kadaseela-biriyani-movie-review-og.jpg
19-11-2021
Nishanth Kalidindi
Release Date :
19-11-2021
Movie Run Time :
1:53 Hrs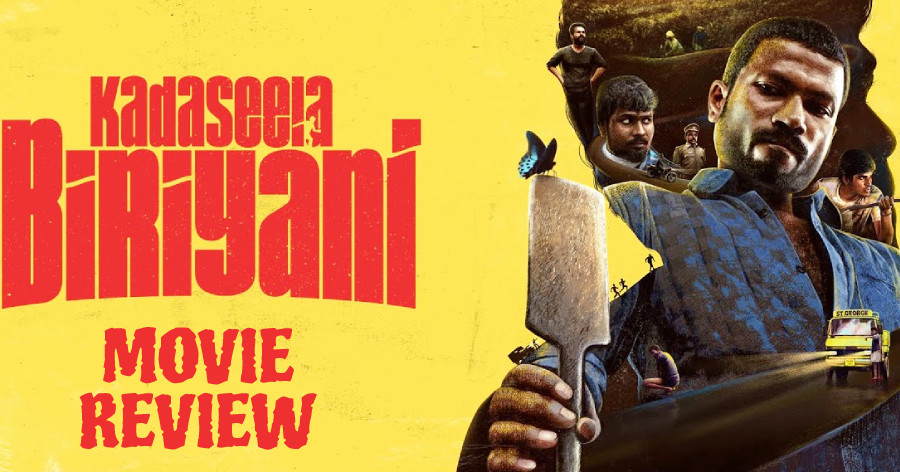 Kadaseela Biriyani Movie Cast & Crew
Production :
Maestroes & Panoramaas,Y NOT Studios
Kadaseela Biriyani is a film that has come as a noble effort from a bunch of youngsters and the project has been backed by notable producer, Sashikanth of Y Not Studios, known for producing films like Tamizh Padam, Irudhi Suttru, Vikram Vedha, Mandela, Jagame Thandhiram, and more. The teaser and trailer of the film looked quite intriguing, having a unique style of presentation. With a good pre-release buzz, Kadaseela Biriyani has now released in theatres and here is our take on the film. 
 
STORY: 
Kadaseela Biriyani follows the story of three brothers - Periya Pandi (Vasanth Selvam), Ilaya Pandi, and Chicku Pandi (Vijay Ram), who plan to murder the man who killed their father. Among the three, Chicku Pandi is the innocent chap who is forced to be a part of the plan. The roller coaster ride of events that totally change the lives of the three brothers in this mission is what Kadaseela Biriyani is all about. Watch the film for a very interesting ride! 
 
SCREENPLAY, DIALOGUES & DIRECTION: 
Debut director Nishanth Kalidindi garners attention with his style of filmmaking that looks wacky and quirky. Nishanth seems to be a man with a very peculiar voice, in terms of his approach towards cinema and it is very much evident in the way he has packaged the film. The screenplay has been written in an intriguing fashion that we get to see something interesting happening in regular intervals. At some of the most unexpected moments, certain things happen, changing the whole dynamics of the film, thereby offering you an exciting ride. Until the very end, there is a certain level of suspense that keeps building and Nishanth wins there as a writer.
The dark humour that the film offers is enjoyable and there are definitely some hilarious stretches to watch out for. Especially, the scene where Chicku Pandi asks an old lady for a lemon soda - the scene is sure to leave you in splits. The writing of the characters is also quite impressive, especially Chicku Pandi. The arc comes full circle and it looks convincing as well. The execution part is neat, though there are issues at quite a few places. Kadaseela Biriyani will be a treat for cinema lovers who rejoice watching content-driven films in its rawest form. The film has an equal mix of Tamil and Malayalam languages, but there are subtitles for the scenes where the characters speak Malayalam.
On the flip side, the film takes its own time to establish the characters and as a result, the initial minutes of the film is flat and uninteresting. Once you are transported into the dark world of Kadaseela Biriyani, there is no lookback. Using farting as a tool for comedy is definitely not interesting and in a fresh film of this style, these scenes look odd and unnecessary. The pace of the movie might be of concern for a few people among the masses.  Being the villain of the film, it would've been nice if there was an explanation or a backstory to support Hakkim Shah's psychic character as that would've added more authenticity and strength to the character. However, these drawbacks are compensated by a finely engaging screenplay with enough twists and turns. 
 
CAST: 
Hakkim Shah as the psychopath killer is menacing, delivering a rock solid performance. His evil smile and quirky character is interesting to watch. Vijay Ram who impressed one and all with his performance as Gaaji in Thiagarajan Kumararaja's Super Deluxe, holds our attention as Chicku Pandi in Kadaseela Biriyani as well. His innocent performance as one of the good souls is natural and he brings out the emotions neatly. Vasanth Selvam as Periya Pandi looks authentic and his rooted performance keeps us invested. Vasanth Selvam makes good use of his eyes to showcase his bravery and anger. Augustin comes as an enjoyable character that will connect well with the youth. His timing one-liners help in some laughter. Vijay Sethupathi's voice over narration is an icing on the cake, giving the film an additional flavour.   
 
TECHNICAL: 
The film's story takes place in the forest areas of Kottayam, Kerala and both the cinematographers Azeem Mohammed and Hestin Jose Joseph capture the landscape at its authentic best. The scenic locations, intense performances from the actors, visual imageries, everything looks neatly composed. The background score and sound effects by Vinoth Thanigasalam act as solid tools of the narrative helping in enhancing the screenplay. The effective sound design along with a commendable cinematography hold Kadaseela Biriyani together. The fast paced cuts by Ignaitious Aswin plays a major role in making the film look wacky. 
SO? 
Keeping aside the minimal limitations, Nishanth Kalidindi's Kadaseela Biriyani is an intriguing/entertaining watch!
Verdict With exciting twists and enjoyable dark humour, Kadaseela Biriyani is a tasty revenge drama!
Galatta Rating: (
3

/5.0 )
User Review
Kadaseela Biriyani Movie News
Latest Tamil Movie

Reviews