Release Date :
04-11-2021
Movie Run Time :
2:39 Hrs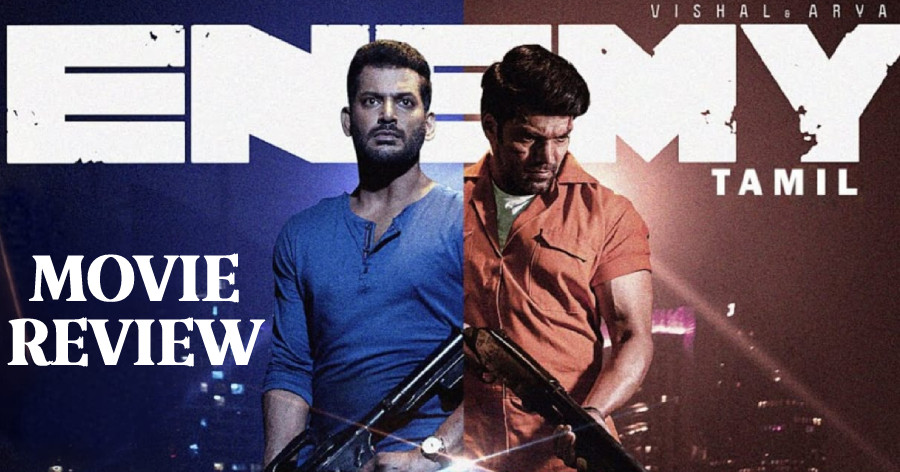 Enemy Movie Cast & Crew
Production :
Mini Studios
Vishal and Arya's multi-starrer film, Enemy has hit the screens amidst a fairly good anticipation among the film buffs. Directed by Anand Shankar, this film features Mirnalini Ravi as the female lead and Prakash Raj, Mamta Mohandas, and Thambi Ramaiah in supporting roles. Here is what Enemy is all about. 
STORY: 
Enemy traces the story of two childhood friends, who turn foes due to one's ego and jealousy. Chozhan (Vishal) and Rajiv (Arya), in their early teens, are trained by Rajiv's father, an ex-CBI officer (Prakash Raj) to make them join the Police. But, certain situations make them part ways and years later, Chozhan becomes a departmental store owner and Rajiv becomes an underground hitman. Fate brings them together once again and they decide to lock horns against each other. What was the conflict between them and who won the face-off forms the plot of Enemy.   
SCREENPLAY, DIALOGUES, & DIRECTION: 
Enemy has a good premise and when the basement is quite strong, you are bound to be invested in seeing what the film has in store. The idea is definitely interesting and is worthy of being made as a film. Director Anand Shankar builds up the film with several interesting elements which makes the first half fairly engaging, setting up a solid groundwork for the faceoff. However, in the second half, the cat and mouse game isn't packed with solid moments to hold your attention. You pretty much know how Arya's character is going to react to a situation and how Vishal's character will respond. This is where the screenplay faces issues and as a result, the film becomes a mixed bag.
Had the second half been packaged in an engaging fashion with exciting moments, the final product would have been better. With a seamless writing and engaging second half, Enemy would have been a solid action drama. Arya's character had the potential to become an iconic villain on the lines of Siddharth Abhimanyu of Thani Oruvan, but due to a cliched writing and predictable characterization, his actions don't look threatening. Leaving aside these shortcomings, if you are a fan of stylish action entertainers, Enemy could turn out to be a good watch.  
CAST: 
Vishal is quite impressive as Chozhan and he delivers a fine performance. Action being his forte, the star actor is effective. Arya looks menacing and smart as Rajiv and, it is good to see him on the other side of the play. However, in the emotional scenes, Arya's performance lacks completeness. Prakash Raj, despite appearing in a short role, leaves his mark with measured performance. Thambi Ramaiah as an innocent father does justice to his character. Mirnalini Ravi looks pretty on screen, but, coming to the acting part, she isn't given any responsibilities as she just appears in a brief number of scenes.  
TECHNICAL:  
Thaman's songs do not have his trademark touch. Sam CS' pulsating score complements the film's subject and it helps in adding energy to the scenes. RD Rajasekhar's cinematography looks solid making the film look neat and rich in terms of visual quality. Raymond Derrick Crasta's racy cuts work in favor of the film.  
SO?  
A film like Enemy needed a strong writing with a highly engaging second half!
Verdict Vishal and Arya hold this middling action-drama to a decent level!
Galatta Rating: (
2.5

/5.0 )
User Review
Latest Tamil Movie

Reviews