Sabhaapathy Movie Review
(2021)
Santhanam's Sabhaapathy Movie Review - film co-starring MS Bhaskar, Pugazh, and others
https://www.galatta.com/assets/review/sabhaapathy-movie-review-og.jpg
19-11-2021
R Srinivasa Rao
Release Date :
19-11-2021
Movie Run Time :
2:03 Hrs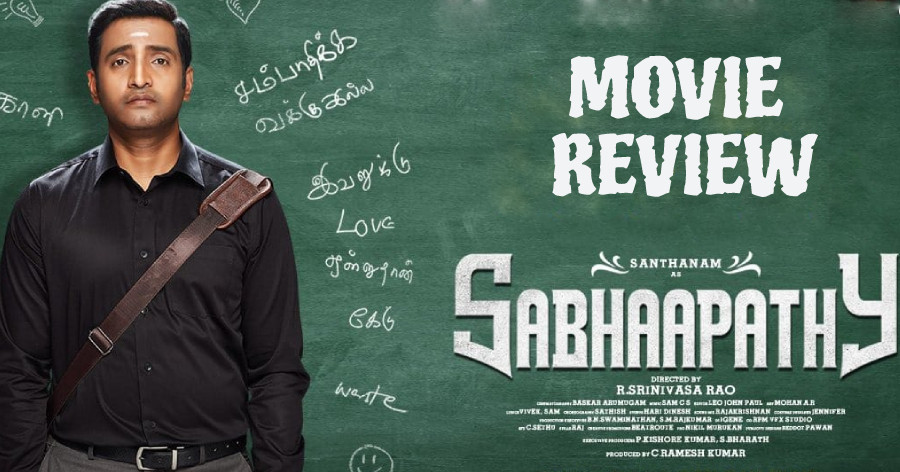 Sabhaapathy Movie Cast & Crew
Production :
RK Entertainment
Sabhaapathy is Santhanam's latest outing in Tamil cinema and the film has released in theatres amidst a good pre-release buzz. The film is directed by debutant R Srinivasa Rao and has music composed by Sam CS. MS Bhaskar, Cook with Comali sensation Pugazh, and Preeti Verma play crucial roles. 
STORY: 
Sabhaapathy (Santhanam) has stammering issues and that stands as a barrier for him while appearing for job interviews. He is forced by his father Ganapathy (MS Bhaskar) to apply for job interviews as he has retired and it is time for his son to run the family. When Sabhaapathy is vexed by his situation, fate decides to play a game with him. A suitcase full of money reaches him and he decides to protect the suitcase at his house. However, fate twists the game by making him lose the case. How did the suitcase full of money disappear from his house and did Sabhaapathy manage to get a job at the end, forms the rest of the plot.  
SCREENPLAY, DIALOGUES, & DIRECTION: 
We are used to seeing Santhanam being loud, extroverted, and talkative and that is considered to be his strength, but in Sabhaapathy, it is totally the opposite and it is a welcome changeover. It is interesting to see Santhanam in a subtle character that yearns to speak, but is put down by people around him. The first half moves at a leisure pace with a good mix of comedy and emotions, while the second half revolves around the core premise. The camaraderie between Santhanam and MS Bhaskar develops neatly and the way their rapport is built is impressive. Director Srinivasa Rao has taken an interesting premise in hand, but the execution and packaging are quite average, as a result of which you don't feel a sense of fulfillment.
The film's intent is good, the idea to showcase Santhanam in a film with the story is interesting, but it would have been better if the scenes had been written in an engaging manner. The vomiting scene could have been avoided as it did not seem to be in good taste. The romantic portions between the leads are ineffective as a result of which we don't get to empathize with Santhanam when he feels for her. Those who expect a high dose of comedy and enter the cinema hall might be disappointed as the film focuses more on serious moments than comedy. With a consistently written screenplay and effective execution, Sabhaapathy would have been completely enjoyable. 
CAST: 
Santhanam delivers a neat performance, managing to bring out the innocence of the character. As already said, it is good to see Santhanam in a different dimension. He emotes well in both the emotional and comic sequences. MS Bhaskar brings his experience into the play and does complete justice to his role as the father. Time and again, he proves that he is a reliable actor for any given role. Debutant Preeti Verma doesn't have much to do, except to feature in one or two romantic scenes and songs. Cooku with Comali sensation Pugazh, who appears just for two scenes, is quite good, but it would have been nice if there was more scope for comedy, with regards to his character. 
TECHNICAL: 
Sam CS' songs sound pleasant, while the background score helps in adding more value to the scenes. Baskar Arumugam's cinematography and Leo John Paul's editing are fine, aiding the director's vision to a good extent. 
SO? 
Sabhaapathy is a mixed bag that has an equal share of positives and negatives. 
Verdict Keeping aside the negatives, Sabhaapathy is a watchable drama for its interesting idea and Santhanam's different performance!
Galatta Rating: (
2.5

/5.0 )
User Review
Latest Tamil Movie

Reviews