Release Date :
31-12-2021
Movie Run Time :
2:14 Hrs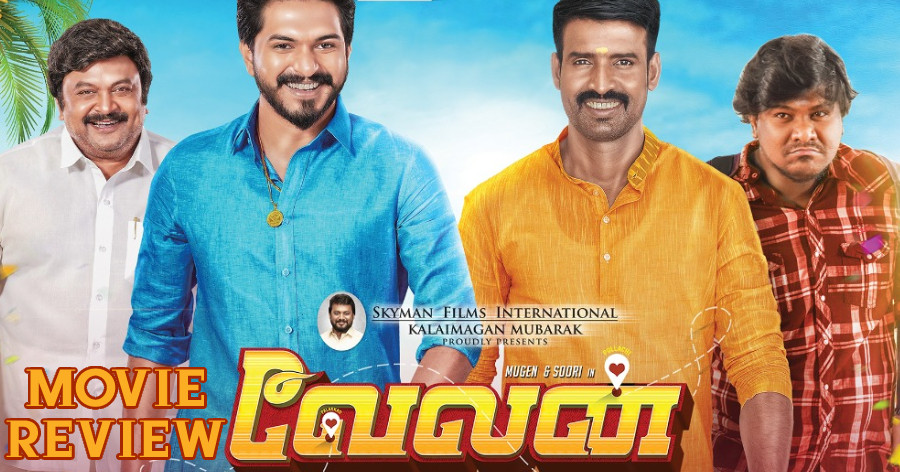 Velan Movie Cast & Crew
Production :
Skyman Films International
Mugen Rao, who earned wide popularity and fame after participating in the third season of Bigg Boss Tamil, has made his debut in Tamil cinema with Velan, which has hit the screens today. Velan is directed by debutant Kavin and has Meenakshi Govindharajan playing the female lead, alongside Soori, Prabhu, Prankster Rahul, Brigida, and others in pivotal roles.  
STORY:
Velan (Mugen Rao) falls in love with his college mate Ananya (Meenakshi Govindharajan), a Malayalee. When they decide to get married, their relationship takes an unexpected u-turn because of a letter, followed by a series of events. Towards the end, do Velan and Ananya get married or what did fate have in store for them is what Velan is all about!
SCREENPLAY, DIALOGUES & DIRECTION: 
Velan is a typical old-school commercial family drama that does a fair job of keeping the audience engaged. The film doesn't offer anything new in terms of story and conflicts, but your patience is not tested as the screenplay moves at a decent pace. Velan takes you by pleasant surprise with some of its interesting twists and that is what makes you invested in the film. The comedy also genuinely works well in several places. If it is Prankster Rahul in the first half, it is Soori who takes charge of the humor in the second half.
On the downside, Velan falls short of engagement in the second half, with the emotional scenes missing to strike a connection. The story turns melodramatic in the climax and that probably is a letdown. Had the treatment been in the right meter, the final outcome would have been better. With a few more neatly written and executed emotional scenes, Velan could have hit the high note effectively. 
CAST: 
Mugen Rao makes a fairly positive debut and he looks confident on-screen. He looks smart with a photogenic face, showing good promise as an actor. His energetic vibe in the light hearted and action scenes are noteworthy. With some good homework for performing in emotional sequences, Mugen will be a bankable actor to watch out for. Meenakshi Govindharajan is good in her role that has template writing. Soori gets an interesting role that offers him good scope for comedy and he does it well. Prankster Rahul is in a total fun mode and helps with a few laugh-worthy moments, while Brigida's portions are cute. Thambi Ramaiah's over-dramatic act is getting redundant testing our patience. Prabhu and Hareesh Peradi do justice to their respective roles. 
TECHNICAL: 
Gopi Sundar's musical score is passable with Mugen's viral hit song, 'Sathiyama Solluren Di' lending good support. However, the placement of the songs is an issue as it hinders the pace of the movie. Gopi Jagadeeswaran's cinematography is neat and colourful complimenting the mood of the film. Sarath Kumar's editing is functional. 
SO?
A typical old-school rural family drama that offers nothing new, but manages to engage you at places!
Verdict Velan is a decent watchable family drama, despite lacking freshness!
Galatta Rating: (
2.5

/5.0 )
User Review
Latest Tamil Movie

Reviews