Release Date :
07-01-2022
Movie Run Time :
2:40 Hrs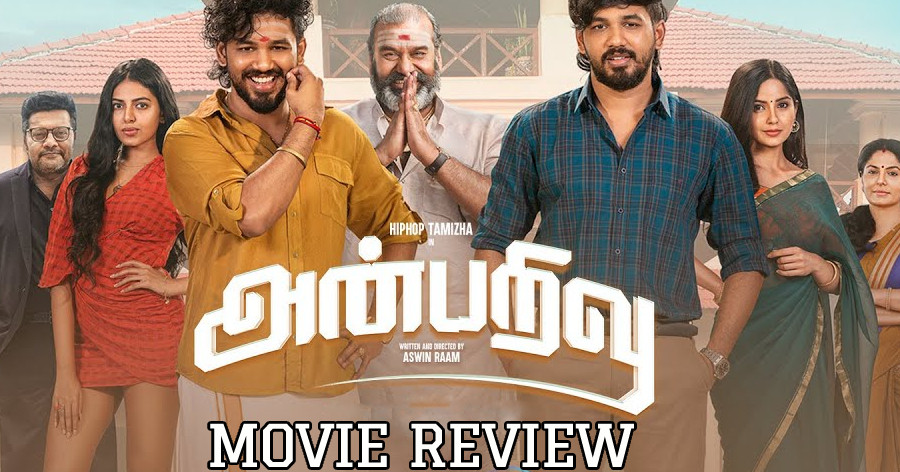 Anbarivu Movie Cast & Crew
Production :
Sathya Jyothi Films
Hiphop Tamizha Adhi's first ever dual act film, Anbarivu is now out on the Disney Hotstar platform as a direct OTT release and here is our review about this family entertainer. Anbarivu which has Napoleon, Vidharth, Asha Sharath, Sai Kumar in pivotal roles, is directed by debutant Aswin Raam. 
 
STORY: 
Anbu and Arivu (Hiphop Tamizha Adhi) are twin brothers who were separated when they were infants due to a family tussle. Anbu stays along with his mother Lakshmi (Asha Sharath) and grandfather Muniyandi (Napoleon), growing up as a short-tempered, rugged man. Arivu lives with his father Prakasam (Sai Kumar) in Canada, as a level-headed and well-educated youth. Certain incidents make Arivu decide to stitch his family together which fell apart 25 years before, because of Pasupathi (Vidharth). Did Arivu succeed in reuniting his family forms the premise of Anbarivu. 
SCREENPLAY, DIALOGUES & DIRECTION: 
Debut director Aswin Raam seems to be a potential filmmaker who can handle big stars and he shows us a teaser of it with Anbarivu which has a decent level of packaging. There are certain scenes that hold your attention and touch the commercial meter on the right note. The action episodes and slo-mo shots are neatly executed supplementing the masala entertainment factor. The idea of Anbarivu - love is knowledge is an interesting one.  The film is high on family sentiments and values and this might appeal well with the family audiences. The film has a mix of both good and uninteresting scenes, making it a mixed bag.
The problem with Anbarivu is its lack of freshness in the story and screenplay. The story is age-old and the screenplay is highly predictable, following a templated pattern. Anbarivu has traces of Uthamaputhiran, Vel, Vantha Rajavathaan Varuven (Attarintiki Daredi), etc in many scenes and you cannot avoid getting that feeling. What Anbarivu needed was a fresh screenplay that was filled with some exciting stretches to give a newer experience to the audience. Also, Anbarivu definitely needed a crispier version. The duration is quite long and since we are already familiar with this plot and its route, the team need not have wasted time with the filler sequences. 
CAST: 
As always, Hiphop Tamizha Adhi is full of energy and charm and this time, it is double the energy since he gets to play two different characters. However, he could have brought in some unique aspect in terms of the body language or style, to differentiate the two characters. Both Anbu and Arivu look similar in many places. Napoleon, with his majestic screen presence and attitude, holds our attention and he does complete justice to his character. Vidharth as the antagonist is definitely an interesting choice and he has done his part fairly well with a good level of conviction. Sai Kumar and Asha Sharath are aptly cast in their respective roles. Kashmira Pardeshi and Shivani Rajashekar don't have much to do in the film.
TECHNICAL: 
Hiphop Tamizha Adhi's songs miss to strike a chord, but the background score aids good support to the movie. Madhesh Manickam's visuals give the film an enriching outlook making it a colourful entertainer. 
SO? 
With a fresher screenplay and shorter runtime, Anbarivu would have made it as a complete family entertainer!
Verdict A templated predictable timepass entertainer! 
Galatta Rating: (
2.5

/5.0 )
User Review
Latest Tamil Movie

Reviews