Atrangi Re Movie Review
(2021)
Dhanush's Atrangi Re Movie Review - film co-starring Akshay Kumar and Sara Ali Khan
https://www.galatta.com/assets/review/atrangi-re-movie-review-og.jpg
24-12-2021
Aanand L Rai
Release Date :
24-12-2021
Movie Run Time :
2:18 Hrs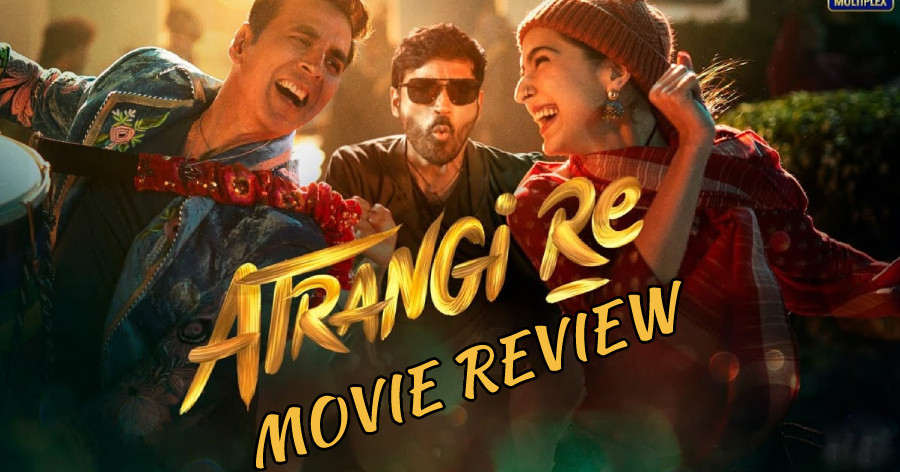 Atrangi Re Movie Cast & Crew
Production :
Cape Of Good Films,Colour Yellow Productions
Dhanush's third direct Hindi film, Atrangi Re, has released on the Disney Hotstar platform and the film is directed by Aanand L Rai. Sara Ali Khan plays the female lead in this romantic drama which also has Akshay Kumar in an important role. The film has music composed by the legendary A.R. Rahman, whose songs already set high expectations among fans. So, how has the film fared? Read on to know!
STORY: 
Vishu (Dhanush), a Medical student, is forcefully married to Rinku (Sara Ali Khan) in unexpected circumstances. Rinku has tried to elope with her lover several occasions but ends up getting caught on each time by her family members. After marriage, Vishu reveals that he is going to get engaged to Mandy (Dimple Hayathi) and similarly, Rinku reveals her love and relationship with Sajjad Ali Khan (Akshay Kumar), who is a magician. Both of them decide to part ways to join hands with their respective partners. But, what did destiny have in store for Vishu and Rinku? Watch the film to get your answer!
SCREENPLAY, DIALOGUES & DIRECTION: 
We have seen numerous love stories, but Atrangi Re stands out with a plot that one wouldn't have expected. Kudos to Himanshu Sharma for coming up with the idea of Atrangi Re. As far as the screenplay is concerned, the first half is good to be enjoyed and it is only post the interval, the film falters. The conflict of Atrangi Re is effectively told and showcased, and it makes you super excited to see what is going to come your way next. However, had Himanshu Sharma and Aanand L. Rai come up with some well-written and executed sequences in the second half, it would have made the film look complete.
The film has a feel good vibe to it, including a handful of scenes in the first half to keep you interested. The portions involving Sara Ali Khan and Akshay Kumar don't hold your attention for a long time. When Dhanush falls for Sara is never told and had that been effectively communicated, the emotions of Atrangi Re would have struck a chord with the audience. The way the mental health problems are treated in Atrangi Re could turn out to be debatable among the audience.
CAST: 
Dhanush is charmingly lovable as Vishu and you cannot take your eyes off him. He plays a vibrant character and that is beautifully elevated with his neat performance. He delivers an outstanding performance especially in the scene where he expresses his love for Sara Ali Khan for the first time. Sara Ali Khan is definitely a talent to watch out for as she portrays her character with conviction. It is not an easy task to play Rinku, but with her determination and earnestness, she makes the impact felt. Akshay Kumar plays his part effectively, but as a character, it falls short of expectations. The rest of the cast do justice to their respective roles.
TECHNICAL: 
A.R. Rahman's musical score is the pillar of Atrangi Re and it holds the film from falling apart. The music elevates the impact of the scenes to higher levels. The songs are also fresh and delightful. Pankaj Kumar's cinematography is rich with neat compositions and well-lit frames. The edit work is functional.   
 
SO? 
With an interesting premise, Atrangi Re has a likeable first half and an average second half!
Verdict Dhanush and Sara's performances and A.R. Rahman's music make Atrangi Re a watchable drama!
Galatta Rating: (
2.75

/5.0 )
User Review
Latest Tamil Movie

Reviews