Aranmanai 3 Movie Review
(2021)
Arya's Aranmanai 3 Movie Review - film directed by Sundar C
https://www.galatta.com/assets/review/aranmanai-3-movie-review-og.jpg
14-10-2021
Sundar C
Release Date :
14-10-2021
Movie Run Time :
2:35 Hrs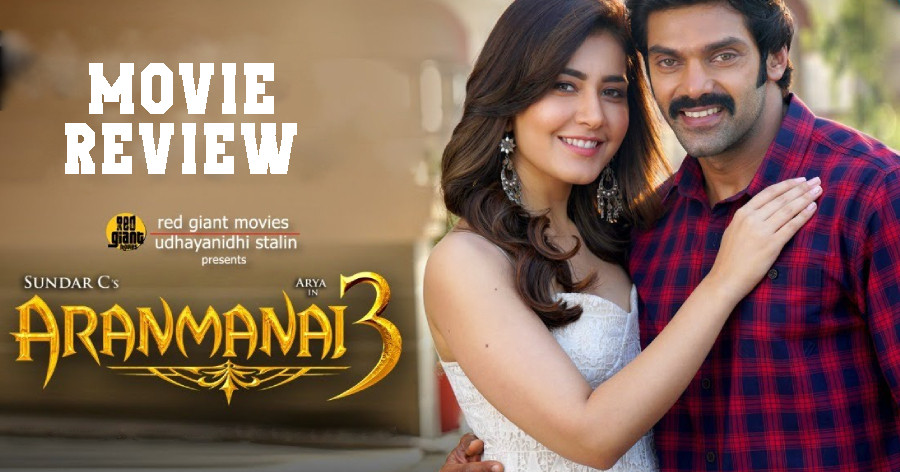 Aranmanai 3 Movie Cast & Crew
Production :
Avni Cinemax
Arya, who recently tasted success with Sarpatta Parambarai, is back with his latest film, Aranmanai 3, directed by Sundar C. Aranmanai is a popular horror comedy franchise in Tamil cinema that has proven to be successful at the box office, despite its mixed reviews. The third installment to the franchise is now out and it features Arya, Raashi Khanna, and Sundar C in the lead roles, alongside Andrea Jeremiah, Vivekh, Yogi Babu, and others. 
STORY: 
Aranmanai 3 follows the story of a ghost that attempts to avenge the man who killed her and her child. A family, a haunted palace, two ghosts, a few priests - Aranmanai 3 comprises of all these aspects that one would witness in a horror drama. We have Andrea playing the ghost who fights for her justice. Did the ghost succeed in taking revenge on the man who killed her? Watch the film to know! 
SCREENPLAY, DIALOGUES & DIRECTION: 
Director Sundar. C has taken the tried and tested formula in hand for Aranmanai 3 and he doesn't try to be too innovative or fresh. If you are okay to watch a templated horror drama, Aranmanai 3 might be of a time pass. However, if you are expecting something fresh or exciting out of the film, you are in for a disappointment. Except for the dramatic yet suspenseful interval block, the film doesn't have any intriguing sequences to keep the audience interested.
Had there been more scenes of that sort, Aranmanai 3 would have definitely been an engaging horror drama. The screenplay fails to hold the audiences' attention for a longer time. Unlike the previous films in the franchise, Sundar C has given more focus towards the content and horror element, instead of comedy and glamour and that is appreciable. The flashback story is emotional and has the potential to strike a chord with the family audience. 
CAST: 
Arya looks muscular and super fit and he delivers a fine performance that doesn't look complainable. Arya is the lead of the film, but he has only played an extended cameo / supporting role as we see him only in a limited number of sequences. It is Sundar C and Andrea Jeremiah who get more prominence with respect to the screentime. Andrea is impressive, while Sundar C is fairly okay. Late Padmashri Dr Vivekh is full of energy and his presence would make the fans emotional. However, only a handful of comedy scenes work, despite having Vivekh, Yogi Babu, Manobala, and many others. The other supporting actors do their part well.   
TECHNICAL: 
C Sathya's music helps with a few jump scares, while the overall score could have been more effective. UK Senthil Kumar's visuals look bright. The art direction department, headed by Gururaj, deserves an appreciation for their work. Senthil Kumar's visuals and Gururaj's artwork complement each other, giving a grandeur look to the film. The CGI / VFX lacks finesse and the horror/fantasy elements would have been more appealing if the CG had been done more properly.
SO?
Aranmanai 3 is a templated horror film that doesn't offer anything new or exciting for the audience. 
Verdict An average film that falls flat on humour, horror, and engagement!
Galatta Rating: (
2.25

/5.0 )
User Review
Latest Tamil Movie

Reviews