Adutha Saattai Movie Review
(2019)
Samuthirakani Adutha Saattai Movie Review
https://www.galatta.com/assets/review/1575029858wt (5).jpg
29-11-2019
M. Anbazhagan
Release Date :
29-11-2019
Movie Run Time :
2:08 Hrs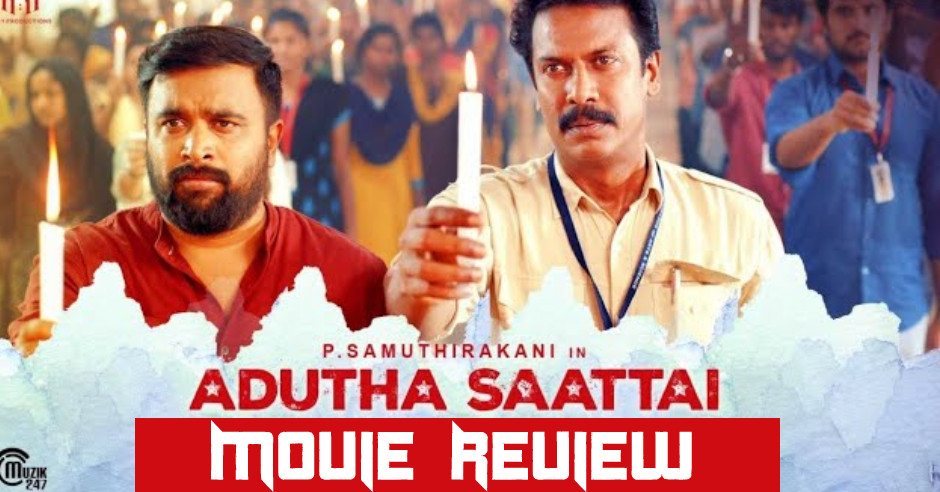 Adutha Saattai Movie Cast & Crew
Production :
Naadodigal,11:11 Productions
Adutha Saattai is the sequel to the 2012 Saattai, which was based on problems faced by the Government school students. Here, the film takes place in a private college. and it showcases the problems faced by private Arts college students. Dayalan, played by Samuthirakani is a Tamil professor who comes in to save and preach what is right and what is wrong to the students and to the other professors of the institution.
Samuthirakani shines as a strong character actor. He does have some heroic fight sequences but does what he is good at. His dialogue delivery carries an easing flow, as always. On the other hand, Thambi Ramaiah gets an eccentric role. He has done a poor job, especially in the dubbing. It is difficult to follow what he is trying to say and his over-acting peaks at times. Saattai actor Yuvan, struggles to pack a convincing performance. Newcomer Kaushik, notable actor Prem Kumar's son, has done a decent job in an innocent character and makes us empathize with him at places too. Athulya Ravi has a meaty role but doesn't leave a mark, except for a lengthy emotional dialogue about caste discrimination.
The intent of this film is praise-worthy, which is along the lines of the exceptional Pariyerum Perumal. However, the staging is extremely clumsy, which is on the lines of Raatchasi. Each scene addresses a student's problem and Samuthirakani solves them all by ending every scene with message-heavy dialogues. This trend continues almost to the halfway mark of the film. The writing is preachy to the core, especially the content about caste has been stressed and portrayed beyond the tolerance level. But, at the same time, you get to witness a couple of satisfactory situations that cools down the moment. Certain portions were actually not bad but the few portions which are watchable get overshadowed by the way the whole film has been treated. There's a hilarious Teachers-Principal meeting scene that offers laughter.
Song placements are messy. If they decide to conduct a retirement function, a preparation song comes up with dance bits (not an event rehearsal track). And, if they decide to start a Student Welfare Association, a planning song with dance bits pops out. The songs are bad too and what else can we expect from the music director if he's asked to compose a track for these irrelevant situations. The climax taps the sympathy factor, though the routine is force-fitted. The intended impact of the climax scene seems force-fit and doesn't engage.
Verdict A message-heavy, preachy education drama that stays far away from a neat script. Might work for those who've gone through colleges with horrible professors
Galatta Rating: (
2

/5.0 )
User Review
Adutha Saattai Movie News
Latest Tamil Movie

Reviews