Tamil Nadu man cycles 130km with wife during lockdown for her cancer treatment
By Vivek Raj | Galatta |

April 11, 2020 20:16 PM IST
As the entire nation has been under lockdown for well over two weeks now and an extension expected to be announced till April 30, there have been many reports of domestic violence in households across the country. Amidst such reports, a farm labourer from Tamil Nadu is being praised for his efforts in taking his cancer-stricken wife from Kumbakonam to the Jawaharlal Institute of Postgraduate Medical Education and Research (JIPMER) in Pondicherry.
Arivazhagan, 65, was lauded by the doctors and paramedical staff at JIPMER, for bringing his wife, Manjula, on time for her treatment despite the nationwide lockdown due to the coronavirus pandemic around the world. Manjula was scheduled to undertake a third chemotherapy session at the Regional Cancer Centre (RCC) at JIPMER on March 31. Arivazhagan was left with no other choice than to take her on his cycle to Pondicherry despite their families advising them not to undertake such a journey.
Arivazhagan had left with Manjula on March 30 to JIPMER for the treatment on the scheduled date. Each time the couple were stopped by the police, Arivazhagan would produce his wife's medical records and the chemotherapy treatment schedule. Having heard the reason for the couple's travel, the policemen provided them with food after which Arivazhagan proceeded on his journey before making one final stop for breakfast at Kurinjipadi on March 31.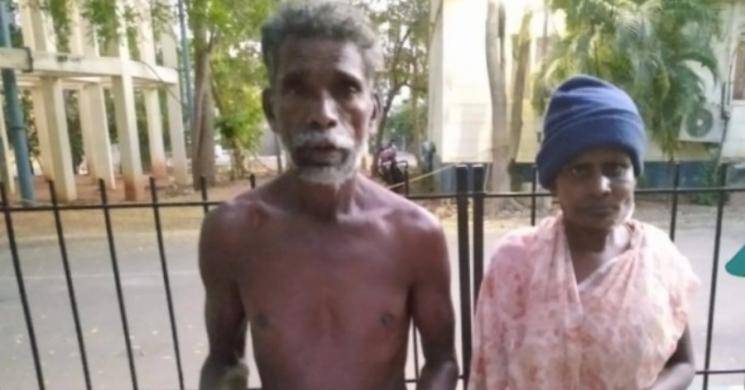 The couple managed to reach JIPMER on time after Arivazhagan pedalled his way through Mayavaram, Sirkazhi, Chidambaram and Cuddalore. Despite all the trials and tribulations, there was disappointment waiting for the couple as all outpatient services were suspended at all units in JIPMER and RCC due to the COVID-19 outbreak. However, the authorities moved by Arivazhagan's efforts for her treatment, took light of the situation and admitted Manjula for the chemotherapy session.
Manjula, who was suffering from Oral Cancer (buccal chronoma), had undergone two chemotherapy sessions at RCC, with good luck favoring her as the disease had not spread. After the completion of the treatment, the couple spent the night at the shelter in the hospital. Food and essentials were provided by the hospital authorities and an ambulance for their journey back home the next day.