Taapsee, Huma Qureshi and many other leading actors shocked with their latest EB bill amounts!
Galatta |

29/06/2020 07:50 PM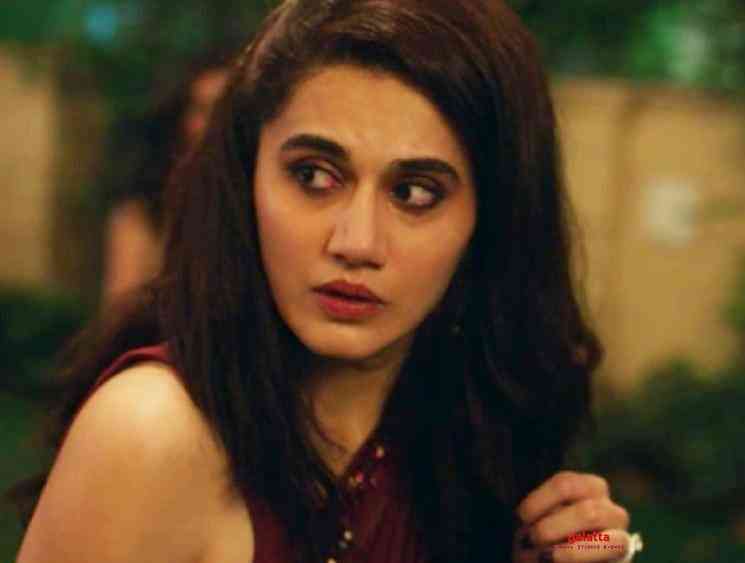 The exorbitantly high electricity bills have shocked not only the general public, but also some of the biggest names in the film industry. A few weeks back, Tamil actor Prasanna had complained about the surge in his electricity bill and he shared the news on his Twitter page only to know that he wasn't facing this issue alone. There were many more people who resonated with Prasanna's thoughts and it created a buzz on social media. People living in Maharashtra are now facing this issue and a series of complaints from popular actors have surfaced on social media. Recently, actress Karthika Nair, daughter of yesteryear actress Radha, complained about the surge in the electricity bill, saying that she had to pay close to 1 lakh.
Following that, actress Taapsee has now expressed her shock over her house's last month EB bill. She also shared the bill amount for the last two months (April and May) to show the high surge in her latest bill. While Taapsee paid Rs 4,390 in April and Rs 3,850 in May, she has now been charged with an amount of Rs 36,000 for the month of June and this sharp surge has made her furiously angry with the Electricity Board. She took to her Twitter space to share screenshots of her bill amount and it has garnered attention among the netizens. "3 months of lockdown and I wonder what appliance(s) I have newly used or bought in the apartment only last month to have such an insane rise in my electricity bill. @Adani_Elec_Mum what kind of POWER r u charging us for?", tweeted Taapsee.
Similarly, Kaala fame actress Huma Qureshi, who is playing the female lead in Ajith's upcoming action film, Valimai, also condemned this raise in EB bill amount. Huma Qureshi, in her tweet mentioned that she paid Rs 6000 as her bill for last month, but has been charged with 50,000 for this month. She questioned the official authorities regarding this surge in charges and asked for a clarification. Huma tweeted, "What are these new electricity rates ?? @Adani_Elec_Mum Last month I paid 6k .. and this month 50 k ????!!! What is this new price surge ?? Kindly enlighten us". Actors like Amyra Dastur, Vir Das, Renuka Shahane, Dino Morea, Ashish Chowdhry, Saumya Tandon were the other ones who spoke about their inflated EB bills on Twitter. Going by the trend, it looks like more celebrities will come forward and raise their voice against this issue.
3 months of lockdown and I wonder what appliance(s) I have newly used or bought in the apartment only last month to have such an insane rise in my electricity bill. @Adani_Elec_Mum what kind of POWER r u charging us for? pic.twitter.com/jZMMoxDMgj

— taapsee pannu (@taapsee) June 28, 2020
What are these new electricity rates ?? @Adani_Elec_Mum Last month I paid 6k .. and this month 50 k ????!!! What is this new price surge ?? Kindly enlighten us

— Huma S Qureshi (@humasqureshi) June 29, 2020
Anyone else in Mumbai get an electricity bill that is triple what they usually pay?

— Vir Das (@thevirdas) June 27, 2020
Omg yes! And I freaking shifted to my mom and dads house in April! They've been charging MY flat which I haven't lived in for 3 months, double of what I would pay actually living there! Mine is BEST. Do you know how to stop this nonsense?

— Amyra Dastur (@AmyraDastur93) June 28, 2020
Dear @Adani_Elec_Mum I got a bill of Rs5510/= on the 9th of May while in June I got a bill of Rs 29,700 combining May & June where you've charged me Rs 18080 for the month of May. How did Rs.5510/= become Rs.18080/=? pic.twitter.com/64zlmNe8Qo

— Renuka Shahane (@renukash) June 28, 2020
I was just going to tweet about it. Literally got a shock, pun intended. There was no surge in electricity, just the bill 🤔 @Adani_Elec_Mum https://t.co/zaJfQzFXla

— Dino Morea (@DinoMorea9) June 28, 2020
My bill was 28000/- up from average of 8000/- @Adani_Elec_Mum . It seems they have added a lockdown surcharge. https://t.co/8qg0xKa6Y1

— Saumya Tandon (@saumyatandon) June 28, 2020