Mr Local Didn't Do Well - Sivakarthikeyan's Emotional Speech!
By Lokesh RV | Galatta |

June 03, 2019 15:26 PM IST
The trailer and audio launch event of Sivakarthikeyan's second production venture Nenjamundu Nermaiyundu Odu Raja happened on Monday at the Sathyam Cinemas and the event was attended by the entire cast and crew of the film. The producer, Sivakarthikeyan was also present in the event. Speaking at the event, Sivakarthikeyan praised the cast and crew of NNOR and spoke high about the movie. Interesting, he also spoke about the failure of his last venture Mr.Local which got everyone by surprise. A hero saying that his movie was a failure at a big stage is a rare thing but Sivakarthikeyan was bold enough to accept his failure.

Here is Sivakarthikeyan's full speech,
"I would like to use this stage for me as well. To my brothers and sisters... Thank You... Your confidence in me is the only thing that makes me tick. It will look like there are a lot of people standing with you when you win but you will only understand that you are standing along when you fail. Losing or standing alone doesn't matter. The only thing that matters is that you are still standing and I am standing.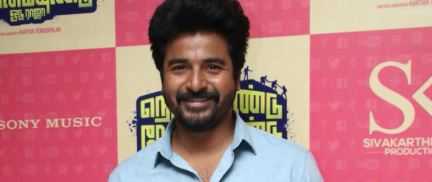 Big thanks to all of you. The movie (Mr Local) didn't do well. But my next movies won't be like that. Stories that you like, stories from your life and what we love, those are the sort of stories that I have in my line-up. These are just like a game... If we get out or lose... the match gets over not the life. I believe in that. I cannot leave this place so easily. You people gave this place to me and there are lakhs of people and their hard work behind where I am standing now. There is hard work behind every ticket that people buy and it also includes my work. More than that, there is pain, agony, betrayal, friendship, love, hard work and more importantly the passion for movies that makes me run. My passion won't leave me I will keep running.

Will be doing some interesting movies ahead. To make my fans happy is the main thing. The movies that I have in my line-up will give the needed profit for my producers. Even my last movie was a profit for my producer but let's not talk about that right now.
As an actor, my first objective will be to satisfy the audience and make them happy. Those who go to theatres for a FDFS to see my face on the big screen, I need to make them happy. They should leave the theatre with a smile or a good message. That is what I am gonna work for. As a producer, success for my distributors, theatres, and my team is what I want. These are the two things that I work for.
Finally, to my brothers and sister, what I would like to say is, Nenjamundu Nermaiyundu Odu Raja, Neram Varum Kaathirindhu Paaru Raja"



Here is the full video,

EMOTIONAL : "நிறைய துரோகத்தை பாத்துட்டேன்" Sivakarthikeyan Latest Emotional Speech