OFFICIAL: Cheran Sent To Secret Room!
By Lokesh RV | Galatta |

September 08, 2019 22:22 PM IST
The third season of the television reality show Bigg Boss has crossed its 75th day and the past week had some interesting episodes as evicted contestants Mohan, Shakshi and Abirami entered the Bigg Boss house as guests. Contestants Kavin, Losliya, Sherin, Cheran and Mugen were the ones to be nominated for eviction this week. As a surprise, one of the promo videos released by the channel on Sunday showed Kamal Haasan holding a card with Cheran's name and it was revealed that Cheran is the one to be evicted from the show this week. The unusual move by the Bigg Boss team planted doubts on the audience's mind that Cheran might be sent in to the secret room.
Tamil" src="https://d1ydle56j7f53e.cloudfront.net/assets/general-images/1567961931tyvrgcct.JPG" style="width: 360px; height: 134px;" title="Bigg Boss Tamil" />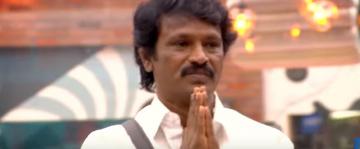 As the show aired on Sunday, Cheran indeed got evicted and came out of the Bigg Boss house. Cheran went on to meet Kamal Haasan and said his goodbyes to the housemates. But minutes before his exit, Bigg Boss announced that Cheran has been given an opportunity to continue in the show and will be sent to the secret room. As soon as the announcement was made, a big cheer came from the audience. The interesting move took Cheran by surprise but he gathered himself and gave a fist pump to the audience who cheered wildly.






As said, Cheran was later sent into the secret room and he is expected to stay there for a couple of days to a week maximum. Things just got more exciting with the secret room coming into play and more twist and turns are expected to happen in the coming week.