Bigil fame Amritha Aiyer puts an end to Bigg Boss Tamil season 4 entry - official statement!
Galatta |

17/09/2020 05:17 PM
The upcoming fourth season of the smash hit Tamil reality TV show, Bigg Boss, was announced recently and has ever since left fans in a state of heightened excitement. All set for a telecast once again on Vijay TV, there have been plenty of reports and speculations in regard to the contestants for the show's forthcoming season. Among the names that are doing the rounds for Bigg Boss 4 right now are Shivani Narayanan, Ramya Pandian, KPY Pugazh, KPY Dheena, Shilpa Manjunath and Suriya Devi to name a few. Likewise, Bigil actress Amritha Aiyer's name too had popped up as a likely contestant in the show after she recently teased fans about her participation during a Q&A session on Instagram. 
Having said that, Amritha Aiyer has now issued a statement to clear the air on her participation in Bigg Boss Tamil season 4 once and for all. She posted a story on Instagram on Thursday saying, "I really want to put an end to the rumors ! I'm not going into the Bigg Boss show guys !!! Thank you". A few days back, fans were left wondering about Amritha taking on the show after she teased them saying, "I don't know. Let it remain a suspense", along with her cute trademark smile. Her latest statement has finally answered the million dollar question and her fans have now been provided with a better picture on her plans for the future.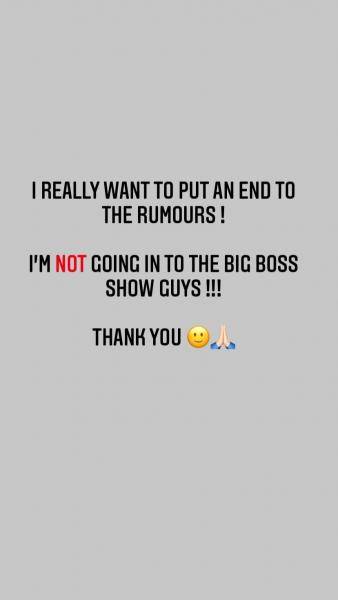 The hype surrounding Bigg Boss 4 in Tamil is huge once again as Kamal Haasan is returning to host after he appeared in the previous three editions, all of which turned out to be resounding successes. A couple of short promos and a teaser were released a few days back, which signaled that the show is indeed on track to be telecast, with all eyes set on the next official announcement from Vijay TV in regard to the contestants and when it will begin airing. It is also being speculated the fourth season of Bigg Boss Tamil too will turn out to be an astounding victory in terms of TRP ratings as the earlier editions did.