Nerkonda Paarvai trailer is here, marking an important milestone on the way to release
Galatta |

13/06/2019 01:00 PM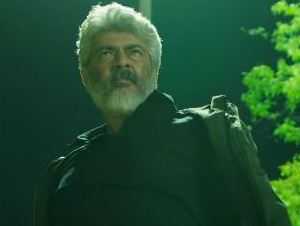 Here's a breakdown: Our society, where property is safer than the women, have seen the rise of movies like Pink and Queen (Malayalam movie, 2018) and the logic is simple: underdogs in any situation love the feeling of being avenged and women do feel that sort of gratification when these movies heap abuses on the offenders. Movies that involves a sex crime and revolves around the court like a John Grisham novel banks on this simple logic - while the law has no need to gratify a victim or do any more than close a case, a movie is going to dramatise a case hearing in a way that people - of all genders - may righteously feel avenged on behalf of the victim. 

Tamilians love being emphatic where emotions are concerned and therefore, it was possible that the remake of Hindi movie Pink could be an entirely different movie. Now the much-awaited trailer is here and our wait has been justified!

The way the camera angles are set in the courtroom and even the costumes - are so reminiscent of the Hindi movie that it is hard to not try and compare. The character artists who appear in the trailer all look and sound wonderfully 'Tamilised', but the girls do look a but alienated from the surrounding, at first glimpse. Maybe the movie is going to make us feel differently, we do know that Shraddha Srinath is an able actor. The dialogues seems to be shadowing the Hindi storyline pretty closely, whether the dialogue writing uses the linguistic uniqueness of Tamil or sticks to translatio only, seems to be seen.

Ajith probably is the only one who could translate the alpha male vibe BigB commands - perhaps he wears that aura in a much better fashion. The Ajith factor is all male, but in a calm and reassuring kind of way (remember the breezy English Vinglish cameo?). His tones are soothing and expressions menacing, and it is sure going to be a pleasure to watch him shred the criminals down. The quiet, uplifting Pink is intact in the trailer and the movie probably has a stronger scent of righteousness to play to our emotional sensibilities.


Then Ajith cracks a dude's skull with a log and sends him crashing into a lamp. So there is more. Possibly this is even better.

Boney Kapoor of the Kapoor family that reigned Bollywood production since the black-and-white times is beginning in Kollywood with Nerkonda Paarvai. It will also be Vidya Balan's tamil debut and actor Kalki Koechlin also has an appearance. Mark the calendars if you haven't already: Ajith's 59th is releasing on the 10th of August.