Release Date :

05-07-2019

Movie Run Time :

02.45 Hrs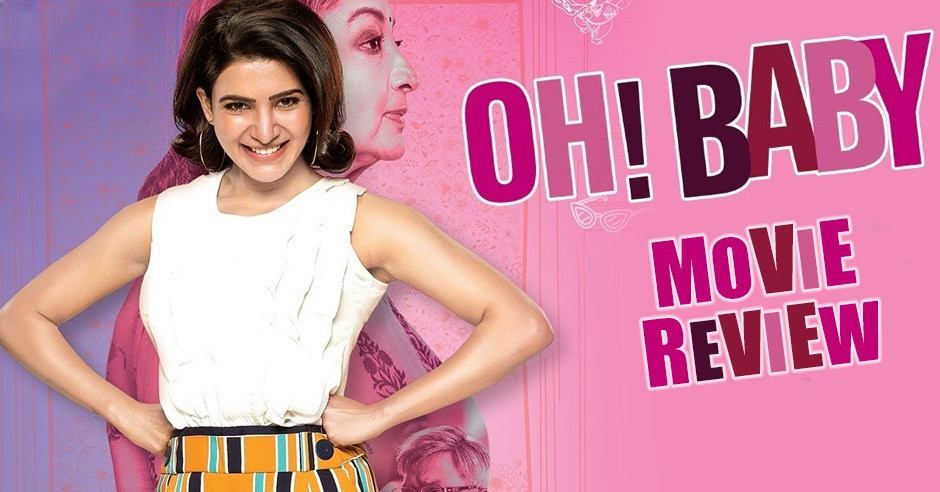 Oh Baby Movie Cast & Crew
Cast :
Lakshmi,Naga Shaurya,Samantha
Production :
Suresh Productions Pvt. Ltd
Director :
Nandhini Reddy
Music Director :
Mickey J Meyer
The titular 74-year-old Granny finds herself becoming less relevant to the family she helped raise and also the world she now lives in. While reflecting on her life on one particularly bleak day, she mysteriously turns back the clock 50 years to regain her physical appearance from the age of 24. Nothing else has changed with the world but she's now stuck in the body of her former 24-year-old self.
The first 20 minutes of this film is a Straightforward drama about the life of a granny and her surrounding family. Veteran actress Lakshmi gets a meaty role to play after a while and she has done full justice to her role. She plays a granny who is wise and kind and cares for her extended family but she's also stuck in her ways, nags a lot and seemingly doesn't have much left to look forward to in life.
The 20-year-old version of the granny is played by Samantha, ultimately it is her film, she is dually tasked with playing an adorable young girl from the past mixed with a modern older woman from the present. Her initial portions in the film is the juicy part of the script, which is quite fun and interesting since it had something unique to offer. Samantha is very impressive throughout this film right from the moment she bursts onto the scene.
She is quite impressive, sometime a little too much than what was required. Apart from a few lip-sync issues, she was just so flawless for the role. It is nice to see Samantha opting for such performance-oriented roles in the recent past. All of the auxiliary characters were relevant and solid when called upon and there are no real antagonists to speak of, to get in the way of things.
Oh Baby is a classic example to tell filmmakers that you don't need an antagonist every time to come up with a commercial script. What acts against the film is the run-time which could have been 20 minutes shorter. A few scenes that slowed down the pace should have been trimmed.
But overall most things fall into place quite well with this flick, including the technical department which has supported the movie very well. It is a clever idea to blend a fantasy script with formulaic elements in order to produce a simple, fun and entertaining movie.
There are plenty of emotional scenes which majorly works in the favour of the film. Oh Baby tends to get a tad cheesy towards the end. The song which talks about Samantha's flashback portion, was very brilliantly conceived and well executed. It is a film that both the youth as well as oldies can connect with.
Verdict :Oh Baby - An emotionally fun fantasy ride that could have been shorter!
Galatta Rating: (
2.75

/5.0 )
Public/Audience Rating
Oh Baby
Oh Baby is a Telugu movie. Lakshmi,Naga Shaurya,Samantha are part of the cast of Oh Baby. The movie is directed by Nandhini Reddy Music is by Mickey J Meyer . Production Suresh Productions Pvt. Ltd.