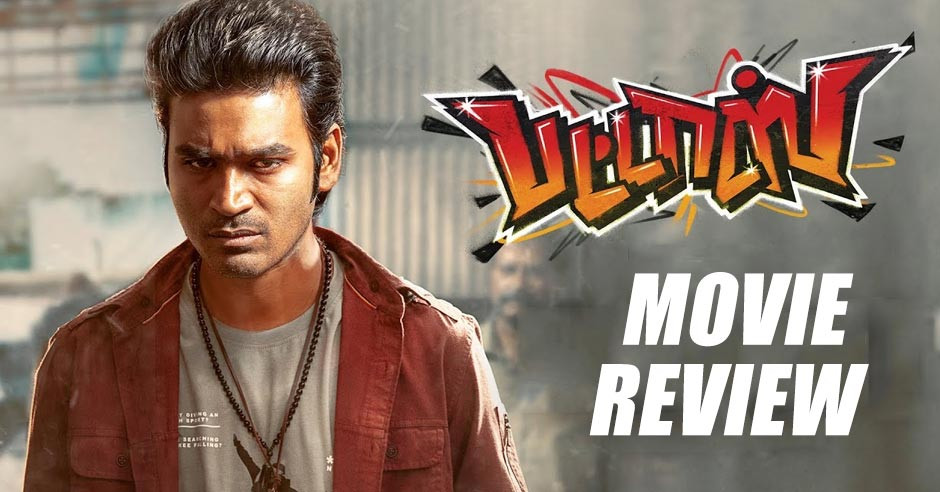 Pattas is a typical commercial film that talks about a son taking revenge for his father's death. It also raises awareness to promote an ancient Indian martial art called 'Adimurai' but in trying to promote one art, the Pattas team has unintentionally degraded another. There is nothing much in the story than what we saw in the trailer. More than the story, the treatment and storytelling are highly predictable. There is nothing that triggers our curiosity to keep us excited. Dhanush has teamed up with Durai Senthilkumar after Kodi and we are not sure why they had to choose another revenge script similar to their previous film.  
 
A rivalry between exponents of two different martial arts disciplines being played out over the years;, that's the core premise of Pattas. Durai Senthilkumar wastes no time to get into the story! He starts off by establishing who the lead is and how he gets entangled with issues. The film lags at no place, the screenplay is fast but at the same time, it doesn't let you get attached to any of the characters involved. Dhanush hardly has an action scene till the end of the fast half, but when he gets into action mode, he makes sure that the theatre erupts. The pre-interval scene, where Dhanush finds out his roots and begins to hit back, that's the scene to look for.  
 Casting is perfect and Dhanush steals the show imperially. The father Dhanush's intro is colossal and is accompanied by deafening applause. He is good in action, emotions and romance too; a perfect combination indeed. Sneha has an equally powerful role to play, in fact, she has more mass scenes than Dhanush in the first half. Naveen Chandra makes a comeback in Tamil; he looks perfect for a character that is unfortunately half-baked. The character's intentions weren't conveyed properly. Nassar plays the pivot and his stern appearance and dialogue delivery command respect. Mehreen Pirzada gets a passable role and though she played her part well, the love portions are a major distraction.  
 
Vivek-Mervin's scores are perfect for the story, that is set in two different time periods. The BGM is lilting at times and fun when needed. The 'Chill Bro' track is fun while 'Morattu Thamizhan' is motivational. Om Prakash's cinematography is functional. Dhilip Subbarayan's fight moves are brilliant. He has taken on the responsibility of promoting India's martial art 'Adimurai', throughout the film. Incorporating these martial art moves with modern-day action scenes must have been quite challenging but has been done really well. Even though some moves are repeated, Dhilip has given his best to make all the fight scenes interesting.
Verdict A quintessential revenge drama that lacks the emotional heft
Galatta Rating: (
2.25

/5.0 )
User Review
Latest Tamil Movie

Reviews