Gehraiyaan Movie Review
(2022)
Deepika Padukone's Gehraiyaan Movie Review - film streaming on Amazon Prime Video
https://www.galatta.com/assets/review/gehraiyaan-movie-review-og.jpg
11-02-2022
Shakun Batra
Release Date :
11-02-2022
Movie Run Time :
2:28 Hrs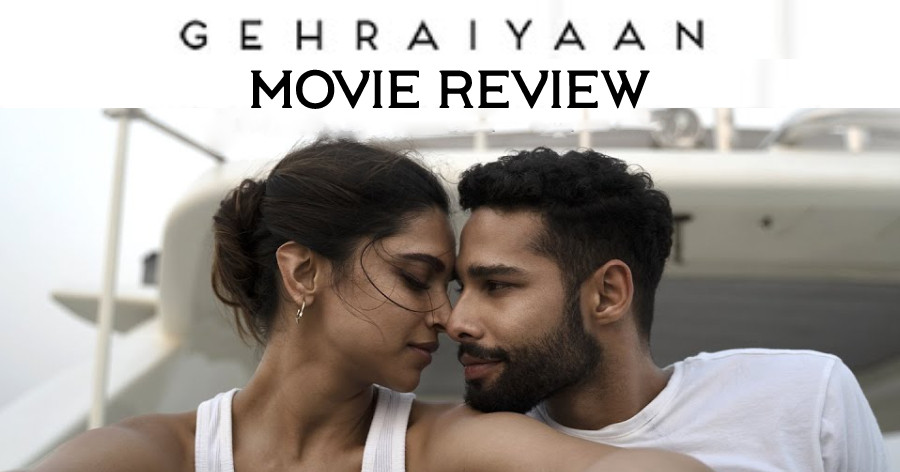 Gehraiyaan Movie Cast & Crew
Production :
Viacom 18 Motion Pictures,Dharma Productions
Gehraiyaan focuses on Alisha who is at crossroads in her life. Troubled by her pasts and unpleased with her present, her life takes a drastic turn with the arrival of her cousin and fiance. Their reunion unravels many uncharted secrets and presents the reality as layers eventually start peeling off.   
STORY: 
Gehraiyaan is a romantic drama that revolves around Alisha (Deepika Padukone), a yoga instructor who lives with her unemployed writer boyfriend Karan (Dhairya Karwa). Her life is at crossroads because of her troubled pasts and turbulent present. Her life takes a drastic turn with the arrival of her cousin Tia (Ananya Panday) and her fiance Zain (Siddhant Chaturvedi). Tia and Alisha are reunited after spending years apart from each other. The newly engaged couple invite the two to their beach house to catch up. Zain and Alisha make acquaintance and hit it off quick due to their shared traumatic pasts. They eventually start seeing each other without their respective better halves knowing about it. Things start to go astray when the dark past catches up to them unraveling the reality and unspoken truths. What will happen once all the beans are spilled?
SCREENPLAY, DIALOGUES AND DIRECTION: 
The movie is written with great depth. It dwells deep into the topics of relationships, tragedy, betrayal and most importantly the acceptance and acknowledgement of mental health disorders like stress, anxiety, suicide and PTSD. Clearly a lot of thought has been put this as each subject matter in the film is dealt with great respect. It is well paced and does not rush into things to convey the message.
The story presents itself slowly but steadily and gives us a twist when least expected. One small drawback would be the film slightly going off-course and gets into the business that happens in it. Though being a crucial element, it was given a lot more importance than necessary which was kind of questionable. The dialogues were very good. Each dialogue is well moulded and crafted around their respective character's persona and works perfectly. Nothing that the characters say seems out of the ordinary.
Therefore, there are no confusing moments from the audience's wondering why they said what they said. Everything that is being said is for a reason and no more or less is piled on to it. This keeps the flow of conversation in the movie very smooth and natural. Shakun Batra has done a brilliant job directing this film. Doing justice to the movie's title, meaning the depths, he portrays the great depths of character, their intentions and harsh realities. He does not stray away from what is important and does not hold back at all. With such honest direction, no wonder the stars stood out with their roles and the film playing out so smoothly. 
CAST: 
Dhairya Karwa does a decent job with his role as an aspiring writer who is struggling. He portrays the hardships and difficulties of his work environment as well as his personal life very well. Unlike his acting skills, his dialogue delivery took a few hits at certain moments no matter how natural the dialogues are, the way it is conveyed all rests on the actor's shoulders and it seemed his shoulders were getting a little tired sometimes. Ananya Panday brings a lot forward as it is the first time we are seeing her give such a serious and emotional performance. That being said, since it was her first time venturing in unknown territory, she loses grip of herself at times and is not able to convey the emotions with ease. But it is not something that affects her performance instead just a small observation.
Siddhant Chaturvedi gives the movie everything he has got. He produces small nuances to his role that contributes a lot to both his character and performance. He is charming when needed, emotional when needed and hot-headed when needed, and all these aspects were needed.
Coming to the most important cast member, Deepika Padukone steals the show. She carries the movie on her back to the finishing line to grab that first place prize for her performance. She effortlessly portrays her self-doubting and disturbed character. Her acting makes us empathize with her character and all that she goes through giving us an immersive movie experience.
TECHNICAL: 
The cinematography by Kaushal Shah successfully captures the themes and element of the movie. Almost every frame is a visual spectacle and does not waver all that much. OAFF and Savera Mehta do wonders composing the music for the film. The background score works with the dark and harsh themes of the film and also helps ease us into the situations that both us and the characters are put into.
SO?
Gehraiyaan digs deep into the depth of characters, relationships, betrayals and the ugly truth and is an emotional roller coaster.
Verdict Overall, Gehraiyaan is a great watch and is bound to keep the audience invested with high emotions! 
Galatta Rating: (
3

/5.0 )
User Review
Latest Tamil Movie

Reviews