Andhaghaaram Movie Review
(2014)
Andhaghaaram Tamil Movie Review Atlee Arjun Das Vignarajan
Release Date :
24-11-2020
Movie Run Time :
2:51 Hrs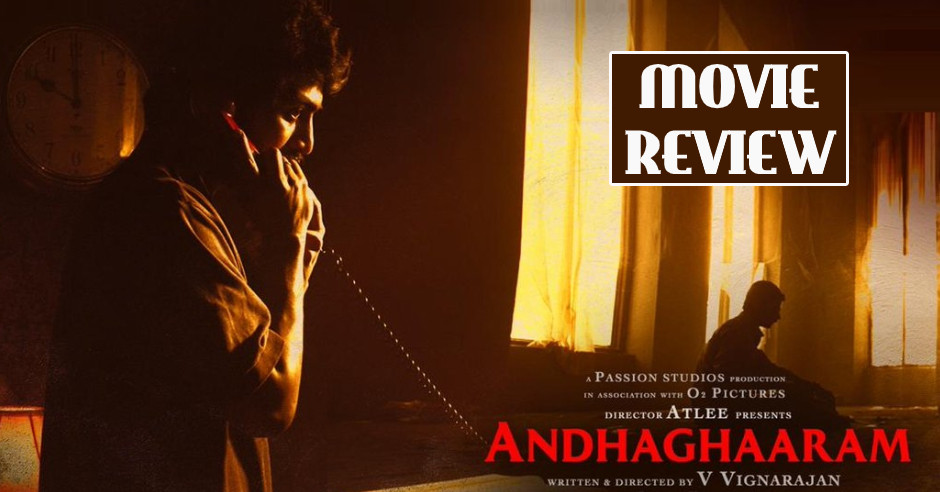 Andhaghaaram Movie Cast & Crew
Production :
Passion Studios,A for Apple Productions
Debut director Vignarajan's Andhaghaaram, starring Kaithi sensation Arjun Das and Vinoth Kishan in the lead roles, is the latest OTT release in Tamil cinema. The film is streaming on the Netflix platform.
Andhaghaaram tells you that it is going to be an unusually interesting film right from the beginning and you are hooked to your screens. Even after going 1.5 hours into the film, you are not able to guess or figure out concretely what is going to happen and that is where director Vignarajan plays his game smartly. You are introduced to three different characters - a young cricket coach Vinod (Arjun Das), Selvam - a visually challenged individual working in a Government Library, and Dr. Indrans - a troubled psychiatrist. All three of them face problems individually in different ways. What connects the lives of these three people together? Well, to know how the dots are connected, watch the film. 
When we talk about the film, we need to talk about director Vignarajan's vision in delivering a product of this uniqueness. The way he unfolds the mystery and reveals the suspense is interestingly done and it garners good attention. Vignarajan makes a strong mark as a talented filmmaker with Andhaghaaram and one could probably say that he is here to stay. More than anything, Vignarajan pays more attention to smaller detailing and he creates a certain mood of eerie-ness as the film progresses. 
One of the fewer concerns about the film is its pace and runtime. Andhaghaaram is a slow-burn thriller, agreed, but one could feel that the mysteries could have been unraveled much earlier. However, if you could patiently watch the film, you are in for an immersive experience. Andhaghaaram will be a treat for hardcore cinema fans who love to hear different stories. Also, the end reveal in the climax could possibly be disappointing for a few people and it is going to be a subjective take. 
Coming to the performances, Arjun Das gives his best as a hot-headed young man who is disturbed by things that happen around him. He conveys his confused state of emotion through his eyes and he leaves a good impact. Technically, Andhaghaaram is Arjun Das' debut Tamil film, considering that this was made 6 years before, you need to appreciate the man for his performance. Vinoth Kishan as the visually challenged youngster delivers his best and he proves his mettle as an actor. His subtle performance justifies the character and he does complete justice. Pooja Ramachandran and Meesha Ghoshal  Kollywood are apt in their roles. Casting has been an integral part of Andhaghaaram and the actors have been chosen rightly.
Cinematographer AM Edwin Sakay is another hero of Andhaghaaram. His visuals are strikingly amazing and the shot compositions are neat. Andhaghaaram is a visually appealing film and Edwin plays a key role in it. Pradeep Kumar's background score haunts you at several places and leaves a good impact.  
Director Atlee has presented this film and he definitely needs to be applauded for backing up the film and making it release today. Atlee's popularity and brand image indeed helps Andhaghaaram gain more visibility. 
Verdict: Andhaghaaram is a solid thriller that is strong on performances and technically brilliant!
Galatta Rating: (
3

/5.0 )
User Review