Release Date :
09-12-2021
Movie Run Time :
2:14 Hrs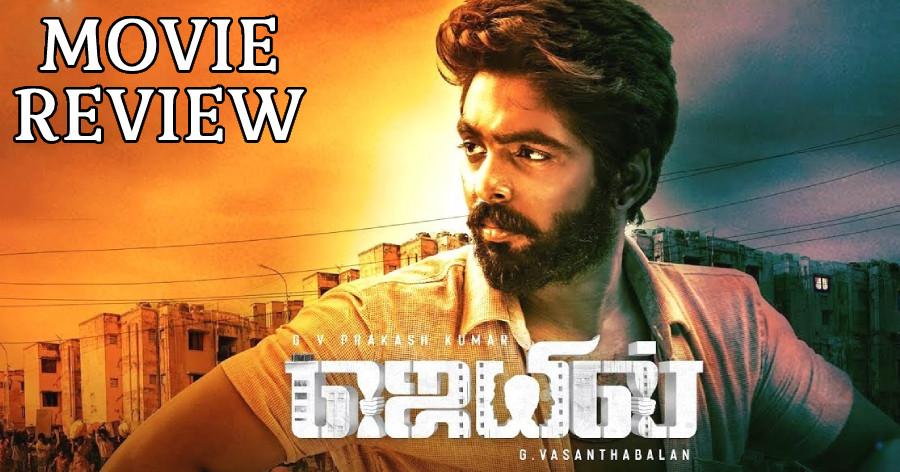 Jail Movie Cast & Crew
Production :
Krikes Cine Creations
GV Prakash Kumar's Jail is a film that has gone through a long and patient wait to release in theatres. The film is directed by acclaimed filmmaker G Vasanthabalan, known for directing intense emotional dramas like Veyil and Angadi Theru. Amidst a good pre-release hype, Jail has now been released and here is what we think about the film. 
STORY: 
The story of Jail is set in Kaveri Nagar, centered around three friends, Karuna (GV Prakash), Rocky (Nandan Ram), and Kalai (Pasanga Pandi). The three boys who were deprived of their education due to the system get involved in various gang wars which turn their life upside down. Following one such tragic gang war, the Police come into the picture and play spoilsport with the life of Karuna. What was Karuna's fate after locking horns against the Police is what Jail is all about. 
SCREENPLAY, DIALOGUES & DIRECTION: 
Vasanthabalan makes his good intent felt through a few well-written scenes and he manages to create a world that has set some distinctive characters.  However, it would have been great if the same had been reflected in the writing of the screenplay as well. Jail does not focus on one single issue in detail and instead touches upon several issues, just on a surface level. As a result, we don't get connected with the characters and their problems. The film constantly divulges into various subplots and you don't really understand the main conflict.
The majority of the second half falls flat without any solid scene to hold your attention. The narration moves at a wavered pace which makes us feel that the film is draggy, especially the latter half of the film. The main problem with Jail is that it doesn't have a substantial plot to keep the audience hooked. The initial voice-over during the title credits sequence is suggestive of one story, but what we receive later is something else. For a film like Jail, the emotions should hit the audience at the right levels, but in reality, you never feel empathetic towards the characters.
The mother-son relationship is also not effectively staged. Vasanthabalan is someone who is strong in capturing human emotions in an impactful manner and his filmography is an example of that, but in Jail, he finds it hard to recreate the magic. Jail would have been a compelling watch if the film had solid stretches to hold our attention, with strong addressing of one conflict, rather than many.  
CAST: 
GV Prakash delivers one of his best performances as Karuna and this one surely has an important place in his filmography. He has adapted well to the world of Jail and his homework to portray Karuna is noteworthy. It would have been great if his performance had found a place in a strong story. Abarnathi is quite a surprise as she manages to leave a good impression as the extroverted and enthusiastic young lady. Her dialect and energy adds more authenticity to the character. Ravi Mariya and Radikaa Sarathkumar do justice to their respective roles. Nandan Ram who plays Rocky shows good promise and seems to be a talent to watch out for. 
TECHNICAL: 
GV Prakash's 'Kaathodu Kaathanen' song stands out, while the other songs are passable. The background score acts as a good support system, elevating the intensity of the scenes. Ganesh Chandra's visuals look neat, capturing the rawness of the locality and its characters. Art director Suresh Kallery deserves a mention for establishing the landscape with believability.   
SO?
Jail has a good intent, but the uninteresting narrative makes it a draggy watch!
Verdict Jail falls flat on emotions and engagement! A disappointment from Vasanthabalan! 
Galatta Rating: (
2.25

/5.0 )
User Review
Latest Tamil Movie

Reviews