Coronavirus | Vijayakanth requests people to post mask selfies on social media
By Vivek Raj | Galatta |

April 24, 2020 10:49 AM IST
Actor turned politician Vijayakanth issued a statement on Friday requesting the people of Tamil Nadu and the cadre of his political party, Desiya Murpokku Dravida Kazhagam, to take selfies while wearing a mask in the fight against the coronavirus and post the pictures on social media pages like Facebook, Instagram and Twitter while also updating their WhatsApp display and Status. Vijayakanth has stated that doing so will raise awareness on the importance of wearing a mask during the ongoing crisis and added that the selfies must be kept as their display picture on their mobile phones till May 3 when the nationwide lockdown will come to an end. It was only a few days back when Prime Minister too had urged the citizens of the nation to wear mass during his second lockdown address along with adopting social distancing to stop the spread of COVID-19 while also raising awareness about it.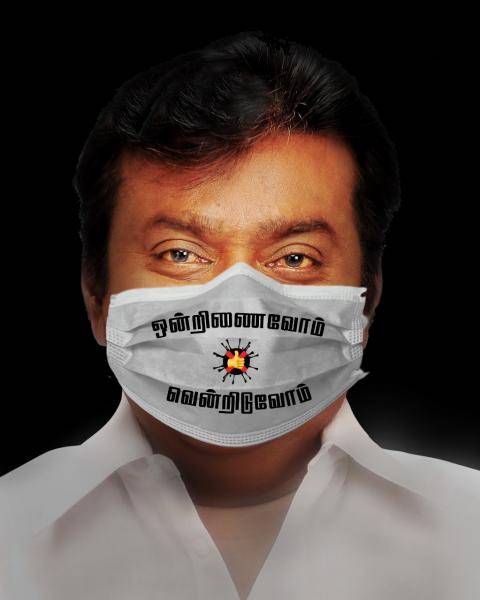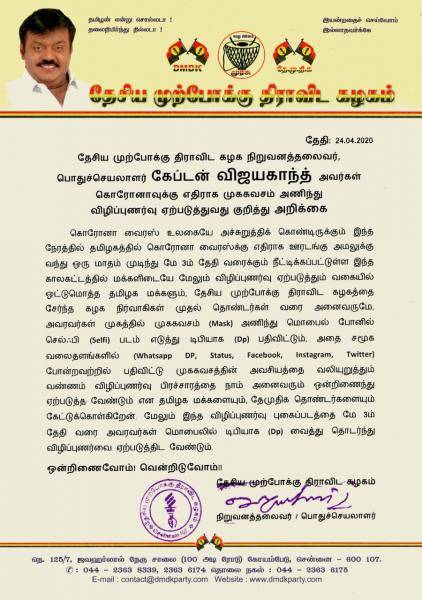 தமிழக மக்களும், மற்றும் தேமுதிகவினர் அனைவரும், அவரவர்கள் முகத்தில் Mask, அணிந்து மொபைல் போனில் Selfi படம் எடுத்து டிபியாக (Dp) பதிவிட்டும், அதை சமூக வலைதளங்களில் (Whatsapp DP, Status, Facebook, Instagram, Twitter) போன்றவற்றில் பதிவிட்டும் (1-2) pic.twitter.com/eVQuROHEuI

— Vijayakant (@iVijayakant) April 24, 2020
முககவசத்தின் அவசியத்தை வலியுறுத்தும் வண்ணம் விழிப்புணர்வு பிரச்சாரத்தை,நாம் அனைவரும் ஒன்றிணைந்து ஏற்படுத்தவேண்டும் என கேட்டுக்கொள்கிறேன். மேலும் இந்த விழிப்புணர்வு புகைப்படத்தை மே3ம் தேதி வரை அவரவர்கள் மொபைலில் டிபியாக(DP)வைத்து தொடர்ந்து விழிப்புணர்வை ஏற்படுத்திட வேண்டும்.(2-2) pic.twitter.com/6WZPT3C8x1

— Vijayakant (@iVijayakant) April 24, 2020
Vijayakanth made the headlines earlier this week when he announced that he is willing to allot a portion of land in the campus of his Shri Andal Alagar College of Engineering for the burial of coronavirus victims. The DMDK chief's decision had come after the news of a neurosurgeon in Chennai, Dr. Simon Hercules, had passed away due to the COVID-19 virus, after which his body was not allowed to be buried at cemeteries, which left many shocked and disappointed. Vijayakanth won hearts across Tamil Nadu with people taking to social media to praise him for his efforts towards coronavirus victims.