Vanitha Vijayakumar's heated argument with Kasthuri on Twitter | Fight gets nasty
Galatta |

20/07/2020 01:20 PM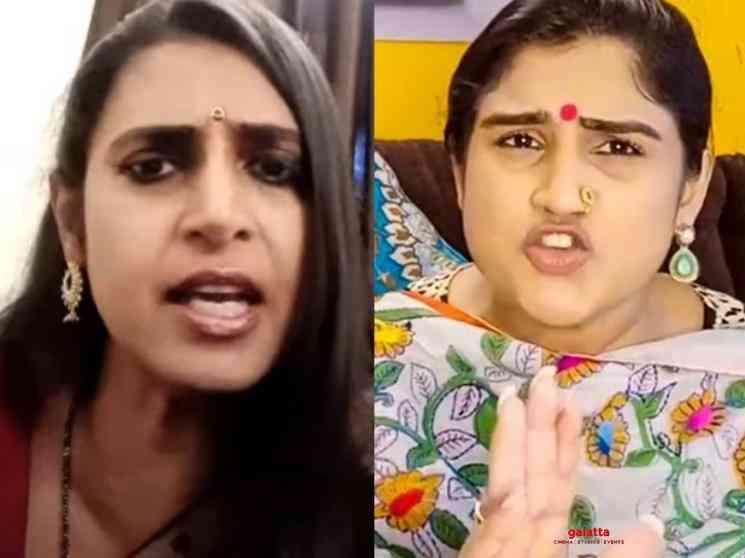 For the past few days, the entire social media is abuzz about Vanitha Vijaykumar's wedding and the controversies that followed after. The Bigg Boss 3 contestant got married to VFX Supervisor Peter Paul on June 27 in Chennai amidst the lockdown, in the presence of selective guests. However, post the wedding, Peter Paul's first wife Elizabeth Helen came out and demanded justice. People like Suriya Devi, producer Ravindar Chandrasekhar came in support of Elizabeth Helen and condemned Vanitha Vijayakumar's activities.
With so much going around, Vanitha and Peter Paul came together for an interview on Vanitha's YouTube channel and the said interview has already garnered a lot of attention among the people of Tamil Nadu. Peter Paul explained his side of the story and it got a mixed reception from the audience. Following the interview, Elizabeth Helen strongly condemned the attitude and behaviour of Peter Paul and said that his words have depressed her.
Actress Kasthuri Shankar of Indian and Bigg Boss fame came in support of Elizabeth and interacted with her through an interview for Galatta Media. Kasthuri also condemned Vanitha's behaviour on Twitter and asked her to maintain her limits. However, Kasthuri's words irked Vanitha and eventually that lead to a strong exchange of words and emotions on the micro blogging platform. Kasthuri and Vanitha had a heated argument after which Vanitha said that she will be blocking Kasthuri.
Vanitha tweeted, "Going on YouTube trying to act like a saint and role playing as lawyer and judge is against law when it is not legal platform just to create a publicity stunt probing into someone's personal is the cheapest possible creature @KasthuriShankar @LakshmyRamki lay off ur drama". Kasthuri replied to this by tweeting, "Look who is talking. Take your private life off youtube then talk. Hypocrite. Stop your cyber abuse, whole world saw your potty mouth against madam Lakshmi. No TV show friends here to conveniently edit out your expletives. You are exposing yourself, no one else is to blame."
In return, Vanitha said, "You can't take off your nude pictures off internet can u… @KasthuriShankar u think ur perfect just because no one is bothered about ur boring sick life..and all ur butting into politics and acting like some experienced lawyer or journalist..when it doesn't involve u the decent ting to do is stay away." The argument has created a huge buzz on social media and let us hope things settle down as soon as possible. Check out the tweets below:
You can't take off your nude pictures off internet can u...@KasthuriShankar u think ur perfect just because no one is bothered about ur boring sick life..and all ur butting into politics and acting like some experienced lawyer or journalist..when it doesn't involve u the https://t.co/p7WSUQdD2G

— Vanitha Vijaykumar (@vanithavijayku1) July 20, 2020
And u know nothing about life.what gives u the right to appear as a lawyer to a lady u hardly know and create a fake drama on YouTube as if it were a fiction story.u r misusing media for getting publicity using other people's problems. Just because media carries my news it

— Vanitha Vijaykumar (@vanithavijayku1) July 20, 2020
Actors are creating an unnecessary dramatic impact for after all your benefit eating on others remains. If you really want to help go legally not in media crying for sympathy in somebody's personal

— Vanitha Vijaykumar (@vanithavijayku1) July 20, 2020
bayanthuttiya kumaru ? 🤣🤡🙂 Fraidy cat :))

The world now knows who provokes others, and if others hit back, you abuse them & run away. Singapenn 🤣 Please note that till this minute, I have never questioned your personal life choices, But only your cheap PUBLIC actions. https://t.co/34hnxSh93O

— Kasturi Shankar (@KasthuriShankar) July 20, 2020