West Bengal BJP chief Dilip Ghosh advises to drink cow urine to fight coronavirus
By

Vivek Raj

| Galatta |

Jul 18, 2020, 04:00 pm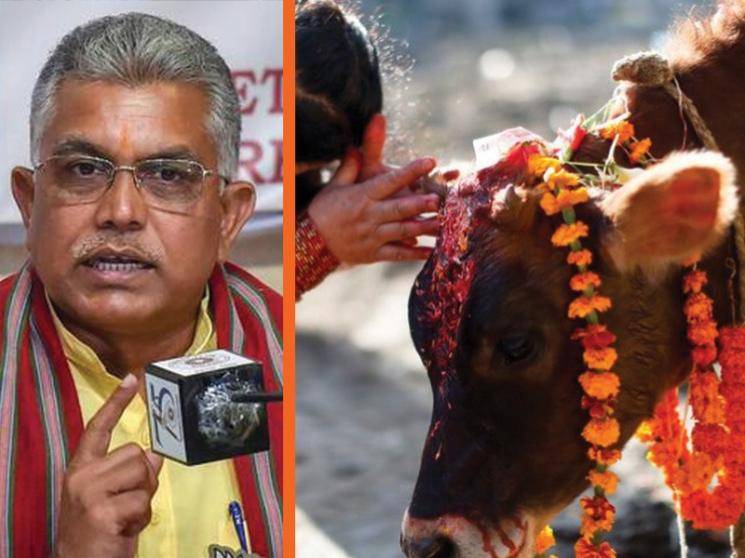 In a video that is doing the rounds online on social media, West Bengal BJP President Dilip Ghosh is seen encouraging the use of cow urine to improve the immunity against coronavirus. Mr Ghosh is seen in the video speaking at a meeting in Durgapur on Thursday regarding the need for home remedies while stating that cow urine should be consumed to stay healthy.
Mr Ghosh in the video is heard saying, "If I speak about cows, many feel uncomfortable. Donkeys will never understand the worth of a cow. This is India, the land of Lord Krishna and here we worship cows. We will have cow urine to stay healthy. Those who consume alcohol, how will you understand the worth of a cow,". He also addressed the long queues witnessed outside liquor shops when the state had eased the lockdown restrictions.
It is to be noted that the Bengal BJP chief had in the past as well made a controversial statement on cows. Mr Ghosh said back in November 2019 that cow's milk contains gold, with the statement leading to heavy criticism and scrutiny by people from social and political circles. He had also earlier this year in May suggested that no harm would come upon drinking cow urine and that he had consumed cow urine.
Many leaders from the BJP in Bengal have criticized Mr Ghosh calling his statements "unscientific". Complaints have already been registered by the West Bengal government against right wing groups' members for the distribution of cow urine. Furthermore, action against a civic police volunteer has been taken after the person had consumed cow urine in public.
West Bengal's coronavirus cases have risen to 38,011 after a single-day spike of 1,894 cases were reported. The death toll in the state has gone up to 1,049 after 26 more deaths linked to the disease were recorded Friday while the number of recoveries has gone up to 14,709.