By

Vivek Raj

| Galatta |

Jul 20, 2020, 12:15 pm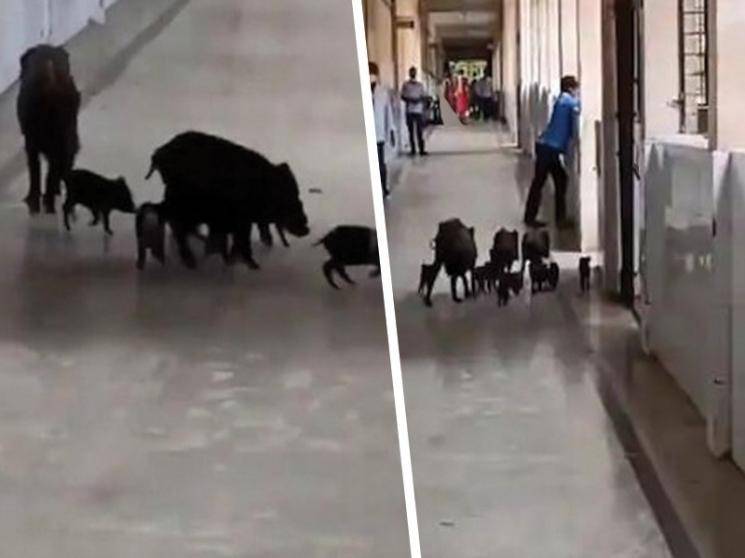 In a video that has gone viral across the country, a herd of pigs roaming freely in the corridors of a COVID-19 hospital in Karnataka, has left many in shock. The video shows the pigs moving about minding their own business in the midst of the people around them, who seem undeterred by the presence of animals. The hospital staff, who are to be seen carrying about with their duty, do not seem bothered by the squealing or grunting by the herd, thus showing the hospital management's absolute negligence in regard to the hygiene of its premises'.
The COVID-19 medical facility in debate is the Kalaburagi hospital, where the incident had reportedly taken place on Wednesday, with its video since being widely shared online. Post the release of the video online, the state administration has come under fire by many in the political circles with local Congress legislator Priyank Karge calling out the management of the hospitals in the region as outright poor.
Former Union Health Secretary K Sujatha Rao too called out the state government for not prioritising its healthcare system, especially during the coronavirus pandemic. Reacting to the Kalaburagi COVID-19 hospital incident as well as other such similar videos exposing the country's sorry state of healthcare administration, Rao tweeted, "Osmania hospital has flood waters in the ward, Bareilly hospital s roof collapses with a waterfall on patients and a Bangalore hospital has pigs roaming around the covid hospital. No wonder we are busy constructing temples. So much easier than managing govt hospitals. So shameful" She added, "When I hear abt neglected govt hospitals, unpaid care givers, I alt between impotent anger & despair. Theres no need 4 such an unacceptable situation. If only r pol leaders cared..instead of temples, vistng hosp, instead of pujas vistg the patients to say we care ..you matter."
Shortly after the video went viral on social networking forums, Karnataka Health Minister B Sriramulu issued instructions to hospital authorities to keep strict vigilance and make sure no such untoward incident occurs ever again. Kalaburagi, earlier called Gulbarga, has reportedly recorded 2,674 coronavirus cases to date. It is to be noted that the first COVID-19-related death in the country was reported from Kalaburagi. Karnataka on Saturday recorded 4,537 fresh coronavirus cases, making it the biggest single-day spike to date, taking the total number of those infected by the deadly virus in the state to 59,652.
Watch the video of the pigs roaming freely inside the Kalaburagi COVID-19 hospital premises on Twitter below:
Pigs are spotted roaming around the aisle of #Covid19 government hospital in Kalaburgi in Karnataka.

Source of the video - https://t.co/ufJptrAdT7

From @Rony09121992 pic.twitter.com/LVD9iO58A2

— Sudip Sarkar (@SudipCares) July 19, 2020