Galatta |

27/02/2020 09:07 AM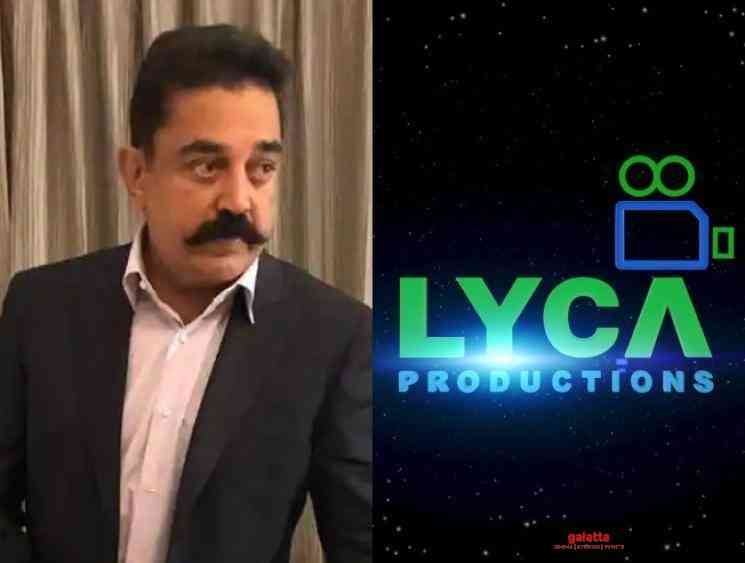 Tamil cinema fans are still recovering from the tragedy that struck last week on February 19 when a crane at the shooting spot of the upcoming Kamal Haasan film, Indian 2, crashed on three assistants leading to their deaths. The Indian 2 shooting was taking place at the EVP Film City on the outskirts of Chennai with Kamal Haasan, director Shankar, Kajal Aggarwal and several other artistes and technicians also part of the schedule narrowly escaping from the mishap.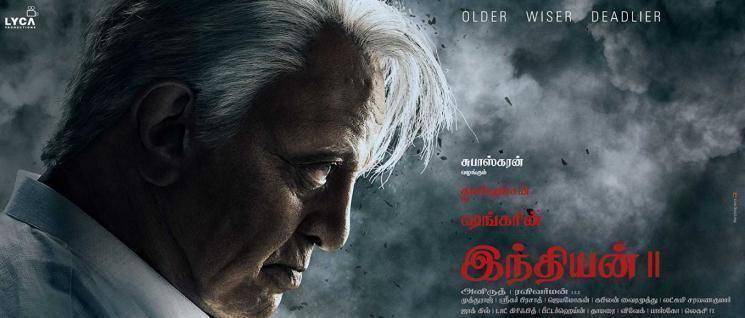 Post the Indian 2 shooting spot accident, Kamal Haasan had written a letter addressed to all production houses including Lyca Productions' Chairman, Subaskaran, requesting them to adopt more safety measures for all the people working in their forthcoming magnum opus. In response, the Director of Lyca Productions, Neelkant Narayanpur, has now written an open letter to Kamal Haasan in which he goes on to state the various efforts taken by them to ensure a safer working environment for all staff associated with Indian 2.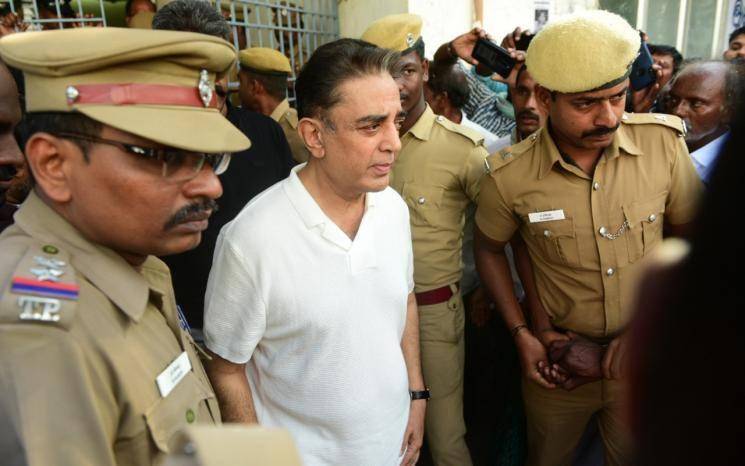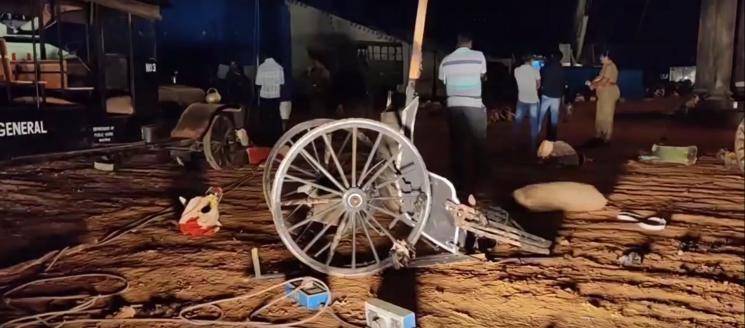 Lyca Productions' Neelkant Narayanpur's letter is as follows:
"To, Mr. Kamal Haasan,
No. 4, Eldams Road, Alwarpet,
Chennai- 600018.
As the director of Lyca Productions Private Limited, I would like to respond to your letter addressed to our Chairman dated 22nd Feb 2020. We are all still recovering from the tragic events of 19th February and all our thoughts and prayers are with the families of our three deceased colleagues. Please be informed that on hearing the news of the incident Mr. Subaskaran and the senior management boarded the first available flight and landed in Chennai at 3 PM on the 20th of February and proceeded immediately to the mortuary to pay respects to the deceased and console their families. We were in constant touch with your office all through and arrived at the mortuary just 15 minutes after you. At that very point, Mr. Subaskaran announced financial assistance to the tune of Rs. 2 crores to the family members of the deceased, and those who suffered injuries and also undertook to take care of their treatment. All these measures were taken before receipt of your letter, and it is unfortunate that this did not come to your attention before the 22nd February.
It is profoundly unfortunate that such a tragic accident took place during the filming of Indian II, despite our firm commitment to the highest standards of health and safety as an international firm. As you are surely aware, incidents of this nature need to be dealt with in the spirit of collective responsibility and rectification. Given the involvement of an eminent artist and technician of your calibre and experience, and a veteran director of Mr. Shankar's stature being the captain of the ship, we were doubly confident that our own safety measures would have been amplified by your on- the-spot judgement. It hardly needs reminding that the entire shoot was also under the control and supervision of the yourself and the director.
We have invested substantial sums towards the production of the film, so you will appreciate that we have not compromised on health and safety. As regards the safety measures at our end, we left no stone unturned: we appointed one of the most seasoned and professional Executive Producers, Mr. Sundarrajan & also Mr. K I Manikandan alias Vimal duly recommended by the director as Deputy Executive Producer on the set to ensure that all the permissions and adequate safety measures were in place. The foresaid two gentlemen were in-charge of the entire production of the film and ensured the safety measures in place. We also took out a comprehensive insurance policy to cover the entire production including personnel accident policy for each member working on the set from a nationalised insurance company. As a further step, we are seeking an additional explanation from Mr. Sundarrajan and Mr K I Manikandan Alias Vimal to make sure all best safety practices were adhered to.
Given the above, let us all work together and pray that the almighty gives all strength to the bereaved family members to overcome the unfortunate loss of their beloved ones.
Yours Sincerely,
Neelkant Narayanpur"
*Neelkant Narayanpur's statement is not spell-checked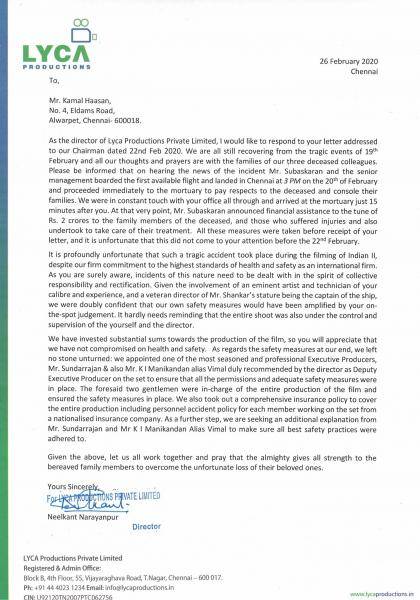 February 26, 2020
About This Page
People looking for online information on Kamal Haasan,Anirudh Ravichander,Priya Bhavani Shankar,Kajal Aggarwal,Rakul Preet Singh,Siddharth,Bobby Simhaa,Samuthirakani,Vivek,Asaph will find this news story useful.