Release Date :
19-08-2022
Movie Run Time :
2:15 Hrs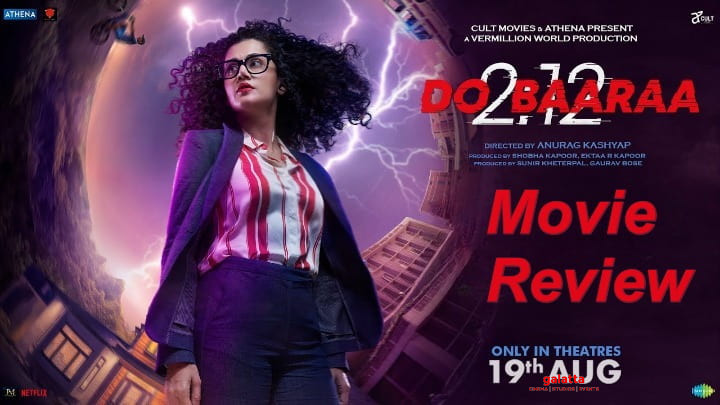 Dobaaraa Movie Cast & Crew
Production :
Cult Movies,Athena,Vermillion World Production
It's fun to see an Anurag Kashyap movie where the angst is almost entirely external, where the characters are basically gears that keep the screenplay machine in motion.
There's a melancholic bit of humour at the beginning of Dobaaraa, directed by Anurag Kashyap and based on the 2018 Spanish film Mirage. A kid is cycling down the street, and on the soundtrack, we hear this song from Golmaal: "Aane wala pal jaane wala hai / ho sake to isme zindagi bita do / pal jo yeh jaane wala hai." Translation: "The present moment is all we have. It's going to disappear soon, so live in the moment." The film is about living in the moment that the title suggests: when the clock shows 2 hours, 12 minutes. As in: do baarah. As we will soon discover, the present moment is all that that kid has. And "do baarah" is the moment Antara's life hinges on. Taapsee Pannu plays Antara, and one of the meanings of that name, that word, is "something in the middle". That's where Antara finds herself for most of the movie: caught in the middle of alternate timelines.
Time travel is not new to Anurag Kashyap, whose glorious Gangs of Wasseypur spanned some seven decades. But sci-fi is a new direction for the director, and he (along with his heroine, who is in top form) shows what he can do with genre material. All I will say about the plot is that it involves a thunderstorm that links Antara and that boy on the bicycle. His name is Anay, and the character is wonderfully played by Arrian Sawant. Antara and Anay get to live in the moment – as that song suggested – dobaara (again). Repetition (dobaara) is a key motif in the movie, which also features Rahul Bhat and Pavail Gulati. Apart from the two alternate timelines, we have two absent fathers – one literally so, and one who has checked out mentally. We have two mothers, whose work is connected to a hospital. And both these mothers have a single child that "disappears" in a sense. There are also two versions of the truth surrounding a murder, one that we assume and one that is revealed. We have two people whose words no one else believes. And so forth.
This is middling material. In fact, I could reuse my headline from my review of Gangubai Kathiawadi: "a great director and a great actress redeem and liven up a not-so-great screenplay". Okay, maybe I'd tweak that a bit. The story/screenplay is perfectly functional, and everything – every twist – locks into place. And the film isn't without intrigue. On the surface, the narrative plays like Back to the Future as remade by Alfred Hitchcock in his Vertigo/Marnie phase. But given Antara's predicament, and given the part that the boy has to play in the proceedings, I wish writer Nihit Bhave had dug a little deeper and mined a little more emotion. For instance, when a boy misses his father, it would have been nice to have that state of mind affect him throughout the movie. Also, there are some unexplored plot points, like the fact that Antara seems to be able to "see" things when she touches people. I don't think the film would have lost anything had she not had this ability. 

But I guess these psychological and paranormal dimensions don't have much place in a movie that's not just about the moment but also momentum. The pace is measured and yet relentless, barely giving us time to think ahead – which is a good thing in a film that has a lot of balls in the air. Given our familiarity with his work, it's fun to see an Anurag Kashyap movie where the angst is almost entirely external, where the characters are basically gears that keep the screenplay machine in motion. Could Anurag have remade the Spanish film his own way, with perhaps a darker sensibility? I would have loved to have been in that alternate timeline. And the OCD part of me kept wishing the movie had been 2 hours and 12 minutes long, instead of 2:15. But for what it is, Dobaaraa is a solid, entertaining genre piece, especially for fans of films that show how a tweak in the past can change the future. Because either way, all we have is… this moment.
About Author
Baradwaj Rangan
National Award-winning film critic Baradwaj Rangan, former deputy editor of The Hindu and senior editor of Film Companion, has carved a niche for himself over the years as a powerful voice in cinema, especially the Tamil film industry, with his reviews of films. While he was pursuing his chemical engineering degree, he was fascinated with the writing and analysis of world cinema by American critics. Baradwaj completed his Master's degree in Advertising and Public Relations through scholarship. His first review was for the Hindi film Dum, published on January 30, 2003, in the Madras Plus supplement of The Economic Times. He then started critiquing Tamil films in 2014 and did a review on the film Subramaniapuram, while also debuting as a writer in the unreleased rom-com Kadhal 2 Kalyanam. Furthermore, Baradwaj has authored two books - Conversations with Mani Ratnam, 2012, and A Journey Through Indian Cinema, 2014. In 2017, he joined Film Companion South and continued to show his prowess in critiquing for the next five years garnering a wide viewership and a fan following of his own before announcing to be a part of Galatta Media in March 2022.
User Review