Laal Singh Chaddha Movie Review
(2019)
Advait Chandan's 'Laal Singh Chaddha', with Aamir Khan and Kareena Kapoor, has its issues but is an easy watch
Release Date :
11-08-2022
Movie Run Time :
2:39 Hrs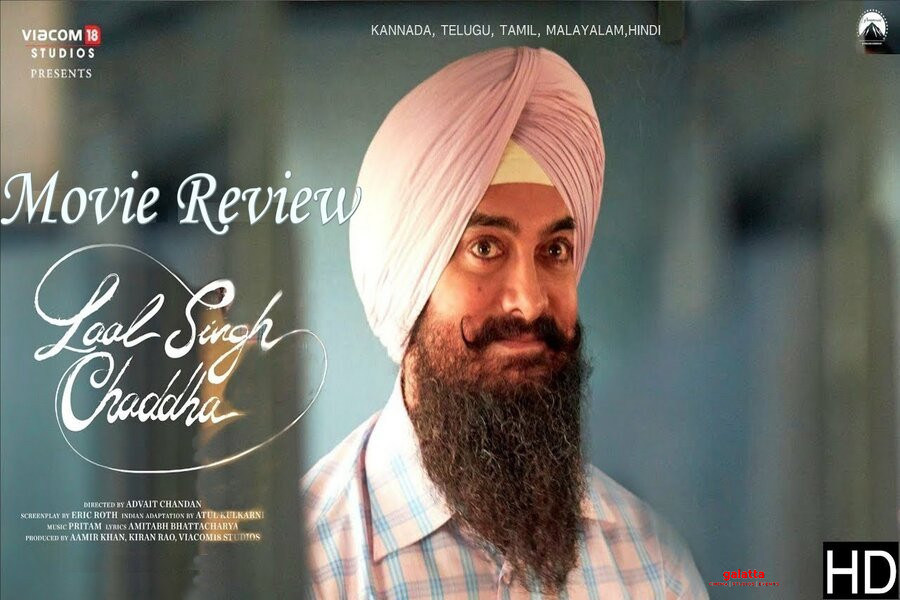 Laal Singh Chaddha Movie Cast & Crew
Production :
Viacom18 Studios,Aamir khan Productions
The first hour is wonderful, but slowly, a sense of dullness sets in. The film, though never unwatchable, gets into repeat mode.
The Forrest Gump character is like the feather we see at the Hollywood film's beginning. He is tossed around this way and that, borne along by the winds of chance. There is not one deliberate act he does. Everything in his life is like what his mother said: a box of chocolates, where you never know what you're going to get. Advait Chandan's Laal Singh Chaddha uses the feather metaphor and many other structural elements from Forrest Gump, with some small tweaks. One of these is the insertion of Pritam's songs, like Kahani, the lovely waltz that plays over the opening credits. The lyrics have heft: Hum samundar ka ek qatra hai ya samandar hai hum? Are we mere drops in the sea or are we the ocean itself? But the tune is simple and that hefty line is followed by a nursery rhyme-like phrase: Pum para rara rum.
That could also be an metaphor, though an unintentional one. The story is filled with horrors: the parting of childhood friends, the Emergency, the anti-Sikh riots, the assassination of Indira Gandhi, or the Kargil war. But Laal Singh Chaddha, played by Aamir Khan, breezes through it all with a Pum para rara rum. He is unable to "process" anything because his IQ is low, but this is exactly the quality that makes him the accidental hero that he keeps becoming. When we do not think of consequences, we are the best we can be. A sentimental notion? Sure. But we could all use a little whimsy from time to time, imagining ourselves the best we can be. And maybe the wittiest we can be, too. Laal calls a fashion show on a catwalk a "chalne ki competition." At that moment, I laughed. I also thought he was the wisest man on earth.
There's a lot of humour in the Naga Chaitanya episodes as well. He plays a man who cannot stop talking about the undergarment business. There's a lot of charm in the scene where Laal teaches a future Hindi film star his signature move. There is some lovely, muted melodrama in the stretch where Laal recognises his roots and finally ties on a turban. What's missing is a touch of romance. Kareena Kapoor Khan plays Rupa, Laal's childhood friend and permanent obsession. The echoes work. When their school picture is taken, all the students look at the camera while Laal looks at Rupa. The same thing happens in a future photograph. But their relationship comes across like one between siblings.
Rupa, again, is a sort-of metaphor. You may try to keep moving away from goodness and innocence – Laal keeps asking her to marry him – but eventually that is what you will return to. The character is written unconvincingly, but despite the odd arcs, it is not a stretch for Kareena. She does well. And Mona Singh is lovely as Laal's strong mother. Their scenes together are the film's best. But after these women leave Laal and he begins his journey on his own, a sense of dullness sets in. The first hour is wonderful, but slowly, the film gets into repeat mode. I wish Laal's run across the nation had packed more of a wallop. Unlike America, each state in India is so different, and I wished they'd done more than just register a few token scenic shots. That might have Indianised this adaptation a little more. Laal's run could have rallied together the nation: I'm just thinking aloud.
Even the historical moments Laal finds himself in are mostly tokenistic, like a mention of the Rath Yatra or Anna Hazare. Laal just happens to be standing there  at that point, or running across at that point. He doesn't actually participate in history, like how Forrest Gump inadvertently ended up a key figure in the Watergate scandal. This lends a distance to the events, and keeps us from getting involved in more than a few episodes. (And that is a problem when the film is essentially episodic in nature.) The best episode in this adaptation by Atul Kulkarni is that of a Muslim character, Mohammad, played by Manav Vij. It is an inspired inter-religious masala-movie touch. It is sentimental, yes, but this episode can use that sentiment.
Films starring Aamir Khan tend to handle complex issues: domestic abuse in Secret Superstar, dyslexia in Taare Zameen Par, parental oppression in Dangal. And these films – for all their strengths – tend to simplify and sentimentalise these issues. That problem does not exist in Laal Singh Chadha because there are no "issues" – except maybe in one portion of Aamir Khan's performance. It can be divided into two parts: with the beard and without the beard. In the latter look, he makes cartoon faces with raised eyebrows, and his mannerisms seem forced. But every time we return to the present, with the beard, he is superb. It could be a shot as simple as him staring out of the window of a train, his eyes misting with tears. Or it could be him hyperventilating after hearing a bit of utterly unexpected news. Or it could be him sitting quietly by a gravestone. Aamir plays the grown-up Laal with utmost conviction, and I slowly began to find his pauses – his um's – quite endearing. Like the Hollywood film's philosophy, Laal Singh Chaddha is like a box of chocolates. You never know what you are going to get next: a good stretch, or one that does not work. Either way, the film is an easy watch on  a big screen.
About Author
Baradwaj Rangan
National Award-winning film critic Baradwaj Rangan, former deputy editor of The Hindu and senior editor of Film Companion, has carved a niche for himself over the years as a powerful voice in cinema, especially the Tamil film industry, with his reviews of films. While he was pursuing his chemical engineering degree, he was fascinated with the writing and analysis of world cinema by American critics. Baradwaj completed his Master's degree in Advertising and Public Relations through scholarship. His first review was for the Hindi film Dum, published on January 30, 2003, in the Madras Plus supplement of The Economic Times. He then started critiquing Tamil films in 2014 and did a review on the film Subramaniapuram, while also debuting as a writer in the unreleased rom-com Kadhal 2 Kalyanam. Furthermore, Baradwaj has authored two books - Conversations with Mani Ratnam, 2012, and A Journey Through Indian Cinema, 2014. In 2017, he joined Film Companion South and continued to show his prowess in critiquing for the next five years garnering a wide viewership and a fan following of his own before announcing to be a part of Galatta Media in March 2022.
User Review
Laal Singh Chaddha Movie News