Manmadhudu 2 Movie Review
(2019)
Nagarjuna Rakul Preet Singh Manmadhudu 2 Movie Review by Galatta
Release Date :
09-08-2019
Movie Run Time :
02.10 Hrs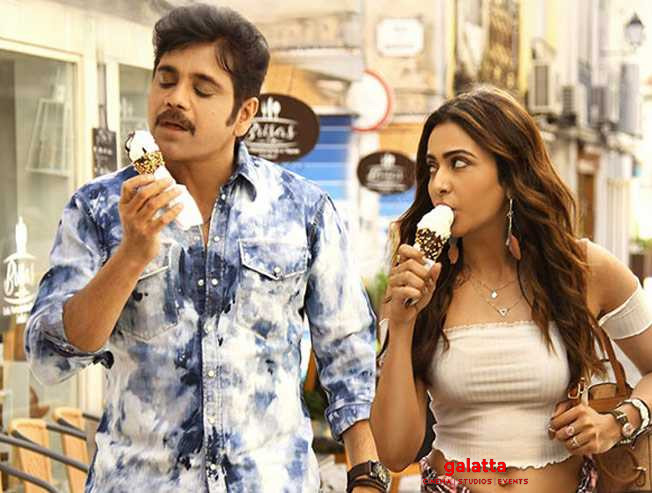 Manmadhudu 2 Movie Cast & Crew
Production :
Annapurna Studios
Manmadhudu 2 is a romantic comedy drama in which a Portuguese playboy perfumer pays a poet to pose as his girlfriend, to placate his pushy family. Directed by Rahul Ravindran who just won the National Award for Best Screenplay for his debut film Chi La Sow. This time, he has adapted a popular French film - I Do and sprinkled a lot of Indian flavour to suit the local audiences. Though it is a remake, Manmadhudu 2's core storyline is very familiar to the Telugu audience who can guess how this film is going to end. Having said that, the film has plenty of interesting moments that will keep you hooked on to the screen right through.

If there is one actor can give his best and consequently touch the viewer with his performance using facial expressions and dialogue delivery, then you are talking about Nagarjuna. It didn't have to do anything extraordinary in this film but to just be himself. We have seen him play similar roles 'N' number of times in the past and this is nothing but a cake-walk for him. Mentions to Rao Ramesh, Lakshmi, Jhansi and Devadarshini are due, for their sincere work irrespective of the leeway their character holds. To see veteran actress Lakshmi in full flow after a long time makes one more attentive while she appears on the screen and she does not disappoint us. Rakul Preet actually has more scope to perform than Nagarjuna here and she does her part rather neatly. But the show-stealer is undoubtedly Vennela Kishore, who is impeccable with his comic timing. He is the main reason for the film to be lively, fun and light-hearted.

There are a few high points in the course of the narration of this film, that are sure to bring a smile on the viewers' faces. Though not everybody will completely like this movie, they will anyway have a few takeaways while leaving the theatre hall. Nobody can completely hate this flick. As the story revolves around the pivotal character of Sam aka Samba Siva Rao (Nagarjuna) all these high points are also based on him. Philosophical takes established through dialogues about companionship and the funny moments between Nagarjuna's family and Vennela Kishore will make you roll on the floor and laugh.

Sukumar yet again shows what a camera can do beyond just capturing actions. The portions canned in Portugal are a real feast to your retina. Seamless cuts from Chota K Prasad and Bonthala Nageswar Reddy make sure to not distract the underplayed high the film is feeding you with. We must give it to the makers for the production value and the packaging quality of the content. In a genre like this, the orbit for music is wide, but in the case of Manmadhudu 2, you might feel it wasn't utilized completely.
Verdict: A time pass feel-good romantic drama that drags towards the end!
Galatta Rating: (
2.75

/5.0 )
User Review