Release Date :
26-03-2021
Movie Run Time :
2:05 Hrs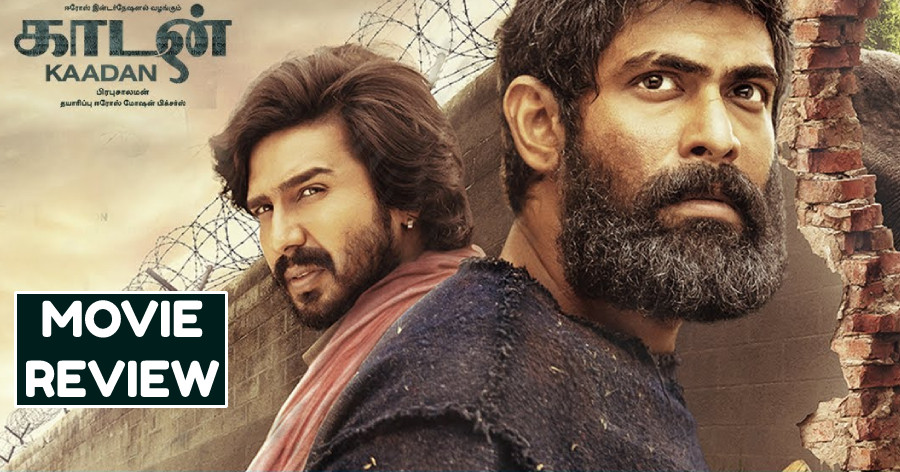 Kaadan Movie Cast & Crew
Production :
Eros International Ltd
After a long journey of 4 years, Prabu Solomon's Kaadan is now finally out on theatres. The film stars Rana Daggubati in the lead role, while Vishnu Vishal, Zoya Hussain, Shriya Pilgaonkar, Anant Mahadevan, and others play supporting roles. Here is our take on the film which talks about the importance of forests, nature, and elephants. 
Kaadan, as the title suggests revolves around a man who lives in a forest (Kaadu) and takes us through his struggles to save the forest and the livelihood of elephants. The protagonist here is Veera Barathi aka Kaadan (played by Rana Daggubati) who has been in the forest since his childhood. He knows animal language, bird language, and leads a happy life with them. However, their bright days shrink when an influential politician, Kurinjinathan (Anant Mahadevan) plans to construct an elite and luxurious township in the forest area. Kaadan warns the construction workers not to build anything in the forest as it is a reserved forest area and says that it would spoil the livelihood of elephants and other animals.
The construction group does not listen to Kaadan and after facing a few hurdles, they manage to build a strong concrete wall to separate the forest from the township area. They get help from Maara (Vishnu Vishal) and his kumki elephant, Jillu. Things turn upside down for Kaadan and the elephants start starving for water and food. In the end, did Kaadan manage to save the elephants and the forest or did he lose to the politician, forms the rest of the plot. 
Director Prabu Solomon has taken up an important social message through this film and he manages to tell it quite effectively. Let us first get into the list of positives and then to the negatives. The story of Kaadan is promising and it has got the potential to be made into celluloid. As like his previous movies, this one is also closely associated with nature and we get to see some beautiful scenic shots - credits to cinematographer A.R.Ashok Kumar. 
Rana Daggubati delivers a highly impressive performance. He is spirited throughout and gives it all for the movie. It is a physically demanding character and he justifies it with his performance and body language. His muscular physique adds more strength to the character. Notably, Kaadan is his first ever straight Tamil film and his lip sync is quite good. Vishnu Vishal scores well in the limited screen time that he gets. His performance in the emotional breakdown scene (after the interval) leaves a good impact. Anant Mahadevan gets to play a templated character that is weakly written. The two female leads - Zoya Hussain and Shriya Pilgaonkar are not used to their potential.  
On the flip side, the emotions don't really work that well. In a film like this, if the emotions strike a chord, you are sure to make a connection with the film and feel empathetic towards the characters. Unfortunately, that does not happen here. The lack of emotional connect could be due to the melodramatic treatment at places. Only in a very few sequences, the emotions work well, for example, the climax portion.  
We are told that Kaadan is a Tamil film and there are scenes that are set in Coimbatore / Nilgiris, but in the visuals, we get to see the Police officers dressed in the North Indian Police uniform. The film has a lot of Hindi flavour in it, right from the locations to the junior artists, and this in a way, alienates us from the film. Had Kaadan been made in a setting like Kumki (the director's previous hit film), we would've got an even closer association with the characters. There's no proper closure given to Vishnu Vishal's character. It would've been quite interesting to see some changes or transformation in his character arc in the middle point of the film. 
Leaving out Rana Daggubati's character, all other characters are either underdeveloped or wasted. You absolutely have no idea why there was this Naxal gang inside the forest as they don't get to do anything at all, in connection with the film's story or conflict. 
As already said, Ashok Kumar's visuals are one of the major highlights of Kaadan and his work is really impressive. Shantanu Moitra's songs are ineffective, but the background music (along with George Joseph) is quite good. 
Director Prabu Solomon's efforts and intention to deliver a socially relevant film are noteworthy and appreciable. The message about the importance of forests and elephants is definitely a good takeaway and the makers can be appreciated for the same. Had the emotions worked well with better treatment, Kaadan would've been a much more impactful film. 
Verdict: A middling affair that has a good message and an impressive performance from Rana Daggubati! 
Galatta Rating: (
2.5

/5.0 )
User Review