Calling all Francophiles: There's an open-for-all French drama happening in Chennai this weekend!
"Hold your face up! or you'll look like you have a beard due to the stage lighting," yells the master at the young student who is trying hard to incorporate all the incessant inputs. The face that is yelling at her is the face of a villain - We have all felt R Amarendran's unforgiving intensity in the villain roles he has done - Velu in Kabali, Deivanayagam in Jill Jung Juck, Sangu in Vikram Vedha to name a few. However, the tone of all the rebuke is that of a mentor. R Amarendran, the French drama enthusiast who has directed and acted in several plays in both English and French, is a mentor who digs till he finds gold in his students. If you are part of the drama-going population in Chennai, you may remember Amarendran as one of the 'maids' (yes, he acted as a woman!) in the adaptation of the French play 'Maids' by Jean Genet. He is back after a small break and this time, he is putting together some French enthusiasts to enact an adaptation of Jean-Paul Alegre's drama, Les Cinq Dits Des Clowns Au Prince.
R. Amarendran's love for acting started in the 1980s when he was a college student. He had attended L'ecole Nationale d'art Dramatique at the Theatre National de Strasbourg in France and later founded the Theatre troupe, Théàtre Arlequin. After a long career in the theatre alone, Amarendran decided to foray into films in 2008. For the past few months, he had been adapting the play "Les Cinq Dits Des Clowns Au Prince" ("Thus said the five clowns to the prince"), in which a French monarch bans all performing arts and demands that the artists take up other professions. Four clowns (played by two artists) who are unable to let go of their art attempt to resist, leading to a comic set of events aimed at convincing the prince to allow music and dance. In the 90-minute-long performance set to happen at Alliance Francaise, Nungambakkam, on this Saturday, you get to see mime-like portions, manipulation of light and ambiance, good old-fashioned stage singing, and the enthusiasm of young Chennai blood.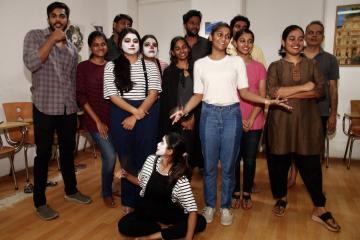 "We are trying to erase the elitist image of theatre in Chennai," explains Amarendran. "You may be from the lower rungs of society. You may be a person of privilege. You have a spot in my troupe if you have the ability and desire to act," says Amarendran. His current troupe of 16 amateur actors is a perfect testimony to this thought. Anybody with the will and ability can act, is the message they all echo. "All of them are students or young professionals who have a genuine interest in acting. They take time out of their busy lives to do this regularly. I never ask my team to stick only to our team's work. All of them are encouraged to watch other troupes like ourselves and cooperate with them wherever there is an opportunity." Amarendran has probably reached a stage in life where a mentor with experience of decades wishes for the propagation of their art. "I just hope that these kids will go on and begin another drama troupe and keep the theatre alive," smiles Amarendran. However, given that the French-speaking population in Chennai is small, the patronage also will be meagre. "It doesn't matter if you have only a small crowd, what matters is the effect you have on the audience that you have," Amarendran points out.
Moreover, the troupe always puts out shows that are free for all. When one willingly spends thousands to watch movies or programmes they don't enjoy, a modernist French play with mime portions and live singing may invoke interest in the genre, hopes Amarendran. The show on Saturday will be a work in progress - meaning you get to watch the first 12 scenes of the story, which deals with the comic events that happen following the ban on performing arts.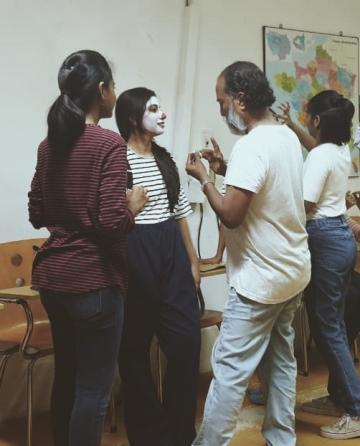 When asked why he likes acting in French plays, Elan Chezhiyan, who is a wolf in the play, says, "To discover who I could become and to learn theatre! I believe this is a good start..." "The workshop was an eye-opener and a lot of fun. I wanted to see how much more I could learn in French and in theatre, so I joined the play," says Kevin Samuel, who has a double role - as clowns - in the play. Shrinivasan, who essays the role of a tragic comedy actor, decided to explore the opportunity to improve his French while picking up some acting lessons. Chander Mouli, who is a ringmaster in the play, found the challenge of mastering the diction of the French dialogues interesting. "One fascinating aspect was having exercises to improve our French in preparation for the play, to get the articulation right. Personally, being on stage gives me an adrenaline rush!" he says.
The troupe plans to stage a second show later, on how the five clowns finally manage to convince the stickler prince. On Saturday, there will be two shows - one at 3 pm and the other at 6 pm.