Galatta |

14/08/2020 10:54 AM
The whole of India was impacted by the news of young Bollywood actor Sushant Singh Rajput's alleged suicide. It came as a major shock when news broke out about Sushant's death. Thousands of his fans and people across the nation were left in extreme grief over the 34-year-old actor's untimely demise. However, it set off quite a few speculations over his death with many people stating his depression to be the main reason behind such a drastic decision. Many conspiracy theories have been going around since and the ugly head of "nepotism" has been rearing up surrounding his death. But one thing his death has started is the awareness related to mental health. Having said that, there are a lot of people who are still not taking their mental health seriously. We have been seeing cases of suicide getting increased day by day. A fan of actor Thalapathy Vijay reportedly died by suicide last evening around 6 PM. A hashtag in his name has been trending on Twitter since yesterday - #RIPBala with fans expressing their shock over this fan's unexpected demise. Bala even hinted about ending his life with a series of tweets that he had posted on the 11th of August.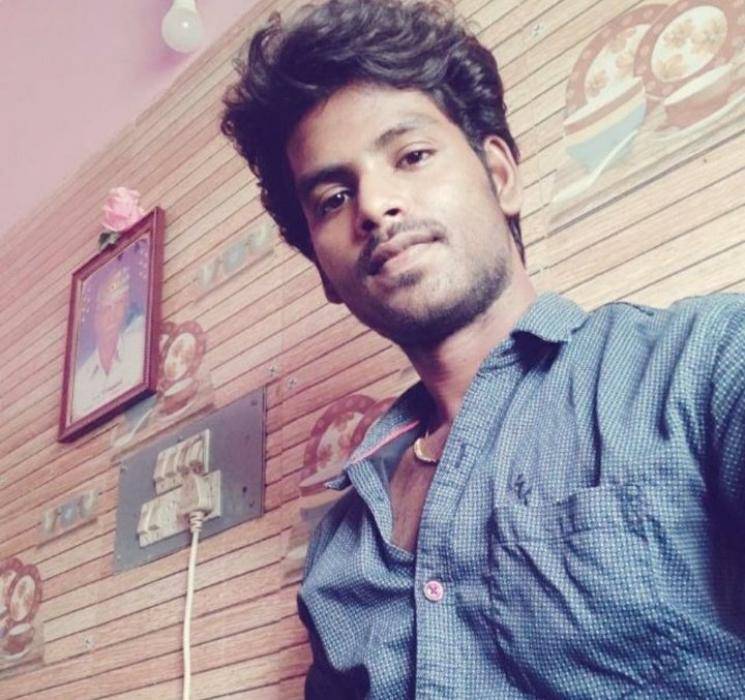 He started his series of tweet with by saying - "நான் கொஞ்சம் சந்தோஷமா இருந்தா அந்த கடவுளுக்கு கூட பிடிக்காது போல ... என்ன வாழ்க்கைடா...(I think even god doesn't like if I am a little happy)." Then he got a little philosophical - "எதுக்கு பொறக்கணும் ,யாருக்காக நாம வாழனும் ,அப்போ அப்போ சந்தோஷத்தை கொடுத்து பரிச்சிகிட்டே இருக்கான் அந்த கடவுள் இதுக்கு மேல என்னால முடியாதுடா மொத்தமா போயிடரன் அப்போவாது எந்த கவலையும் இல்லாம இருக்கலாம் …(Why should I be born, undergo so many problems in life? My happiness don't last for long, maybe if I die, I can let go of all my problems.)" Then he feels bad about lamenting so much, "I could not stop crying, I can only now understand the pain that I have undergone. Finally, even I have started to lament like others." One of his last comment has made all Vijay fans feel sad. "I am going to die without seeing Vijay and also his film Master."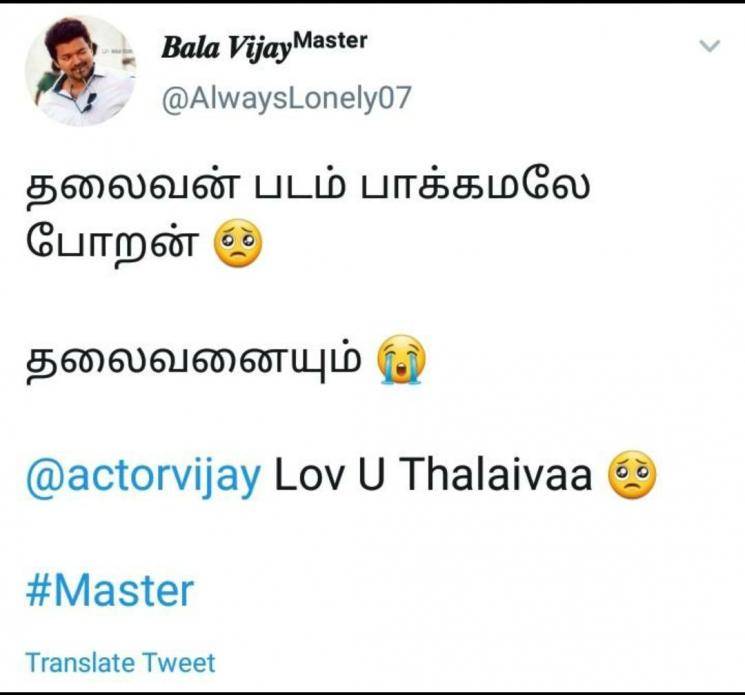 Vijay fans have been posting condolence messages for Bala and have also been sharing videos from Vijay's movie where the actor has emphasized the importance of living.
 
A Kind note to All ! Mental health is Very important. Whatever Worst situation happens in your life, just try to overcome from it. Sucide is not the final decision. Take care of all lives around you. Spread love to everyone. your love can save many lives 🙏🏻🙏🏻 pic.twitter.com/rnnSF6LeCL

— Online Thalapathy Fans Club (@OTFC_Off) June 14, 2020