SP Balasubrahmanyam's health extremely critical, On maximum life support
Galatta |

24/09/2020 07:00 PM
Legendary singer SP Balasubrahmanyam had tested positive for COVID-19 in the first week of August and had been undergoing medical treatment for the disease since then. The legendary singer's son SPB Charan has constantly been providing updates in regard to the six-time National Award winner's health to countless fans around the world since he tested positive for the novel coronavirus. The entire film fraternity including fans a while back offered their prayers and wished the singer-actor a speedy recovery. 
Having said that, MGM Healthcare hospital in Chennai, where SP Balasubrahmanyam is at present undergoing treatment for COVID-19, has released a press note in regard to the singer's current health condition. The latest press note states that the singing icon continues to remain on extracorporeal membrane oxygenation (ECMO), including other life support measures. It also added that his health condition has worsened in the last 24 hours, with maximum life support being extended as he is extremely critical. Health experts at MGM Healthcare are working round the clock and are monitoring his health condition, the note stated. 
MGM Healthcare's Dr Anuradha Baskaran, Assistant Director - Medical Services in the health bulletin has said, "Thiru S P Balasubrahmanyam who had been admitted at MGM Healthcare on August 5th, remains on ECMO and other life support measures. His condition in the last 24 hours has deteriorated further warranting maximum life support and he is extremely critical. The team of experts at MGM Healthcare are closely monitoring his health condition."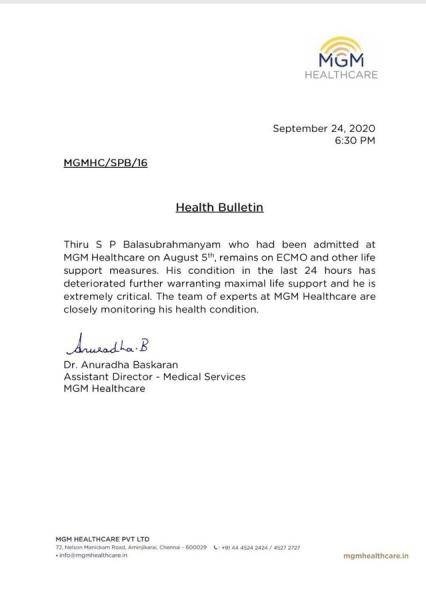 SPB, as he is lovingly called by fans, had made significant improvement a few days back, with SPB Charan informing fans on September 7 that his father had tested COVID-19 negative. He revealed that the 74-year-old's lungs are healing, but was taking some time. Charan had told fans that SPB had begun taking solid food once again and was watching a lot of cricket and tennis on his iPad and expressed happiness that IPL 2020 was going to begin. He added then that SPB was no longer under sedation, with physiotherapy as well going on as planned. Fans are praying and hoping for SPB to come out of his current health predicament and make a complete recovery quickly and soon.