Sowcar Janaki full of energy at Galatta Wonder Women Awards
Sowcar Janaki is 87 years old. We are reminding you of this fact because the grand old dame who came to the Galatta Wonder Women awards was a veritable source of energy, who belies the concept of age affecting stamina. Looking magnificent in a turquoise silk saree and matching traditional ornaments, Shavukaru Janaki walked up the stage with a 1000-volt-smile acknowledging the thunderous applause, to accept the 'Evergreen Entertainer' award. When she shooed away the comperes for the night to hijack their podium, the very diverted audience settled down to listen to the charming dame. When she did begin talking, the crowd quietened down to listen to the wisdom she began casually throwing about. "Though I do not have high qualifications to mark my education," said Sowcar Janaki in diction better than half the English professors in the city, "I'm grateful to my parents for all that they taught us."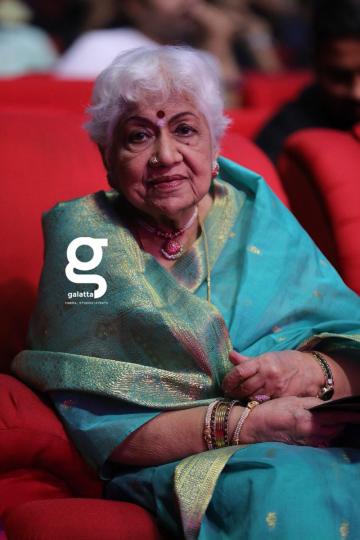 In this world of youngsters who have issues with commitment and consistency and amongst the constant complaint that 'kids today' do not know respect or contemplate the troubles of their elders, a crowd of college-goers went into introspection looking at the lady who takes assistance to climb the stairs but came ready with a speech to accept one of the humbler honours she has seen in her life. Commitment to what one does and the will to exert effort is a lesson Sowcar Janaki taught an entire gallery of youngsters, without even talking about that in her speech. The lady got to add another laurel to her long list of achievements but our take-away from the experience seemed bigger. We invited Sowcar Janaki to shower her with the love we have for her and ended up learning a thing or two about life from the veteran. We thank the veteran legend for honouring us with her presence at the Galatta Nakshatra Awards 2019!