Producer Ravindar gives a fitting reply to Vanitha Vijayakumar's allegations - new video!
Galatta |

15/07/2020 10:41 AM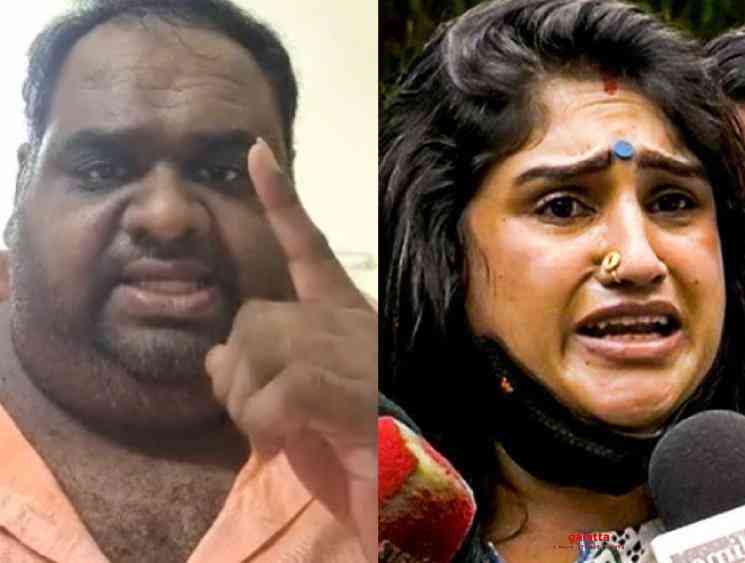 As we all know, for the past one week, Vanitha Vijayakumar's name has been on the headlines due to the controversies surrounding her and her wedding with Peter Paul that happened last month. Youtuber Suriya Devi and producer Ravindar Chandrasekaran of Libra Productions reacted strongly against Vanitha, demanding justice for Peter Paul's first wife, Elizabeth Helen and her two children. However, Vanitha Vijayakumar got irritated by the videos of Suriya Devi and Ravindar and hence, filed a complaint with the Assistant Commissioner of Police yesterday (July 14) on the grounds of cyber bullying.
Vanitha addressed the media and strongly condemned producer Ravindar for his interviews. Talking about him, Vanitha said, "More than the films he produced, he became famous only after giving interviews against me. He attacked me personally. I don't understand why he unnecessarily involved himself in a topic that is no way related to him. I haven't even met Ravindar in person and yet, he's here commenting about me in public. Guys like him shouldn't be given a place in the Producers Council. No one should ever be associated and make films with him." This created a huge buzz on social media.
Following that, producer Ravindar Chandrasekaran has now given a fitting reply to Vanitha, explaining why he got involved into this issue, through a Facebook live video. In this video, Ravindar sounded very angry and frustrated with Vanitha's behaviour and actions. He said that he came into this issue only after seeing the difficulties and problems faced by Peter Paul's first wife. He also added that Peter's son was bullied and made fun of in a medical shop about this entire controversy. Ravindar said that he wanted to be there and help Peter Paul's wife and children who are clueless about their future.
"I saw you shedding tears in the press meet. I don't want to be a reason for a woman to cry and create a drama. I hereby tell everyone that going forward, I wouldn't give any interviews regarding her (Vanitha) or this controversy. I request all the media channels not to call me regarding this. I tried to handle this situation in a dignified manner, but when you talk ill about the women in my family, do you think I'm going to be silent? You asked me to apologize, but I won't. I don't think I've committed any mistake or something wrong to apologize.
Even a lot of Police officers told me that I can file a complaint against Vanitha and that they'd take action. But, I never did that because I know it would cause unnecessary problems. I wasn't raised like that. My sole intention was to get justice and some sort of answer for Elizabeth and her children. When I know you are not going to change, I will handle this personally by myself", said Ravindar. This live video of Ravindar has gone viral on social media and has grabbed the attention of a lot of people who've been following this controversy.
Currently, Ravindar is bankrolling Shanthnu Bhagyaraj's next film, Murungaikkai Chips, directed by debutant Srijar. This comedy entertainer features Athulya Ravi as the female lead, while K Bhagyaraj, Yogi Babu, Jaangri Madhumitha form the supporting cast. For now, check out the Facebook live video of Ravindar Chandrasekaran here: