SHOCKING VIDEO: Vijayalakshmi says she is going to die by suicide because of Seeman
Galatta |

26/07/2020 06:00 PM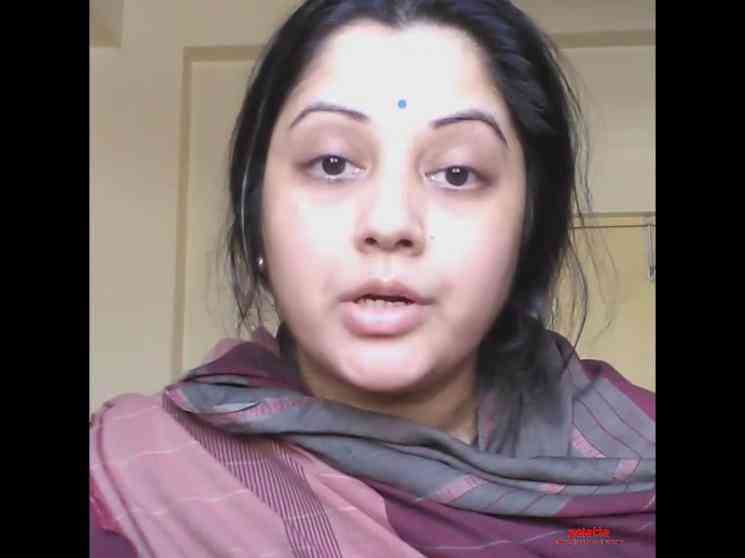 Actress Vijayalakshmi who made her silverscreen debut with the Kannada film, Nagamandala, rose to fame in Tamil cinema with her role in Friends. Vijayalakshmi played the role of Vijay's younger sister and Suriya's love interest in Friends and her performance is something that the Tamil audience will remember. Apart from Friends, she has also acted in other notable Tamil films like Kalakalappu, Vaazhthugal, Boss Engira Baskaran, Meesaya Murukku, etc. However, her personal life has not been quite great and her name has been on the headlines quite a few times.
For the past few months, her controversial fight and allegations against Seeman created a huge buzz on the internet. Vijayalakshmi's pictures with Seeman had gone viral among the netizens and we had seen about it. Following all the controversies, Vijayalakshmi has now made a shocking revelation that she is going to die by suicide. She has posted a new video on her Facebook page and has said that she has lost the interest to live her life because of the stress and pressure of Seeman and his party members.
Talking in the video, Vijayalakshmi said, "Hello all, this is going to be my last ever video. You all would have known why I'm telling this. For the last four months, I have been put into stress and depression by Seeman, his party members and supporters. I controlled all my feelings and lived only for my sister and my mother, but it has gone out of control now. Recently, Hari Nadar defamed me in the media and it wasn't in good taste. This is my BP tablet and I have already taken 2 tablets, more than the recommended intake.
In a few minutes, my BP levels will drop and I will lose my life. I have undergone various problems, mental stress issues due to the pressure of Seeman and his party members and this is the right time for him to answer. You defamed me by calling me an item, prostitute, etc, but the people will know the truth soon. I am leaving my family with you all. I do not want to continue living. Don't spare Seeman at any cost and he should be rightfully punished for all his activities and problematic behaviours.
Let my death be an eye opener for everyone. My humble request to everyone who are watching this video - do not leave Seeman to escape from the law. Don't let him grant bail or roam freely. I wanted to live life with happiness, but it wasn't possible because of these people. Love you all. I hope I will be a memory to all of you. If I had disturbed or hurt any one of you in all these years, I wholeheartedly apologize." This video has shocked a lot of people and one does not know what is going to happen next. Check out Vijayalakshmi's video below: