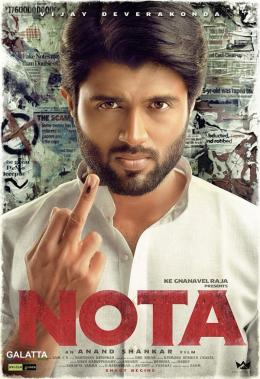 Nota Movie review
NOTA is a political thriller film directed by Anand Shankar, made in both Tamil and Telugu languages. NOTA movie stars Vijay Deverakonda and Mehreen Pirzada in the lead roles. NOTA film music is composed by Sam C. S.
Vijay Deverakonda as Varun is a carefree youngster and is the son of Nasser (Vinothan) who is the current Chief Minister of Tamil Nadu. Due to circumstances, Vijay Deverakonda gets the power, what happens after that forms the crux of the story in NOTA.
Politics is the core and it easily connects with the current scenario, the social aspects incorporated are genuinely good. Writer Shan Karuppusamy has made a good use of the genre and scores in the writing area. There are a few well-etched powerful moments in NOTA that bag a lot of claps through strong dialogues. Few quirky elements have been added considering the artist value. The main idea is decent but the scenes packed are not up to the mark. The flow has only limited engagement value as the movie drives through talkie portions. But, sequences which sync with recent happenings in Tamil Nadu are note-worthy, though they don't sync much with the flow in NOTA.
Director Anand Shankar has tried his best to make this Political drama to fit in the commercial formula, but most sequences look a bit force-fit. There are issues with respect to dialogues, voices, and modulations that a bilingual flick usually carry. Few twists in NOTA are predictable due to the way they have been approached. Loads of characters and moments are continuously added but they don't stay on the mind as the correct level meter is missed. Bringing in filmmaker A. R. Murugadoss for a cameo in a key situation is a street-smart thought. NOTA film arrives on its core plot in the starting stage itself, but the proceedings are sluggish with many subplots that do not pack a punch. The emotional moments are not so impactful as the staging is not worthy. Also, there are some speed-breakers in the progress as few scenes drag and takes time to complete.
Vijay Deverakonda is impressive with his screen presence and the strict attitude in his character suit him well, he has also done a neat job with his Tamil dubbing. Sathyaraj, Nasser and M. S. Baskar have got solid supporting roles and they shine with their performances in NOTA. The other characters are showcased in an adequate way who don't make any difference to the conflict. Also, artists like Karunakaran, Yashika Anand, and Mehreen Pirzada are kind of needless to the story. Songs of Sam. C. S are dull in spite of having big scope to score with a couple of party numbers. Background score is apt for the situations and the main theme is solid. Camera work is pretty good and the crowd scenes have been covered nicely, using recorded videos for flood portions is a smart move. Cuts are convincing, but the overall duration could have been shorter and the editor could have chopped-off some long scenes, especially the second song which was a huge lag to the movie.