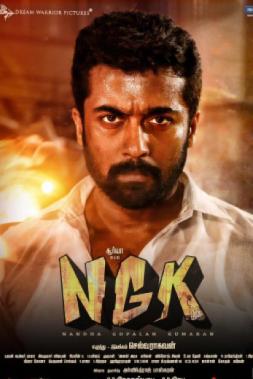 NGK Movie review
NGK is about the central character of Nandha Gopala Kumaran, a socially concerned citizen who loves his people and the country. When he realises that he can make things happen only when in politics and power, he decides to take his plunge. He enters politics as a party cadre member and there, starts the journey of NGK. How NGK's life turns upside down and drastically different after entering politics forms the rest of the plot.
Director Selvarghavan's touches are seen at regular intervals, though, on an overall picture, it does not feel like the Selva film that you would want to watch. Selvaraghavan has delivered a commercial mainstream film, which is something new for him. This film seems to be out of his comfort zone, and as Suriya says in the film, Kathukkren, it feels like Selva tells the audience that he will learn the craft of cinema with every film.
The treatment is mainstream and the screenplay is mostly predictable. The last twenty minutes of the film, especially the climax, looked hurried as you see a lot of things happen within a very short time. The core purpose of this story is unclear and there are quite a few lags in the second half which could have been wisely chopped off. The emotions aren't strong enough to make an impactful political drama.
Doing a political film with a leading star is a litmus test actually as you have to travel on an attempted path. There's a protagonist, he wants to do good things to people, he feels politics is the line, he locks horns with the trademark politicians and political leaders, finally win or lose against them.
The problem with NGK is that it middles in between as it is neither a Selvaraghavan film nor a Suriya film. The writing doesn't excite you anywhere or keeps you intrigued. The film moves in a predicted route and hence, the excitement doesn't transfer to the audience. Selective scenes are definitely clap worthy and enjoyable. Some examples would be the scene where Suriya first meets Ponvannan, the interval sequence, Suriya's final speech in the political gathering, the scenes involving Sai Pallavi in the second half, to name a few.
Suriya shines as Nandha Gopala Kumaran, and you will get to see a completely different Suriya in this film. Director Selvaraghavan has extracted some great work from the potential actor. The transformations with his performance and the nuances in the character is etched out perfectly. Suriya is completely enjoyable in this film, but his character does confuse you as his purpose isn't clearly conveyed. He is deep in thoughts in a scene, suddenly acts normal, the very next second, and becomes eccentric at a place. The reasoning behind that isn't properly conveyed.
Sai Pallavi definitely deserves an applause for the role she's played and the performance that she carried out. She makes a major mark with two scenes, one while interrogating Suriya about Rakul, and another one, while emotionally breaking down to her mother in law. Sai Pallavi is here to stay.
Rakul Preet Singh is impressive to an extent, but her role, doesn't stand out or seem memorable as like other women characters created by Selvaraghavan. Ishwarya Baaskar's dubbing suits Rakul's character and it has the style the character owns. Sai Pallavi is equally impressive with her own dubbing as well. Veterans like Ilavarasu, Bala Singh bring their expertise with their act. Ponvannan, Vela Ramamoorthy, and Thalaivaasal Vijay are completely wasted with a role of no substance and very few dialogues. The performances of the lead actors are top class, especially, Suriya and Sai Pallavi scoring the best out of the lot.
On the technical front, Yuvan Shankar Raja's songs don't lend the helping hand, but, the background score uplifts and holds the film in style. The ace composer understands the need of the scene and delivers appropriately. Sivakumar Vijayan is a promising find for Selvaraghavan and the young cinematographer has got good taste for colours. The mix of various tones blend neatly with the mood of the film. The compositions look neat and properly framed. Praveen KL's editing is inconsistent at places and as said earlier, quite a few scenes were never needed and it could've been chopped.
Had it been there , it would have definitely uplifted the overall experience of the film. In a nutshell, NGK is a commercial political drama that has some fantastic performances, but lacks completeness on the whole. If one would want to know if this will be a memorable and an impactful Selvaraghavan film, it would be a debatable question indeed.