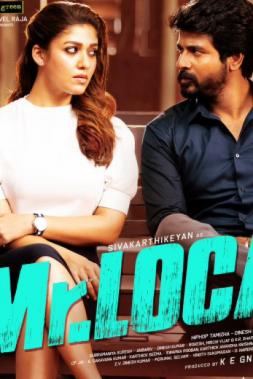 Mr Local Movie review
Director Rajesh who is known for his out and out comedy entertainers is now back with his next film, Mr Local, with Sivakarthikeyan and Nayanthara in the lead roles. The film has released today amidst good expectations from the youngsters and SK fans. Has the film lived up to what it promised through the teaser and the trailer? Read on to know.
Mr Local doesn't have a story as such and it is a very very thin and old line that takes the film forward. A rich woman who hates the hero falls in love with him in the climax and how the hero makes it happen is what the film is all about. Since it is an overused premise in commercial cinema, one will surely get deja-vu feelings at many places in the film.
Sivakarthikeyan aces the role of Manohar and it is a cakewalk for him. He looks bright on screen with full of positivity. Nayanthara has got some really good screen space, though the characterisation isn't any unique or different. The main conflict in the story is based out of her character. The lady superstar looks super pretty and dazzling on screen adding up the colour to the film. Radikaa Sarathkumar brings her experience into the play with her innocent act. Sathish, Yogi Babu, and Robo Shankar try to bring in some laughter which goes in vain.
The film becomes uninteresting at many junctures with a bundle of unfunny sequences put together. Mr Local doesn't have a proper story that wavers in confusing directions. One might definitely feel that director Rajesh has lost his Midas touch that was shining through his first three films. If comedies do not work, similarly, romance portions and emotional scenes also don't lend the helping hand.
The film starts off in a promising note, but through the progression, it loses the tempo and falls completely flat. Also, the entire film is dialogue driven and you are presented with heavy talkie portions, and hence it tests your patience. The dialogues aren't funny either. The jokes are quite lame and you seriously get a doubt if that dialogue was really funny.
For example, in a scene where, Nayanthara says "You are terminated", Sathish replies, "Ennadhu Terminator ah?". Okay, that was a comedy and you are expected to laugh. The film has many such types of one-liners which is never humourous. With this being the case, the team could have easily chopped off a lot of scenes in both the halves. The screenplay fails to hold the audience.
Only a very handful of one-liners work well and unfortunately, you've seen most of that in the trailer itself. The song placements are bad and don't fit into the flow, especially the Menaminiki number. The film has traces of Rajesh's earlier films and that makes the proceedings look boring as there is a lack of freshness.
A few counters are funny and instantly make you laugh, but one would have wanted to see more of that. The film miserably fails in an overall perspective also. If one has to tell some positives about the film, it should be the screen presence of Sivakarthikeyan and Nayanthara, alongside very few one-liners. Leaving that out, Mr Local looks to be a forgettable outing.
Dinesh Krishnan's visuals look neatly composed and the colour tone is uniformly maintained. Hiphop Tamizha's music is unnecessarily added in few places, however, the re-recording in the mass scenes are enjoyable. Takkunu Takkunu and Kalakkalu Localu songs lighten up the mood.
Editor Vivek Harshan's cuts needed more crispiness as this film deals with a very thin line and it needs to be told as short as possible. A big runtime of 2 hours and 36 minutes wasn't favouring the film. To put it out in simple words, Mr Local has no fresh comedies to engage or entertain the audience.