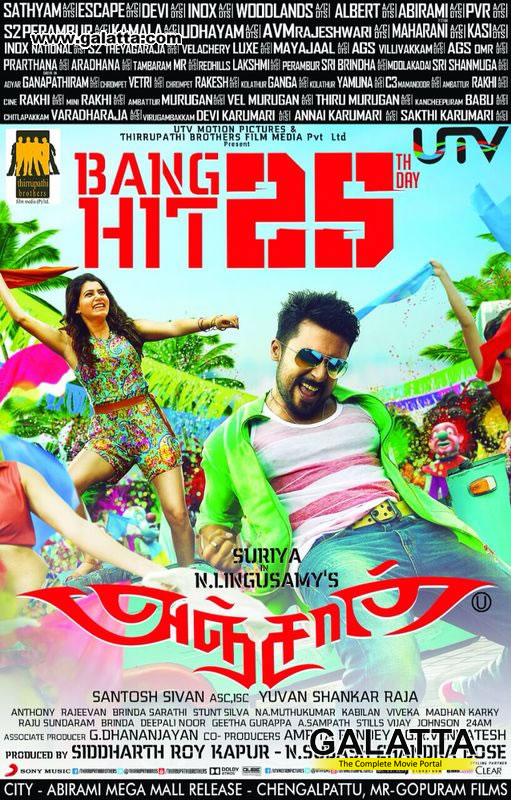 Anjaan Movie review
Anjaan, Suriya's much awaited movie set in Mumbai, under Lingusamy's direction and from his own production house - Thirrupathi Brothers co-producing it with UTV, stars Samantha as the female lead, has music by Yuvanshankar Raja and also has Vidyut Jammwal in an important role.
The movie opens to a physically challenged Krishna (Suriya), going off to find the whereabouts of his brother Raju Bhai (Suriya). He gets to know of the notoriety of Raju Bhai and his closest friend Chandru (Vidyut Jammwal). The movie moves into flashback to show how Raju Bhai and Chandru climb up the ladder of power and become terrifying dons in Mumbai. The Police Commissioner's daughter (Samantha) falls in love with Raju Bhai and he too finally falls for her. However, Raju and Chandru cross paths with one of the most dreaded dons of the city - Imran (Manoj Bajpai). What happens when Raju and Chandru clash with Imran? Will Krishna find out what happened to his brother Raju? What does Chandru have to do with all of this? Will the crutch-wielding Krishna be able to take on powerful dons? Watch Anjaan to get all the answers!
Director Lingusamy has set his story in the locales of Mumbai. The way he has shaped up the character of Raju Bhai - his friendship with Chandru, his romantic scenes, his ruthlessness and cold heart, has been well done. There are some scenes which remind the viewer of the cult classic - Baasha. The misplaced songs and comedy sequences however hamper the flow of the movie. Suriya has, as always, put in his complete effort for the movie. The way he differentiates between the don Raju Bhai and the physically broken Krishna is appreciable. Samantha is at her beautiful best. Vidyut Jammwal has a lot of scope to perform and show off his stunt abilities and he does it very well. However, a little care could have been taken for his dubbing. Manoj Bajpai returns to Tamil cinema, after Samar. He leaves an impression, as the feared don Imran. Parotta Soori and Brahmanandam's comedy scenes are good, but their placement could have been better. Yuvan's score is in tune with the mood of the movie. Santhosh Sivan's work behind the camera takes the cake and ensures that each shot is picture perfect. Stunt Master Silva's work in the action sequences need a special mention, especially the one in the interval block. At about 2 hours and 50 minutes, the movie seems a little too lengthy and trimming a few sequences will add to the crispness.
Anjaan is a commercial extravaganza with heavy doses of action, romance, sentiment and comedy.