Galatta |

28/08/2020 08:00 PM
Legendary singer SP Balasubrahmanyam is getting treated for Corona at MGM Healthcare Hospital in Chennai. After being admitted to the hospital on August 5th, SPB released a video from the hospital and said that he had mild symptoms and that his fever had subsided and that he has a cold. On August 13th, MGM Healthcare released a statement saying the SP Balasubrahmanyam was stable and that his oxygen levels are normal. However, his health conditioned worsened later that night and was said he is in critical condition. SPB was shifted to the Intensive Care Unit (ICU) and is on life support. On August 21st, the hospital released a statement that SPB is stable but continues to be on ventilator and ECM in the ICU.
MGM Healthcare has been regularly updating about SPB health condition through a press release and a new statement has been released now as well. The statement is released by Dr Anuradha Baskaran, Assistant Director - Medical Services MGM Healthcare. MGM Healthcare's health bulletin of SPB on August 28th read, "
"Thiru S P Balasubrahmanyam who had been admitted at MGM Healthcare due to COVID-18 continues to be on Ventilator and ECM support in the Intensive Care Unit (ICU). 
His current clinical condition is stable. He is conscious, responsive and participating in passive physiotherapy. He continues to be closely monitored by our multidisciplinary clinical team."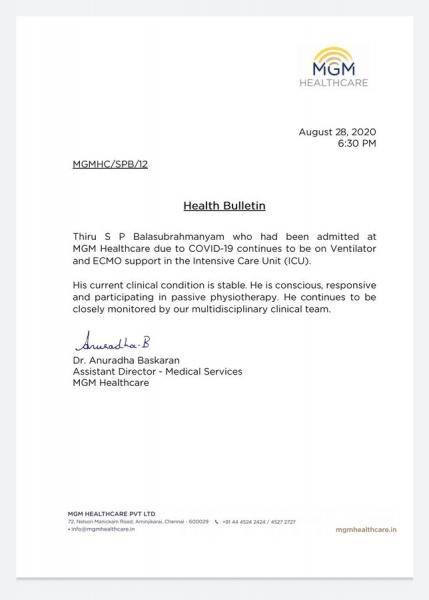 Celebrities and fans around the world are regularly praying for SPB's speedy recovery. Let us hope that SPB recovers soon and makes our lives better with his songs and music. S.P.Balasubrahmanyam has worked across Telugu, Tamil, Kannada, Hindi and Malayalam film industries and has won six National Film Awards. He has also been honoured with the Padma Shri and Padma Bhushan. Since his singing debut in 1966 with the Telugu film Sri Sri Sri Maryada Ramanna, Balasubrahmanyam has recorded over 40,000 songs in 16 Indian languages.