Eros Now offers 2 month free subscription for people in quarantine | Corona Virus outbreak
The Corona Virus outbreak is slowly getting intense in India and the precautionary measures are actively being taken by respective State Governments. All schools, colleges, theatres, multiplexes, malls, have been closed in order to avoid public gatherings and in addition, the Government has also requested people to stay in isolation, at home, without having contact with people. Having said that, it is obvious that people in quarantine might get bored and will be in need of some kind of entertainment to wail away their time.
On that note, Eros Now, has officially announced that the company will offer two months of free subscription for people on their digital streaming app. In this digital era, streaming apps like Netflix, Amazon Prime, Hotstar, Zee5, Eros Now, and others have become a source of entertainment for the youngsters these days. Eros Now's decision to offer free subscription to the people in this scenario has earned a huge respect.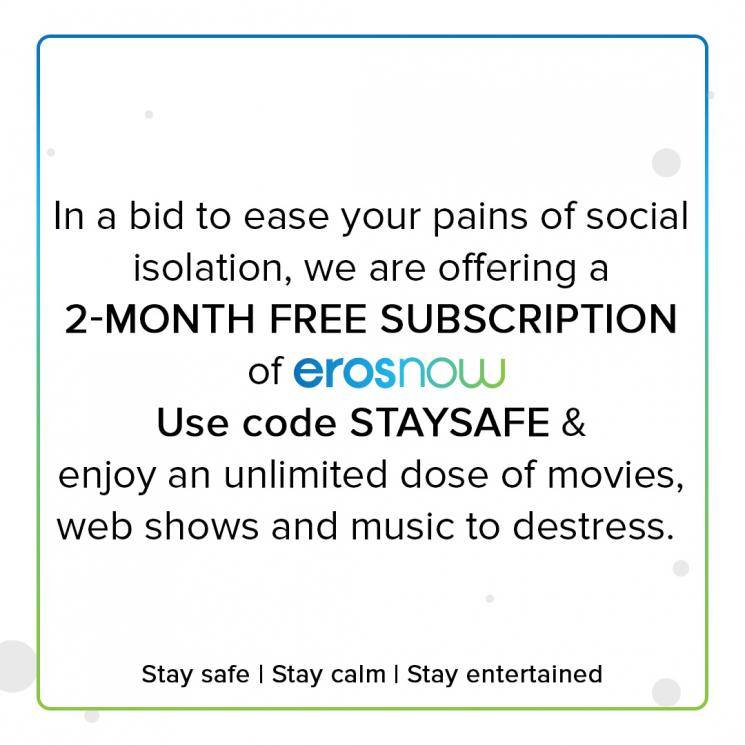 Eros Now has a wide variety of collection of films in various languages and you wouldn't want to miss this opportunity. Eros Now's official statement read, "In a bid to ease your pains of social isolation, we are offering a 2-MONTH FREE SUBSCRIPTION of EROS NOW. Use code STAYSAFE & enjoy an unlimited dose of movies, web shows and music to destress. Stay safe I Stay calm I Stay entertained." Well, make use of the opportunity and spend time at your home peacefully. Let us hope for the situation to get better very soon.
It'll only take a minute! Keep your hands clean, #StaySafe and stay entertained with #ErosNow.#covidindia #COVID2019 #COVID19 pic.twitter.com/oLGyPgg7uC

— Eros Now (@ErosNow) March 17, 2020