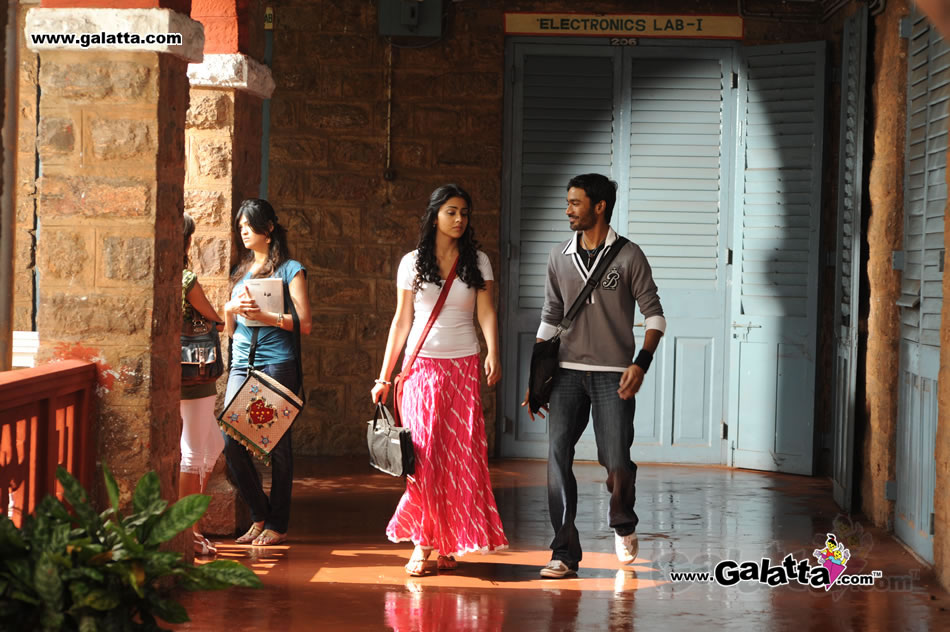 Kutty Movie review
Triangular love stories have been narrated many times on the silver screen. Tamil cinema has seen quite a lot of successful movies in this category. Mithran R. Jawahar's Kutty is one such but with a difference in the narration. Kutty, produced by Gemini Film Circuit, is the official remake of the Telugu blockbuster hit Arya starring Allu Arjun and Anuradha Mehta.
Who's In It?
Kutty has Dhanush and Shriya in the lead roles after their successful combo in Thiruvilaiyadal Aarambam. Dhanush, riding on the success of his last release Padikkathavan, has ensured that he delivers yet another hit by having chosen this remake. Mithran R. Jawahar has directed Dhanush for the second time after his directorial debut with Yaaradi Nee Mohini. Kutty has music by Devi Sri Prasad. Sameer, Srinath, Aarthi, Vincent Asokan and Radharavi are part of the cast.
What's It About?
Kutty (Dhanush) falls head-over-heels in love with Geetha (Shriya Saran) who is already in love with Arjun (Sameer). Kutty tries to make her realize and reciprocate his love for her. He also challenges Arjun, saying Geetha will fall in love with him. There now seems to be a competition between Kutty and Arjun on who will finally win Geetha's heart and marry her.
Arjun's dad (Radharavi) has other plans. He wants Arjun to marry the daughter of his friend. When Arjun and Geetha get depressed, Kutty decides to help them out. The three of them elope to a hill station. After a couple of incidents, Kutty manages to get close to Geetha. Geetha is now confused, unable to choose between Kutty and Arjun. Who is the chosen groom? See the film to know!
The Performances
Dhanush as Kutty is refreshing, full of energy and proving again that he can attract family audiences (as he did with Yaaradi Nee Mohini). Shriya is quite mature as Geetha. But somehow the chemistry seen between the lead pair in Thiruvilaiyadal Aarambam is missing in Kutty. Debutant Sameer is impressive. Srinath brings down the house with his one-liners. His comedy has worked out wonders on screen. Mayilsamy is good as the TTR.
For Techie Lovers
The music of Arya was a blockbuster, but in Kutty it is average. Cinematography gives the movie the romantic feel it needs. Dhanush's costumes give him a refreshing look. Mithran's dialogues are good. Kutty is technically average.
Final Verdict
Mithran's Kutty is a family entertainer even though the magic it created years back by Arya is not so evident!
Cheers!: Dhanush!
Review by Shailesh
Please note: Every review on Galatta.com is written by the person who has watched the movie. Therefore, while conscious effort is made to give a fair, unbiased and ethical opinion, every review will have a personal element and opinion to it. Ultimately, every movie experience is a personal one and readers should watch each movie on their own terms.