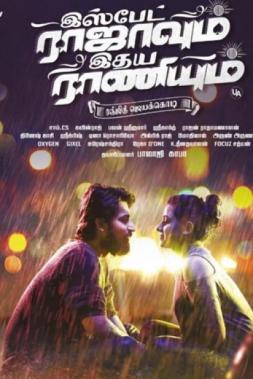 Ispade Rajavum Idhaya Raniyum Movie review
An arrogant youngster with a broken childhood falls in love with a girl who comes from a radically different background and upbringing. What happens when two disparate personalities get into a relationship? Ispade Rajavum Idhaya Raniyum talks just about that. Ispade Raja implies King of spades, in this case, it is our hero Harish Kalyan while Shilpa Manjunath is the Queen of hearts (Idhaya Rani).
Harish Kalyan as Gowtham, comes from a middle-class family. We don't even know what he does for a living till the very end but roams around in a super expensive bike wearing a 15K worth jacket. The character seems to bash everyone around him for no reason. And whenever he hits someone, even the goons get stunned by his antics. Given his physique, it seems a bit unrealistic to pull off but he has for sure given his best. In fact, one might rate this as his finest performance to date. More than anything, Harish looks very smart & handsome and the bearded makeover suits him well.
Gowtham (Harish) is an imperfect character and you can't be searching for reasons to understand why he behaves in a weird manner. Sporting a grim face and going about assaulting all the people around him... Would that be enough to impress a girl? However, that is just what the highborn Tara (Shilpa) seems to like... Also, it is really hard to understand what was going through inside Tara's head, who is about to get engaged when she falls in love with Gowtham for saving her life twice by beating up a few goons. Early into the relationship, when you get to hear filmy dialogues like, "I will never leave you no matter what," it just doesn't seem believable!
The major conflict between the two occurs when Gowtham starts to feel insecure with the relationship because of his crippled childhood while Tara takes a laid-back approach. For some undisclosed reason, she doesn't wish to tell her parents about her relationship with Gowtham, in spite of them wanting her to get engaged to someone else.
The screenplay in the first half is largely predictable. For example, the heroine's finance will leave her helpless in the middle of the road and minutes later, you find a group of men trying to take advantage of her... Don't you know what would happen next? Director Ranjit Jeyakodi has drawn inspiration from films like Kaatru Veliyidai, Tamasha, and a few others... He has graciously thanked all these projects' teams in the end credits, for the same.
The first half is light-hearted and intends to be fun with a runtime of just over 50 minutes whereas the second half is intense and runs way too longer than expected. The latter half is when the conflict arises and they keep recurring. What annoys the most is not just the conflicts that keep repeating but even the dialogues during the strife are the same, which makes the proceedings very dull.
Shilpa Manjunath gets a meaty role and she does a decent job but at places, her expressions look artificial. Ma Ka Pa Anand and Bala Saravanan have a couple of scoring points. They are responsible for keeping the audience engaged in the first half. Ponvannan, who plays Harish Kalyan's father, appears on screen when needed but his character doesn't have a proper justification at any point.
Kavin Raj, the 22-year old cinematographer, makes a flamboyant debut. His visuals are not only glossy but have a style of its own. His unique angles make us remember one of the industry's evergreen cinematographers - Jeeva. Kavin is here to stay! He looks natural at his game and the visuals go hand-in-hand with the story. There is a 5-minute single shot scene that you need to watch out for. Senior actor Suresh and Harish Kalyan's cooperation to give life to this scene must be noted as well.
Though the songs do not make a big impact, Sam CS' background score is highly appreciable, so is the sound design. Though the sound has a few non-sync issues, it works well in most places.