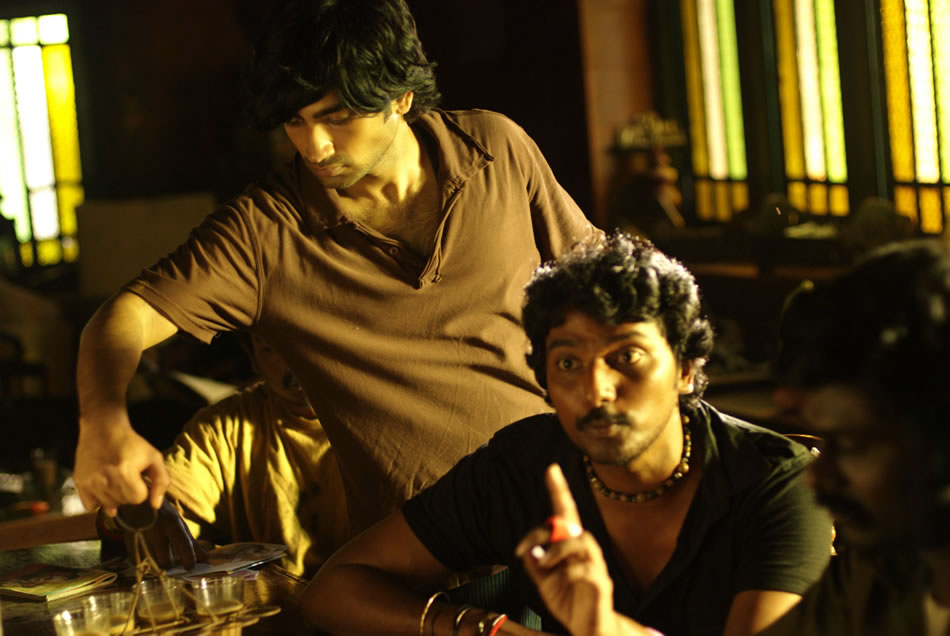 Aaranya Kaandam Movie review
S.P. Charan's Aaranya Kaandam was in the headlines ever since its launch over three years ago. After much hype, the Censor Board Tribunal panel finally cleared this film directed by Thiagarajan Kumararaja with more than 50 cuts, including voice muting on grounds of profanity, showing drug abuse and violence in the climax. Aaranya Kaandam is finally here. And it is definitely worth the wait!
Even before its release, the film has won the Grand Jury award at the popular South Asian International Film Festival in New York. So the expectation meter was quite high and the film does not disappoint.
THE PLOT
The title 'Aaranya Kaandam' refers to the third chapter of the Ramayana which mentions the forest and animals. The film explores the character traits that separate man from beast, set in the backdrop of the Chennai underworld.
Aaranya Kaandam holds the credit of being the first neo-noir film in Tamil Cinema. It does not have any songs; instead, its engages the viewer with its realistic portrayal of the key characters.
'Anything which is the need of the hour is Dharma' is a quote by Chanakya in 300 B.C. The film begins with this quote and is based on this philosophy.
The story revolves around an aged gangster Singaperumal (Jackie Shroff), his keep Subbu (Yasmin), chief henchman Pasupathy (Sampath), trusted aide Sappa (Ravi Krishna), a disgraced zamindar (Somasundaram) and his young son Kodukapuli (Master Vasanth). The story is set in a time span of 24 hours and showcases how the lives of these individuals change in that period.
Aaranya Kaandam is a gangster story set in a period of 24 hours in Royapuram area of North Chennai. It begins from the single most decisive moment in the lives of the six protagonists and deals with the primordial instincts of man, character traits that erase the boundaries separating man from beast. Veteran actor Jackie Shroff, introduced to Tamil Cinema through this film, plays his role with finesse. His mannerisms and body language perfectly suit the role of a dreaded gangster. Ravi Krishna makes a comeback with his role as the timid aide of a gangster. The role seems to have been written exclusively for him. He is caught between love and fear and grapples with his predicament. His dialogue delivery helps in reinforcing his role as a simpleton. Sampath walks through his role effortlessly but effectively; as usual, he impresses. Debutante Yasmin Ponnappa is promising. She plays her part well, that of a tortured woman with a shrewd streak. Somasundaram and Master Vasanth as father and son steal the show with their antics. Their performance is a treat to watch.
Singam Perumal (Jackie Shroff) is an aging don who is slowly failing in every task that he takes up. Meanwhile, his right hand Pasupathy (Sampath) brings a proposal to outsmart their arch rival Gajendran (Rambo Rajkumar), another gangster. But Singam Perumal, who doesn't want to take any risk, decides to kill Pasupathy. Pasupathy somehow escapes, but he is now being hunted by two gangsters: Singam Perumal and Gajendran. On the other hand, we have Singam Perumal's concubine Subbu (Yasmin Ponappa), who is tired of being abused and beaten up by him. She finally plans to escape with Sappai (Ravi Krishna), Singam Perumal's servant. At a point, Pasupathy meets Sappai and uses the boy's plight to save his own (Pasupathy's) life. What happens next forms the rest of the story.
THE PERFORMANCES
Aaranya Kandam can be easily rated as the first neo-noir film in Tamil cinema. Kudos to director Thiagarajan Kumararaja for choosing a dark and raw subject in his debut venture. Among the performances, Bollywood star Jackie Shroff steals the show with his matured and flawless performance. Kollywood's favourite villain Sampath Raj is not far behind; he has a meaty role in the film and he delivers it with 100% confidence. Aaranya Kaandam will definitely be a breakthrough in Ravi Krishna's career and debutante Yasmin Ponappa looks perfect for her role.
P.S. Vinod's stylish camerawork needs special mention and North Chennai has never looked more beautiful. Editing by Praveen K.L. and Shrikanth N.B. is stylish and in sync with the genre. Background score by Yuvan Shankar Raja takes the story forward and dialogues written by Kumararaja are realistic and philosophical. Harsh realism is the USP of the film. The cruel world of gangsters is depicted wonderfully. Situational comedy at certain parts of the film serves its purpose by lightening the dark mood of the audience.
The narrative and screenplay are extraordinary. The editor and cinematographer have ensured that the film does not lose out on any note.
It is hard to believe that this film has been made by a newcomer. Debut director Kumararaja has done a praiseworthy job by avoiding unnecessary frills and making a film sans any logical dead ends. By choosing a difficult subject and sculpting it nicely, he has proved his mettle.
Yuvan is at his best in this film. His background score is a feather in the cap for the film. It mingles seamlessly with the screenplay and fits in perfectly.
Kudos to S.P. Charan for producing a raw and realistic film which gives a real view of the world of gangsters. Due to certain violent scenes and loads of swear words, this experimental film meant strictly for adult audiences comes with an 'A' rating.
Aaranya Kaandam introduces a new genre to Tamil cinema! Kudos to the entire team! Well worth a watch for the sheer technical brilliance and an unexpected twist in the climax.
Reviewed by Deepika Muralidharan
Please note: Every review on Galatta.com is written by the person who has watched the movie. Therefore, while conscious effort is made to give a fair, unbiased and ethical opinion, every review will have a personal element and opinion to it. Ultimately, every movie experience is a personal one and readers should watch each movie on their own terms.