"Jyothika anni and I don't get along": Karthi at Thambi audio launch
By Vivek Raj | Galatta |

November 30, 2019 15:54 PM IST
Actor Karthi's third and final release of the year after Dev and Kaithi will be the upcoming action thriller, Thambi, announced for a worldwide December 20 release. The film is special for fans everywhere as it sees Karthi's sister-in-law, Jyothika, sharing the screen space alongside the Kaithi star for the first time ever. Directed by Papanasam fame Jeethu Joseph, the film is a joint collaboration of Parallel Minds and Viacom18 Studios banners and features music by Govind Vasantha. With the film all set for its theatrical release next month, Karthi has spoken in detail about how Thambi was conceived as a film two years back to getting veteran actor Sathyaraj on board while also shedding light on bringing Jyothika on board the project.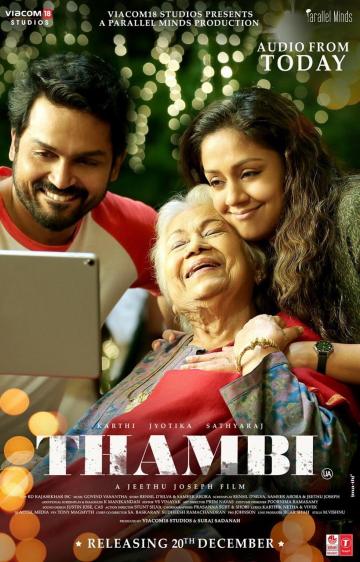 Karthi stated, "I never ever expected I would be working with Jyothika anni. The sincerity you see in her is unlike anything I've noticed. If it is a character where you're required to learn the art of Silambam, you will see her train for the part for a period of six months. Likewise, she was clear about the preparation for her role in Thambi and told that she wanted the dialogues a month earlier to learn and train. She doesn't want to go to the spot and prepare while shooting and wants to make the best of her efforts. I believe I'm a part of the next generation after her and from where I'm standing, I'm astounded to witness such dedication and sincerity and, I have so much to learn from her - be it punctuality or the preparation that one has to undergo for a scene. I remember how she used to ask if we could prepare before the monitor. Now, I know that usually we get the job done without even going before the monitor. But still, we used to go before the monitor three or four times and the emotions she expresses in each of those outtakes is one step better and that is how she brought out the best in me in each scene. It is true that we are as good as our co-actor. So, when she scores so much in terms of performance, all I had to do was match half of the intensity in comparison to what she was doing and that would elevate my act as well,".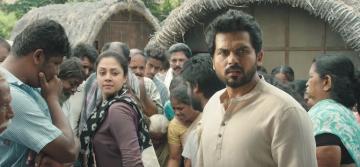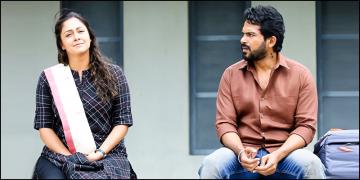 He further added saying, "I believe that us both acting together in this film is nothing else than a blessing and the scenes we are in together are going to be interesting. I can relate to what 'Super Deluxe' Ashwanth meant when he said we both never got along during the shoot (jokingly). I can say the same about Jyothika anni and me as well - we both don't get along with each other until the climax in the film. We only unite only in the end. Music directors, cinematographers and editors will find pleasure in doing thrillers. But, for an actor it is always a pleasure to do a relationship film. Only when it is a relationship film, an actor can experience those emotions as a member of a family. I still remember that my brother (Suriya) used to torture me when we were kids and I always wanted an elder sister. I enjoyed Kadaikutty Singam as I had 5 sisters in the film. In Thambi, Jyothika anni was there and the relationship between us is special. There's also a dialogue in the film which goes like, 'If there is an elder sister in a house, that's equivalent to having two mothers'. I saw that as a meaningful dialogue,".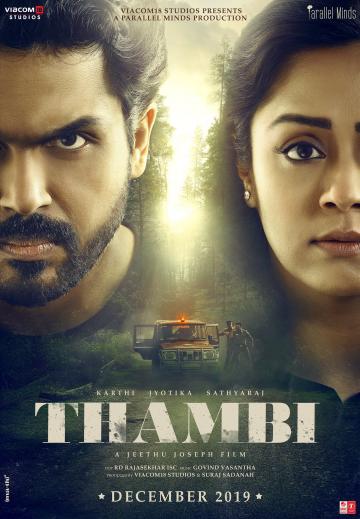 Check out Karthi's full speech from the Thambi audio launch below: