Popular singer to turn actor! Deets inside...
By MKV | Galatta |

November 20, 2019 19:01 PM IST
The young talent Swagatha S Krishnan is a highly talented singer who has shown her prowess through many songs and is also an independent musician who has composed and sung the popular 'Adiyaathey' song! Swagatha has a bubbling passion for music and is now all set to foray into acting too and looks at it as another means to help her music reach a greater number of people! We caught up with this budding sensation and here's what she had to say on her career and plans for the future...
Q: How did you get into singing?
SK: I began singing at a very young age of about 3-4, with Bharathiyar poetry. My father saw my interest in music and put me onto a family friend - Late Mrs. Vijayalakshmi Ramaseshan, who was my music teacher. She took me under her tutelage and taught me Carnatic music and Keerthanais. After starting out as a Carnatic musician, I slowly began singing movie songs in school and college. In 2009, while I was in college in Bangalore, I used to lie about going home and come to Chennai and sing in shows and for recordings, as my college was not very supportive. In 2010, I shifted base to Chennai and began singing for composers. I started out as a chorus singer and am now singing full-length songs and have worked with almost all the top composers now.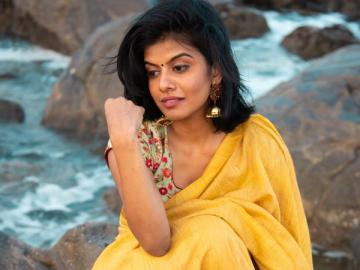 Q: When did you land your first big break?
SK: I wouldn't state I have gotten a big break yet as that would be something where the whole world gets to know about you! I have landed some very good songs in my career and the 'Aalaalilo' song from Diya for director Vijay sir got me a lot of recognition. This is a lullaby sung by a mother to her daughter and it is a beautiful song, which are usually sung by legends like P Susheela amma, Chitra amma, Janaki amma and Chinmayi. For me to get such a lovely song and it turning out to be a huge hit, is very special for me!
Q: Tell us a little about the other songs you have rendered...
SK: I sang the 'Are you ok baby' song for Zombie, under Premgi's music and it became very popular. I've also sung 'Dirty Pondati' for Kaatrin Mozhi, the 'GST' song in Party for Imman sir and a couple of songs for Ispade Rajavum Idhaya Raniyum, for composer Sam CS. I also lent my voice for the 'Moha Theeyilae' song for Gopi Sundar in Mammootty's Madura Raja, for which Sunny Leone danced. This song too became very popular.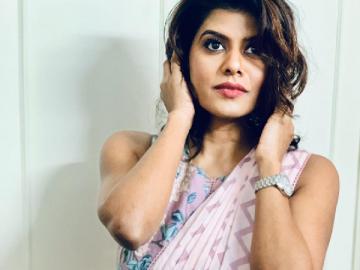 Q: What do you think of the competition from within your family itself?
SK: Maya is more of an actor than a singer but she has a very different style from me and that is what matters in Cinema, where you are recognised for the style you carry. Maya is never competition as she is way better than me as she is superbly multi-talented.
Q: Do you have plans to foray into any other art form?
SK: Yes! I am planning to get into acting. A few years back, I had to take a call of choosing between music and acting but I was not big as a singer and I didn't want to distract myself and wanted to stay committed to music. I wanted to stay in music so I gave up on the offers to become an actor. Now, as I am also an independent musician and acting in my own music videos, I am getting acting offers as people find me to be a natural actor. I have come across some very interesting scripts and I will be taking up acting and this may happen even before the end of this year! Also, anything I do is for my music to reach people better and if me being an actor is going to help my music reach more people, then am surely up for it! There is a project happening but I can only talk about it when the makers give out an official announcement.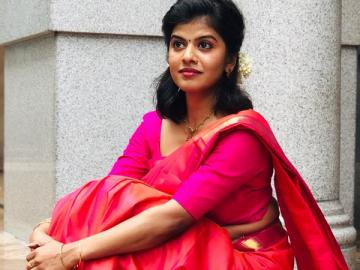 Q: Tell us about your independent song 'Adiyaathey'...
SK: I am basically a composer but we cannot start out there, as I am a first generation artist and I do not have any background in this field; being the first artist in my entire ancestry! So, when I came to Chennai, I wanted to learn how the music field works and started singing but I always wanted to be a composer. The music industry here is split into film music and independent music. For films, we have to compose for situations written by somebody else, based on the actors involved and the visuals. Independent music is more like soul-singing and it is a different ball game altogether. I find freedom and solace in it. I wanted to start off as an independent musician before foraying into mainstream cinema.
I want to make it big as a composer and work with top actors and don't want to be classified as a female composer restricted to working in female-centric movies. To show people my capability, I have to showcase my range of talent through my independent music. My first independent album, called 'Adiyaathey' is on Youtube. I am working on my second project and going to shoot for it in a couple of days and it will be releasing before the end of this year itself. I am super excited for this and hopefully I will get similar support for this project, like my first one too! I want people to support independent artists and I too support them a lot! Trends are changing and top composers too are looking at our work.
I am also launching my independent concert series - Oorkaara Ponnu, from January. It is an exclusive, live interactive concert series. My band and me are putting together this interactive musical theatre experience.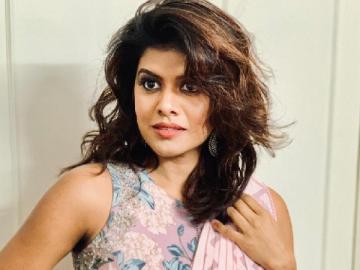 Galatta Media wishes the lovely Swagatha all the very best in all her endeavours!