Kamal Haasan reveals interesting secrets between Rajinikanth and him!
Ulaganayagan Kamal Haasan recently celebrated his 65th birthday (on November 7) and RKFI had planned special events as part of the campaign. On that note, late legendary director K Balachander's statue was unveiled this morning at the new office premises of Raaj Kamal Films International. This new office building is very nearby to the already existing Kamal Haasan office in Eldams Road, Alwarpet. The event was attended by Superstar Rajinikanth, director Mani Ratnam, Vairamuthu, Dr Isari K Ganesh, Nasser, and K Balachander's family.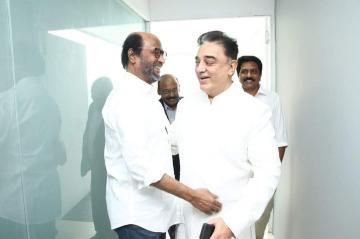 Post the event, the dignitaries were present for addressing the gathering that was covered by the press and media. During the coverage, Kamal Haasan said, "Me and Rajini share a very good rapport. Our friendship is very positive and beautiful. Our talks about success and failure is very normal and people would be surprised if they know what we talk. While Thalapathy film was planned, Rajinikanth told me about it. He spoke to me about it in a wedding mahal and when he told me the film's title, I heard it as 'Ganapathy' instead of Thalapathy.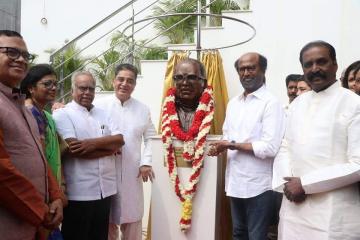 He asked me how it was and I was quite doubtful and told it isn't nice. Rajini's reaction changed and asked me why it wasn't nice. He didn't understand. Later, he repeated once again and then I told him it was fantastic. This is the kind of friendship that we share, We converse just like any other two friends and our personal relationship is very sweet. But, our respective fans have always had differences of opinion and there has been fan wars.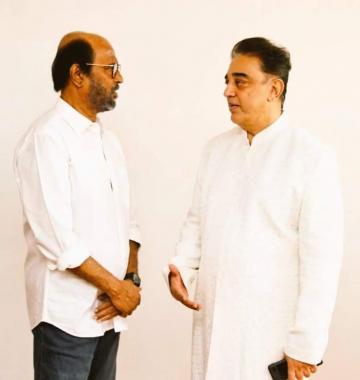 We haven't reacted to it because you need two goal posts in a football match. The Central Government is presenting the icon award to Rajinikanth now, after 44 years in the industry. But, for me, he became an icon, after completing his first year. However, I'm glad that the honour is being conferred upon him atleast now. About Raajkamal, the production house will continue functioning.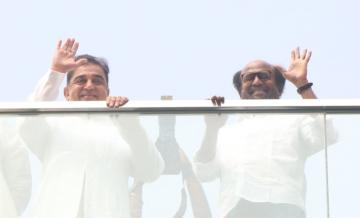 Very soon, RKFI's 50th film will be announced in a grand manner. I need not act in it; someone else can play the lead role and you people have given me the freedom to take that decision. Mani Ratnam and myself share similar dreams, despite having our offices at different places. This place and this event makes me happy and glad I hope RKFI will function vigorously in the coming days. " Apart from this, Kamal Haasan also shared a few words about Ananthu, the co-writer who worked with Balachander in many notable films.