Chennai Hotels Association to provide free food for people in public service, from tomorrow!
By MKV | Galatta |

April 10, 2020 20:30 PM IST
The Chennai Hotels Association has issued an announcement that from tomorrow (April 11), hotels across Chennai would be distributing free food, from their premises itself. They are aiming to give out around 30,000 to 50,000 food packets a day between 12:00 pm and 1:30 pm, daily. The announcement states that the Chennai Hotels Association has finally obtained from the Chennai Corporation for this initiative and that this would happen during lunch time, daily. The main purpose behind this initiative is to serve the poor and the needy and to also help out the people in public service, like the doctors, nurses, healthcare workers, policemen and sanitation workers!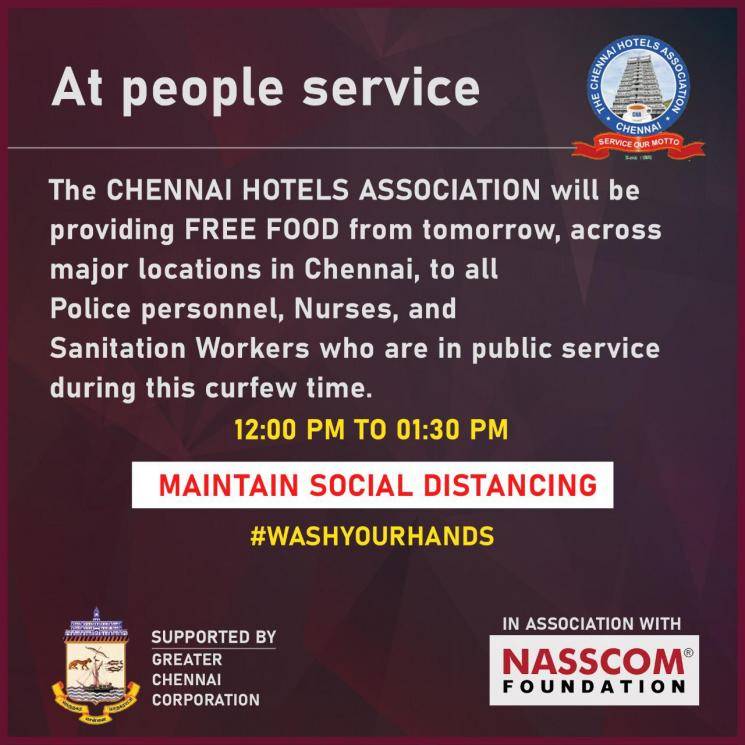 This announcement from the Chennai Hotels Association was given out by Mr. M Ravi, the President of this Association and the Chairman of Namma Veedu Vasanta Bhavan. This gesture would come as a major relief to many needy people who have been affected by the COVID Pandemic as well as the 21-day lockdown announced by the Central Government. The very livelihoods of many people have been affected by this tough situation and there are quite a few people who are stranded at various places with no means to get back to their homes and are struggling for food. This initiative by the Chennai Hotels Association would come as a welcome relief for such people!