Galatta |

11/03/2020 12:00 PM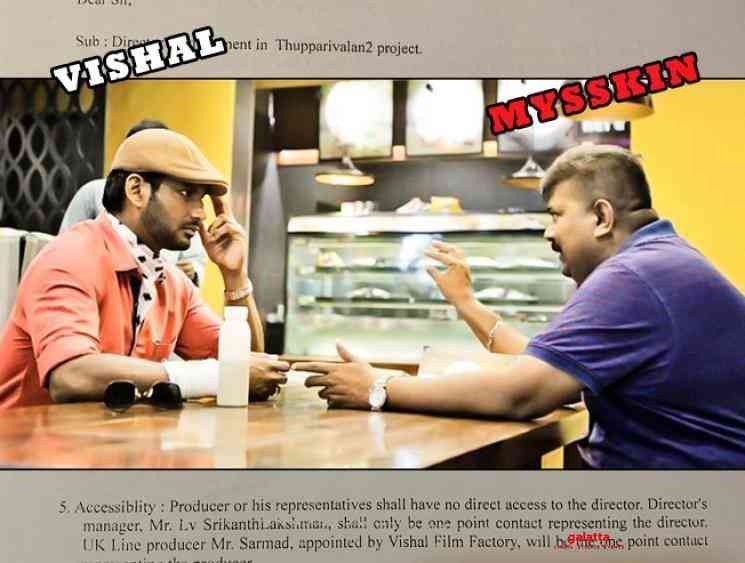 We had earlier reported that director Mysskin had walked out of Thupparivalan 2 due to creative differences with the hero and producer of the film Vishal. This issue forced Vishal to become the director of the film. It is speculated that Mysskin had demanded more than the actual agreed amount for Thupparivalan 2 after the success of Pyscho which led to an argument between the director and Vishal. Mysskin's conditions and demands agreement copy regarding Thupparivalan 2 has now been leaked online.  
 
"To: Vishal Film Factory, Chennai.  
From: Director Mysskin, Chennai. 
 
Dear Sir,  
 
Sub: Director's requirement in Thupparivalan2 project.  
 
Please take note of the following clauses which shall be incorporated in order for me the proceed with the subject mentioned above.  
 
1. Salary 5 crores excluding GST

2. Remake Rights: Director only has got Hindi remake rights with respect to this movie. Producer has no rights on this. Director can sell the Hindi remake rights to anybody and that Producer will not have any objection on that.  
 
3. IPR: Since this project will be last one with Mr. Vishal as hero and Vishal Film Factory as producer, all the intellectual property rights including title Thupparivalan, further sequels. prequels and character names including but not limited to Kaniyan Poongundran, Manoharan and all other characters in Thupparivalan 1 and Thupparivalan2 shall belong to the director. Vishal Film Factory shall provide NOC addressed to Tamil Film Producers Council for changing the title from Vishal Film Factory to Director's name.  
 
4. Non-Exclusivity Director shall work in other projects in tandem if shooting doesn't take place far more than 90 days from the start of second schedule. lf, for any reason, shooting doesn't get finished within 90 days, Vishal Film Factory should agree to wait until the director gets free to resume shoot.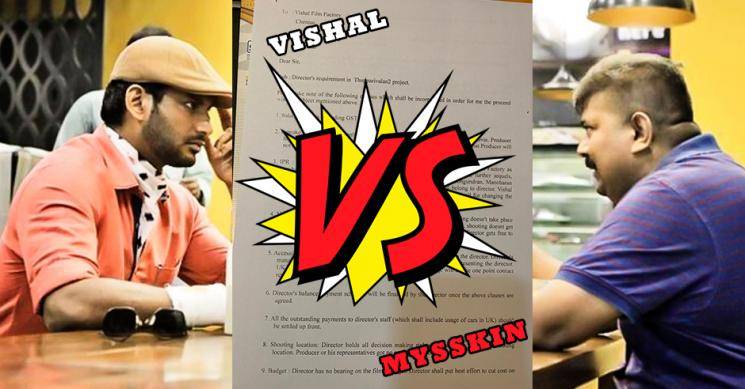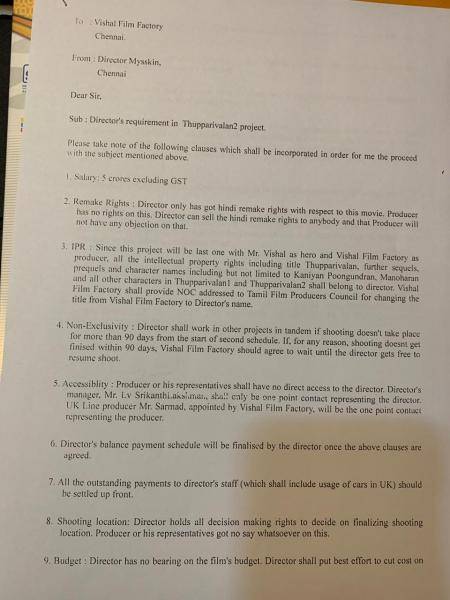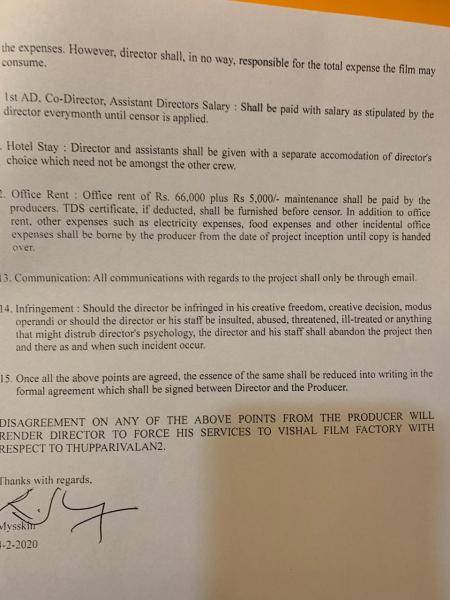 5. Accessibility: Producer or his representatives shall have no direct access to the director. Director's manager, Mr. I, Srikanth Lakslariai., skull only be or, point contact representing the director. UK Line producer Mr. Sarmad, appointed by Vishal Film Factory, will be the one-point contact representing the producer.  
 
6. Director's balance payment schedule will be finalized by the director once the above clauses are agreed.  
 
7. All the outstanding payments to director's staff (which shall include usage of cars in UK) should be settled upfront.  
 
8. Shooting location: Director holds all decision-making rights to decide on finalizing shooting location. Producer or his representatives got no say whatsoever on this.  
 
9. Budget: Director has no bearing on the film's budget. Director shall put best effort to cut cost on the expenses. However, director shall, in no way, responsible for the total expense the film may consume. 
 
10. 1st AD, Co-Director, Assistant Directors Salary: Shall be paid with salary as stipulated by the director every month until censor is applied.  
11. Hotel Stay: Director and assistants shall be given with a separate accommodation of director's choice which need not be amongst the other crew.  
12. Office Rent: Office rent of Rs. 66.000 plus Rs 5,000/. maintenance shall be paid by the producers. TDS certificate, if deducted, shall be furnished before censor. In addition to office rent, other expenses such as electricity expenses, food expenses and other incidental office expenses shall be borne by the producer from the date of project inception until copy is handed over.  
 
13. Communication: All communications with regards to the project shall only be through email.  
 
14. Infringement: Should the director be infringed in his creative freedom, creative decision, modus operandi or should the director or his staff be insulted, abused, threatened, ill-treated or anything that might disturb director's psychology, the director and his staff shall abandon the project then and there as and when such incident occurs.  
 
15. Once all the above points are agreed. the essence of the same shall be reduced into writing in the formal agreement which shall be signed between Director and the Producer.  
 
DISAGREEMENT ON ANY OF THE ABOVE POINTS FROM THE PRODUCER WILL RENDER DIRECTOR TO FORCE HIS SERVICES TO VISHAL FILM FACTORY WITH RESPECT TO THUPPARIVALAN2. 
 
Thanks with regards, 
Mysskin" 
About This Page
People looking for online information on Vishal,Mysskin,Snizhana will find this news story useful.